The Earned Media Value of Stranger Things Branded Product Placement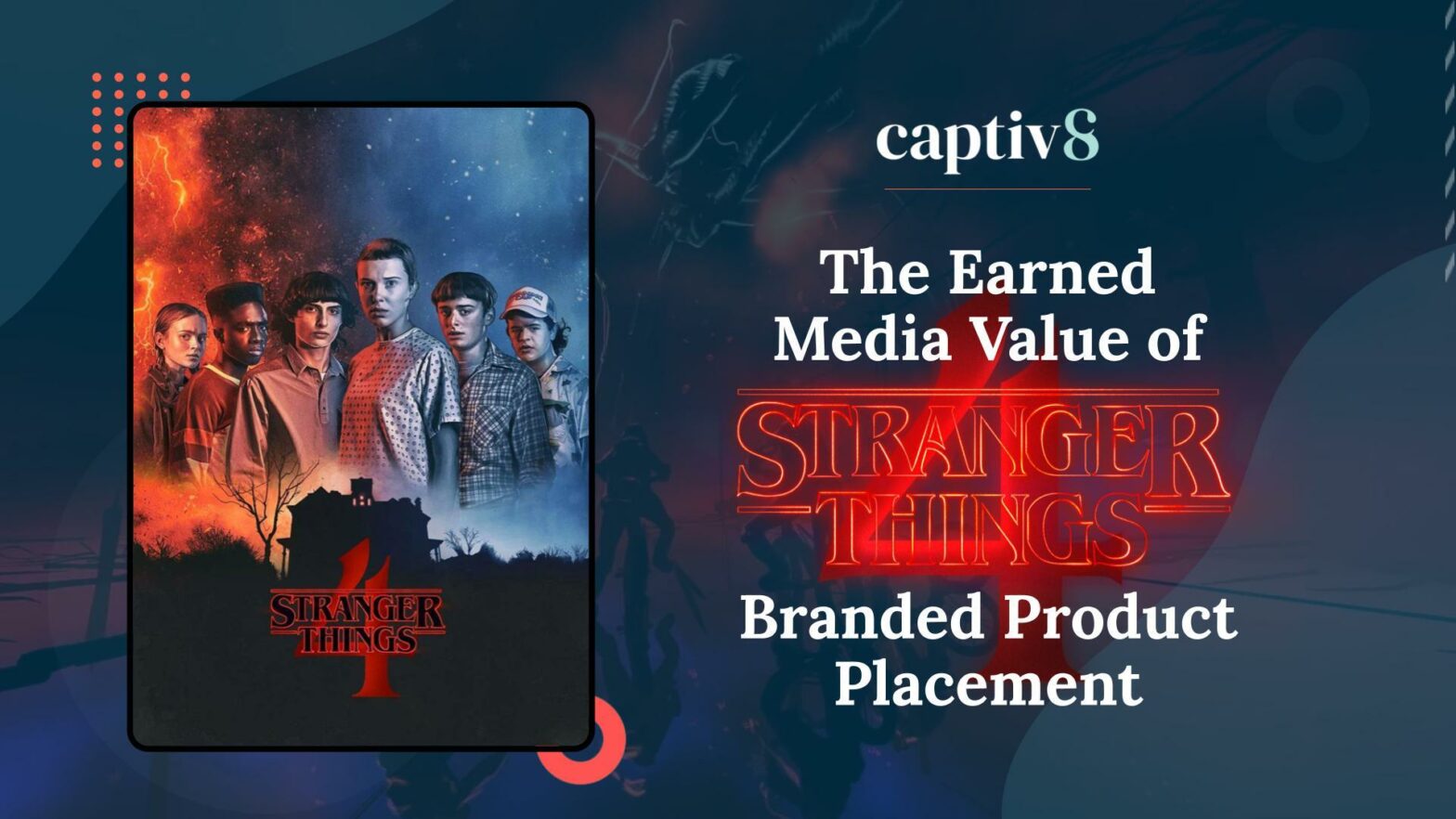 Netflix's hit series Stranger Things officially became the streaming giant's most-viewed English-language show ever, surpassing Bridgerton! In fact, the fourth season of Stranger Things crushed previous records for the most-watched English-language series on Netflix in the first 28 days of its release! Stranger Things 4 has generated millions of dollars in earned media value for a select few lucky brands. Here's how the previous record holders stack up according to Netflix:
Stranger Things 4: 781.0 million hours watched
Bridgerton Season 2: 656.2 million hours watched
Bridgerton Season 1: 625.4 million hours watched
Stranger Things 3: 581.1 million hours watched
Lucifer Season 5: 569.4 million hours watched
Data source: Netflix
Given the buzz that Stranger Things 4 has generated, branded product placements resulted in eye-catching earned media value!
The Earned Media Value of Branded Product Placement
Brands featured in Stranger Things generated incredible earned media value as a byproduct of the show's popularity. British research firm, YouGov, found the US net placement value of the top most valuable brand placements in the series. Three brands generated over $1M in placement value, while three more received over $650K! Here's the breakdown in US net placement value:
Find out how to harness influencer marketing to drive shopper marketing purchase intent and retail sales!
Total Reach of the Cast of Stranger Things 4
Although we now understand the media value that can be earned through product placement in a hit show, there is just one issue. Netflix does not allow brands to pay for product placements throughout their shows. In order to keep a show's authenticity and dedication to the time and place in which a series takes place, Netflix selects which brands will feature in their shows. As Stranger Things takes place in Hawkins, Indiana in the 1980s, the show references brands with popularity at that time.
Now that we know that brands can't simply buy their way into media value on Netflix, the next best thing they can do to capture the momentum of a trending show is to activate the influencers who are a part of the show! Through the use of Captiv8's comprehensive insights, we were easily able to identify the total reach of each cast member from the hit show! By aggregating each cast member's following on Instagram, TikTok, Twitter, and YouTube, we were able to compile the following graphic.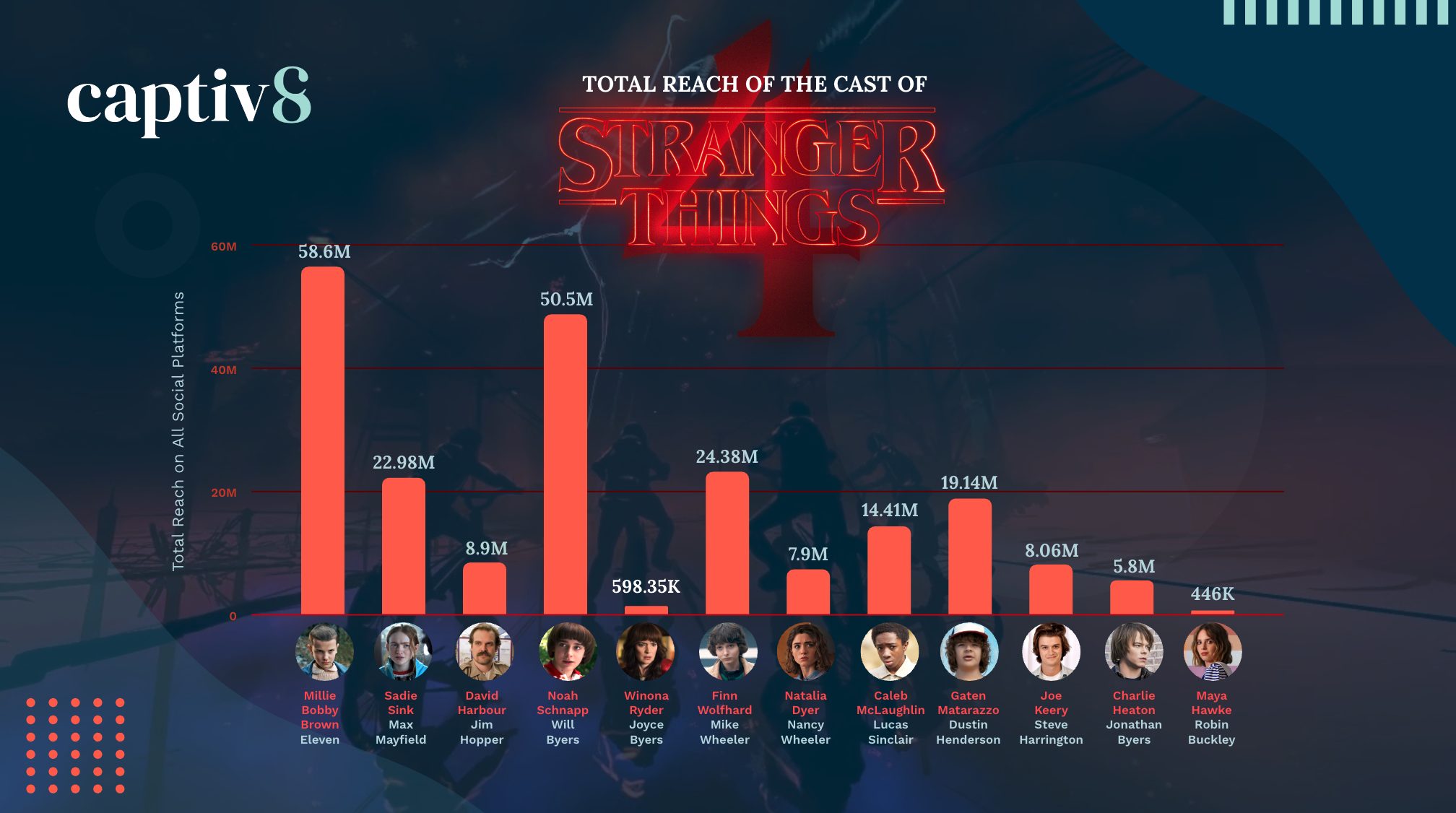 The Estimated Cost to Activate the Cast Members of Stranger Things 4 on Instagram
According to historical data, we estimate that Millie Bobby Brown could command roughly $350K per sponsored post on Instagram given her outstanding popularity! Additionally, Finn Wolfhard, Noah Schnapp, and Sadie Sink could all require roughly $200K per Instagram-sponsored post, with Gaten Matarazzo not far behind! Notably, Noah Schnapp has built a large following on TikTok with over 27M followers and we estimate that his rate for a TikTok-sponsored post could be roughly $50K.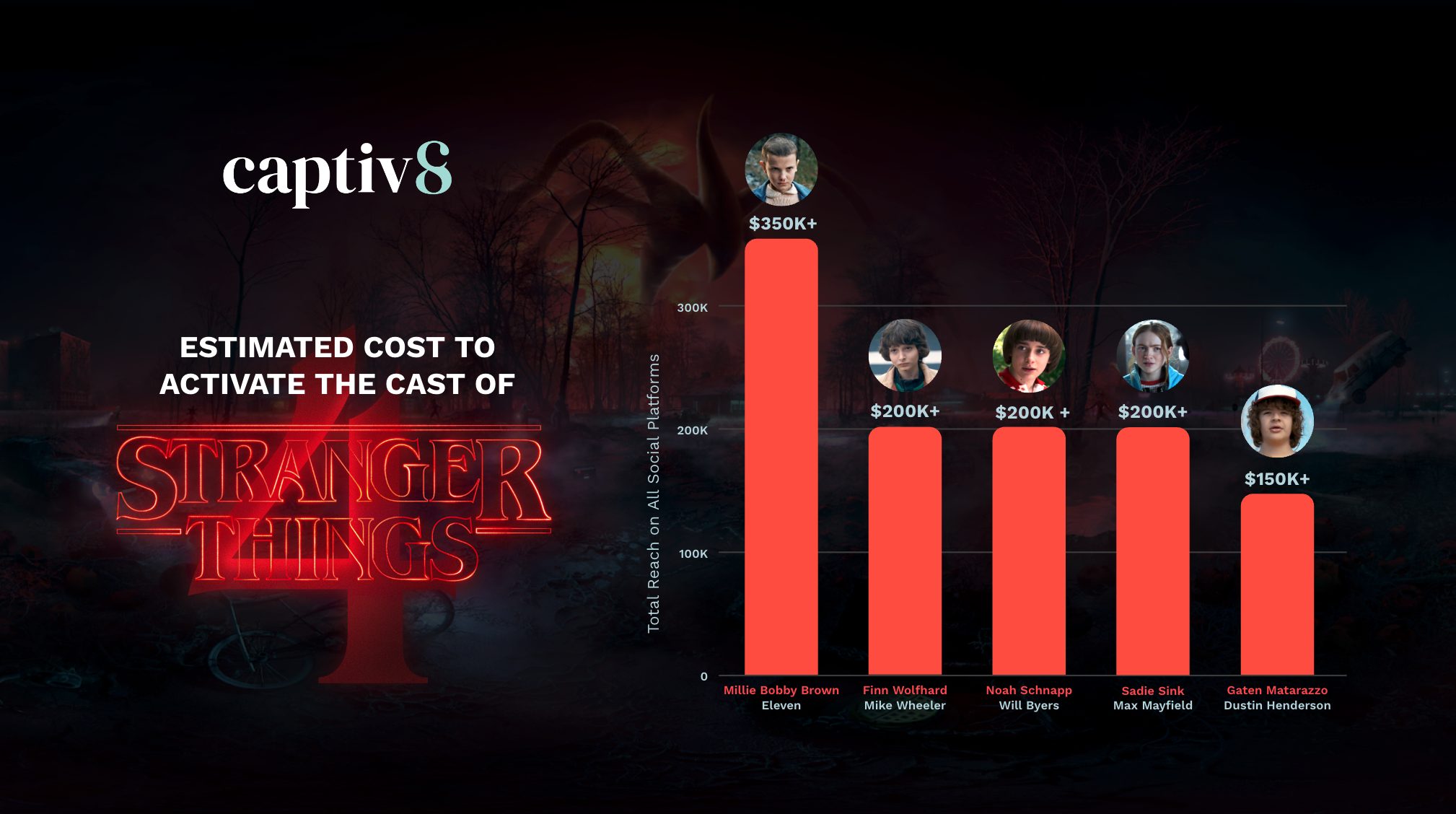 Conclusion
In conclusion, Stranger Things 4 has become a pop culture phenomenon. The hit show has helped many lucky brands generate millions of dollars in earned media value. However, Netflix does not allow brands to pay for product placements. The next best thing brands can do to capitalize on the momentum of a hit show is to activate the influencers involved in the show! Interested in activating cast members from Stranger Things 4 for your next influencer marketing campaign? Reach out to us today!
About Captiv8
Captiv8 is a full-service influencer marketing solution that redefines end-to-end, inspiring you to think bigger, enabling you to plan smarter, and empowering you to execute better. Through our intuitive workflow, brands can uncover actionable insights on trends, discover and vet influencers, seamlessly activate campaigns at scale, amplify branded content across the digital ecosystem, and prove business impact through our measurement dashboard. Our platform gives you the tools you need to build relationships and effective content, while our teams lend experiences and strategic services to steer you clear of common influencer marketing pitfalls.