Super Bowl Ad Cost ROI: What was the Stronger Investment in 2022? Traditional Media or Influencer Marketing
During Super Bowl LVI, we analyzed social data to help measure the impact of the Super Bowl across social media. With the use of Captiv8's social listening capabilities, we were able to gauge just how popular the topic of Super Bowl LVI was across TikTok, Instagram, and Twitter in comparison to traditional TV viewership. Now that 2022's largest advertising event has come and gone, download the full 2022 Super Bowl Ad Cost and Performance Report today!
Influencer Marketing and Traditional Media Total Cost vs ROI
In 2021, Super Bowl LV generated its lowest viewership since 2007, showing a 5.5% decline in viewership from the 2020 Super Bowl. However, the NFL managed to avoid an unwanted trend in declining viewership as Super Bowl LVI bounced back in a major way, posting a five-year high with 112.3M viewers! Although the rise in viewership is a good sign for brands, the cost to run a Super Bowl commercial has steadily increased YoY. Rising 16.07% from 2021, the cost to run a 30-second ad during Super Bowl LVI clocked in at an average price of $6.5M! Furthermore, of those 112.3M viewers, brands cannot target specific demographics. However, through the use of influencer marketing, brands can target specific audiences and demographics by activating influencers that are relevant to their target audience to not only reach the right consumers but a larger number of them. We analyzed the influencer marketing Super Bowl campaigns launched by Intuit TurboTax and Lay's in order to identify the estimated total cost vs viewership ROI when compared to a standard 30-second ad through traditional media.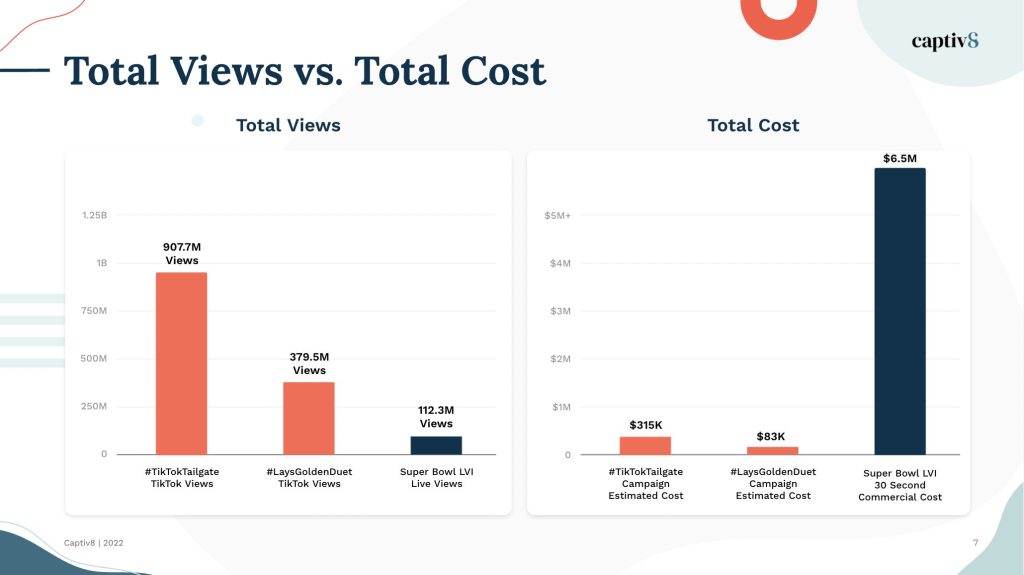 Intuit TurboTax and Lay's
For their 2022 Super Bowl influencer marketing campaign, Intuit TurboTax activated a group of five influencers on TikTok, headlined by The Chainsmokers, Tinx, and Emily Zugay to generate over 900M total views for the brand's sponsored hashtag before the game even kicked off! Additionally, Lay's launched its own influencer marketing campaign on TikTok by also activating a group of 5 influencers, including Jazmyn W, Rahul Rai, and others. Their campaign generated over 379.5M views for the brand's sponsored hashtag by the end of the Super Bowl and has since increased to 2.7B total views at the time of writing! This shows the stark contrast in TikTok reach when compared to the Super Bowl viewership. Additionally, TikTok's reach can be hyper-targeted through influencer partnerships, unlike traditional media.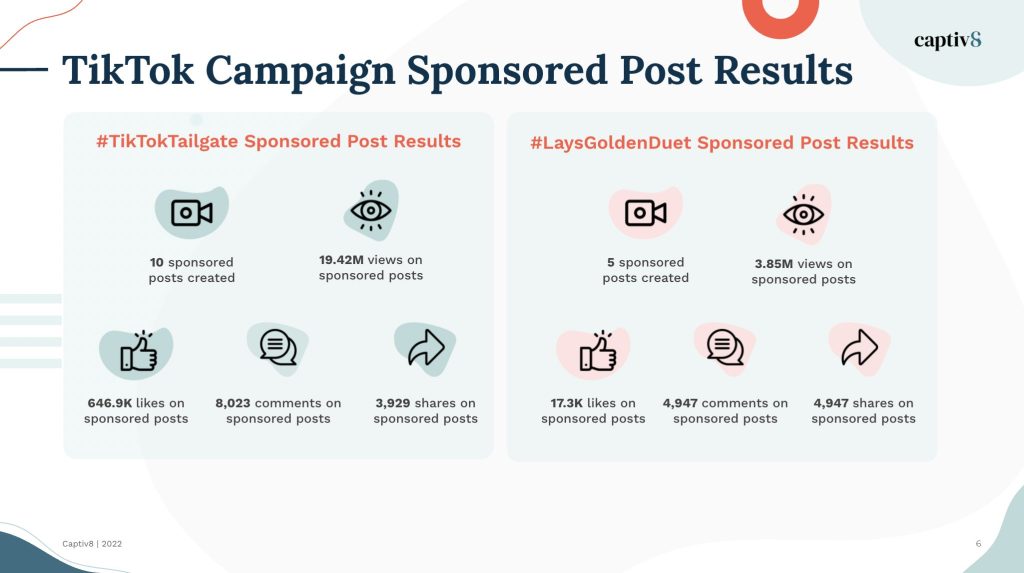 Conclusion
In conclusion, influencer marketing vastly outperformed traditional media when comparing the Super Bowl ad performance based on ROI. Download the full 2022 Super Bowl Ad Cost and Performance Report to learn more about the Intuit TurboTax and Lay's campaigns, estimated costs, campaign results, and the most engaging topics from SuperBowl LVI! In the report, you will learn:
The performance of traditional media compared to social media during Super Bowl LVI
Two in-depth influencer marketing brand campaign examples
Estimated total costs vs viewership ROI
The most engaging Super Bowl LVI topics on social media