Influencer Marketing News: Chevrolet Partners with Breland for the Launch of their TikTok Account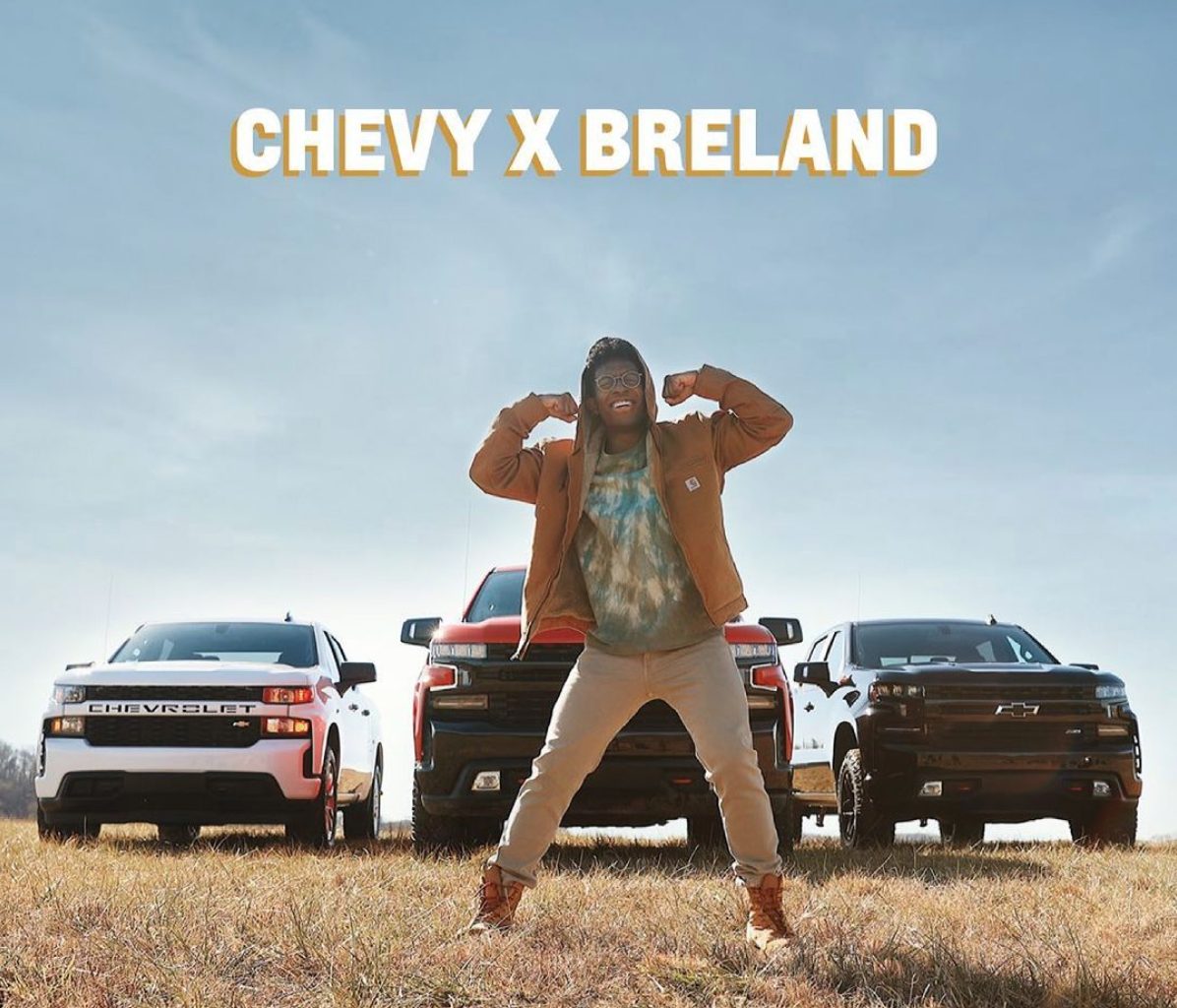 Chevrolet has been making noise in influencer marketing news with their latest campaign. In an attempt to reach younger audiences, Chevrolet partnered with Breland for the launch of their TikTok account. However, not even Chevrolet could have anticipated these results.
Breland Overview
Creator of the hit song, "My Truck", Breland rose to popularity through social media in 2020. As a result, "My Truck" has received nearly 40 million views on YouTube and over 190.8K video creations on TikTok. Notably, the song often draws comparisons to Lil Nas X's "Old Town Road" for a few reasons. First, both songs contain a mix of hip-hop and country music elements. Secondly, both songs eventually received remixed version featuring renowned country artists. While the "Old Town Road" remix featured Billy Ray Cyrus, Breland teamed up with country music superstar, Sam Hunt for his remix. Additionally, the song has become an anthem for truck drivers to show off their vehicles on social media.
Reaching Gen Z
As previously mentioned in 2021 Influencer Marketing Trends, brands will attempt to target Gen Z through short-form content and authentic campaigns. In order to effectively reach younger audiences, Chevrolet combined all of these elements into the strategy of their latest campaign.
Gen Z begins with those who were born in 1997. This means that the oldest members of Gen Z will be turning 24 this year, and many are becoming first-time car buyers. They've already made their buying power felt with overall spending of almost $100 billion. Knowing this, Chevrolet has tapped into TikTok as their platform of strategic choice.
Due to the fact that Gen Z grew up with social media, this generation is very quick to identify inauthentic campaigns without blinking twice. As a result, Chevrolet enlisted the help of Breland who's brand has been built on trucks. Chevrolet worked with Breland to reboot his hit song with a twist and call it "My Chevy Truck." The partnership led to a new music video that Chevrolet would go on to debut on their new TikTok account.
Results
As stated by Breland, "My Chevy Truck" received 20 million views in the first 10 hours! However, the visibility didn't end there. In just a few days, the music video on Chevrolet's TikTok account has now received over 71.9M views, 616K likes, 24K shares, 17K likes, and 7.9K video creations. Not bad for a brand that's new to TikTok.
Conclusion
In the ever-changing landscape that is influencer marketing, it can be difficult to stay on top of the latest strategy and tactics. However, Chevrolet managed to create a resonating campaign met with high levels of engagement by identifying their target market and incorporating effective tactics. At the time of writing, their TikTok music video has seen the following results:
– 71.2M Views
– 616K Likes
– 24.6K Shares
– 17K Comments
By partnering with Breland, Chevrolet managed to tick all of the boxes. If you're interested in learning more about influencer marketing news, trends, strategy, and more from industry experts reach out to us today!