IGTV: What Marketers & Influencers Need To Know
Announcing IGTV:
Yesterday, Instagram CEO Kevin Systrom announced a true game-changer: IGTV. IGTV is an extension of Instagram, where creators (and us marketers) can now upload long(er) form content, up to 60 minutes in length. In Kevin's Instagram Business blog post that followed the live-announcement, Instagram asserted that viewers now prefer digital video to traditional Television.
In terms of content consumption, IGTV takes the viewing process one step further by announcing a separate app. Now, viewers can access IGTV in two different ways:
Inside the Flagship, Instagram App: A new button has been added to the app screen, where users can now sift through IGTV without ever having to leave the Instagram app
IGTV App: Created to promote distraction-free viewing. The options to view content include "For You" (suggested content), "Following" (creators or brands you follow), "Popular", and a "Continue Watching" (where the option to "Create Channel" is housed) section.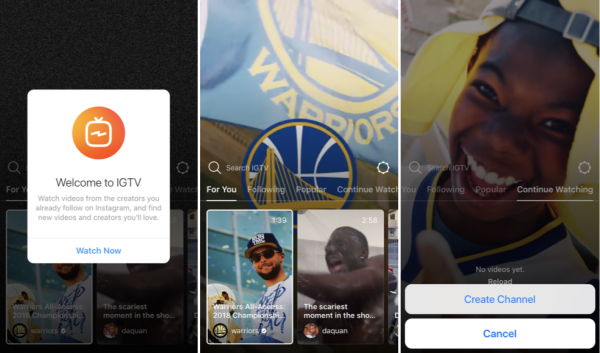 IGTV in-app experience
An app.. that streams long-form video.. now where have we heard that before? Ooooh YouTube, here's looking at you.
Is IGTV easy to use?
In short, yes and this is how. The messaging around IGTV is clear: IGTV creates an easy and better viewing experience. The product page focuses on IGTV being Mobile First, Simple & Intuitive, and Curated:
Mobile First: The interface mirrors how viewers naturally hold and use their phones – vertical/full screens. This is a practical departure from YouTube, which at times requires screen-turning to view certain videos.
Simple & Intuitive: The user interface is easy to use, and makes viewing video a seamless process. Content plays immediately after tapping on the button in-app, or opening IGTV, rather than promoting you to search/find content. It's not clunky, or difficult to use. The product page brings up "multitasking" and it's true: You can explore for more content while viewing IGTV easily.
Curated: Influencers that you already follow have began uploading content. It's personalized and engaging. Another point to note is that, eventually you don't have to be a digital celebrity to upload content. Influencer or not, IGTV is yours to use and enjoy.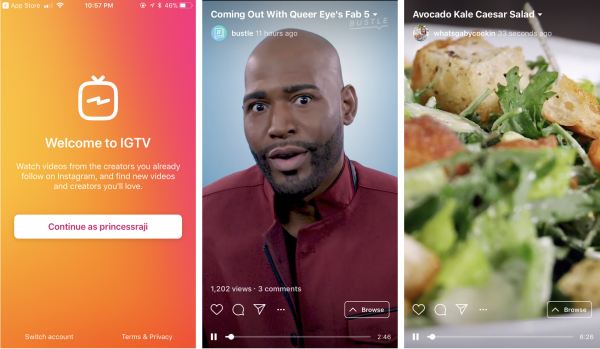 IGTV standalone app + longer form content
Why IGTV Will Matter to Marketers & Influencers:
This is a space to watch. In 2017, as Instagram Stories turned 1, they achieved a milestone by surpassing 250m daily users compared to their competitor Snapchat (at the time of comparison Snap had 166m daily users). If IGTV follows suit of the incredible trajectory of Instagram Stories, then marketers and creators will need to master and own the new platform. Here are a few tips on how marketers and creators can leverage IGTV:
Length of Video: More time means greater ability to authentically connect with audiences. Prior to IGTV launching, brand marketers and creators had to strategically lay out campaign messaging and call-to-actions within a 60 second timeframe. Though completely doable, longer viewing time will allow creators to flesh out content in a manner that is organic and natural. Whether content is 1 or 20 minutes longer, brand marketers and creators can use the time to connect and engage with audiences. In short, Influencers don't have to feel rushed to get to the point or create content that doesn't feel quite as authentic.
Gimme All Your Ad Spend: IGTV currently isn't hosting any ads, however that does not mean it's not on the horizon. Systrom says that IGTV is "obviously a very reasonable place for ads to end up". If the goal is to build out monetization, marketers and Influencers would be wise to start testing out branded content and campaigns on IGTV, testing what resonates with audiences. Additionally, creators and marketers are allowed to include links within the description box, which is a great first step to driving web traffic through IGTV.
Authentic Content: Say it with us: Content is KING/QUEEN. With the expanded time limits, creators can go back to exercising their creativity knowing they have new open parameters to work with. Audiences love authenticity and the opportunities that come along with extra time can open up the doors to even greater in-depth and immersive content viewing experiences for brand marketers and creators alike.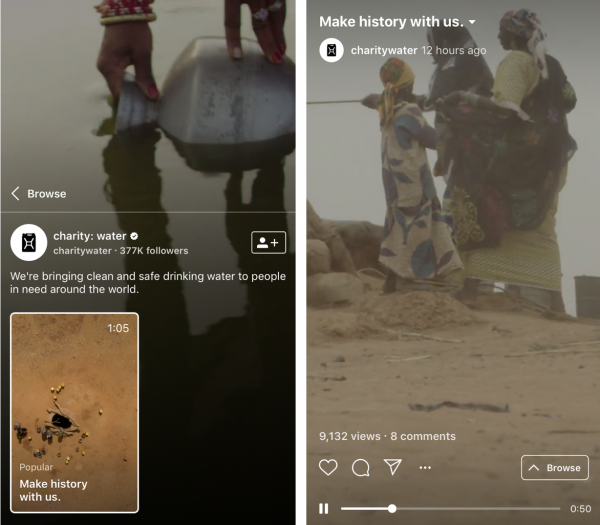 An example of immersive content put forth by Charity Water on IGTV
IGTV creates opportunities to grow even closer to audiences, making the storytelling process that much better. Welcome to the world IGVT. Reach out to Captiv8 and let us help craft your IGTV Influencer strategy!