How to Run Spark Ads on TikTok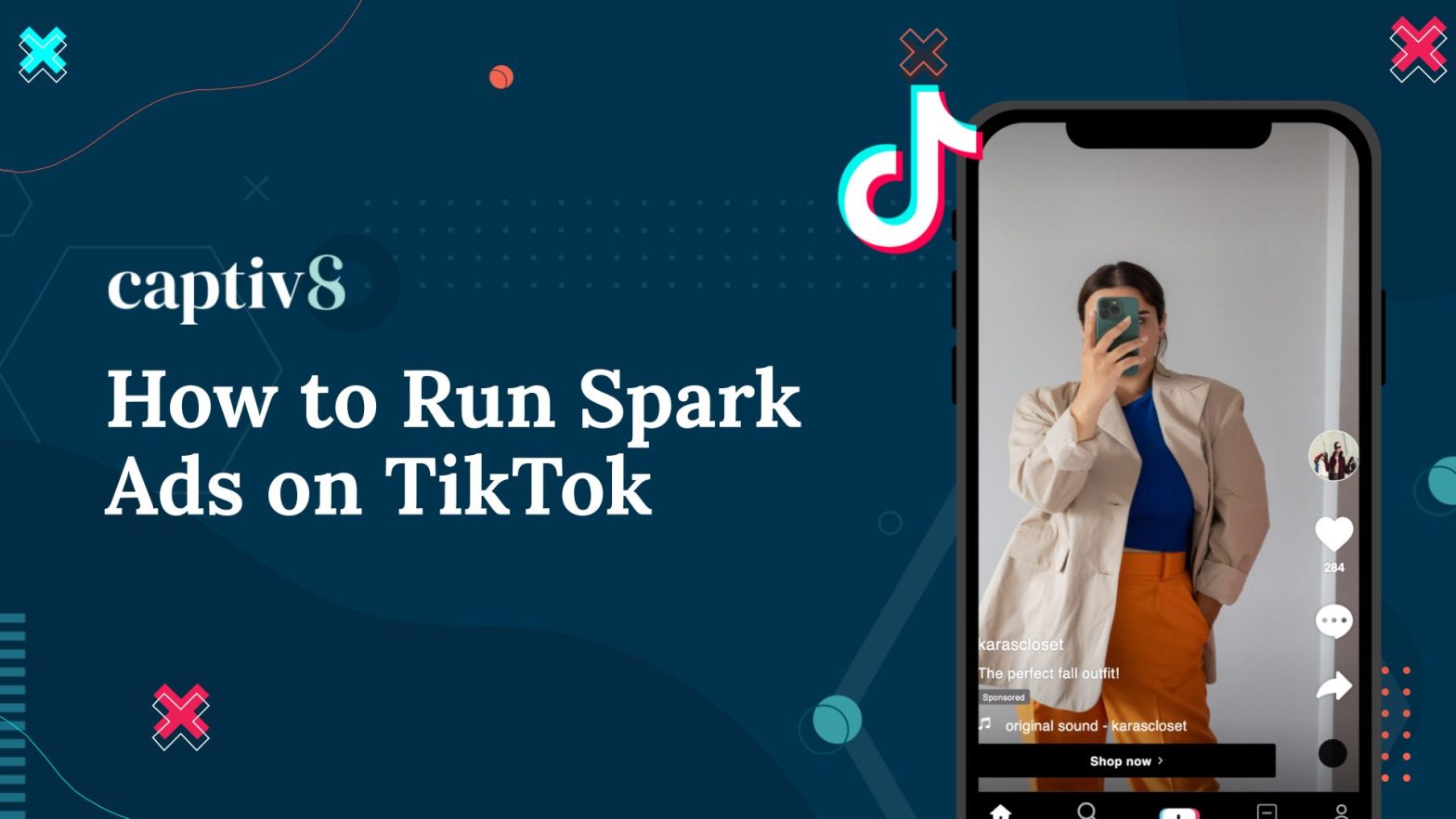 TikTok has seen massive growth over the last few years, reaching 1.7 billion users in 2023, a 17% increase from 2022. With this growth, leveraging Spark Ads has emerged as a strategic avenue for brands to engage their target demographic. Spark Ads offer a blend of organic content with native ad functionality, allowing brands to transform organic TikToks into compelling ads. In this blog post we go over how to run Spark Ads on TikTok, highlighting the step-by-step process to create captivating campaigns.
Leveraging Spark Ads
Brands can utilize Spark Ads in two primary ways:
Amplifying Your Own Content: By utilizing their own TikTok account's posts, brands can effortlessly promote their original creative videos through Spark Ads. This not only extends their reach but also keeps the community engaged by enabling Duet features, encouraging users to participate and collaborate creatively.
Collaborating with Creators: Spark Ads also facilitates partnerships with other creators on the platform, allowing brands to utilize their organic posts with proper authorization. This enables brands to connect with creators who play a vital role in shaping trends and sharing authentic experiences with products and services.
How to Create Spark Ads on TikTok
Follow this step-by-step process to discover how to run Spark Ads on TikTok. To start, identify if you will be amplifying your own content or collaborating with creators.
Method 1: Using Your Own Linked TikTok Business Account
Step 1: Choose "Use TikTok account to deliver Spark Ads"
– Select an advertising objective
– Fill out Campaign and Ad Group settings
– Toggle on "Use TikTok account to deliver Spark Ads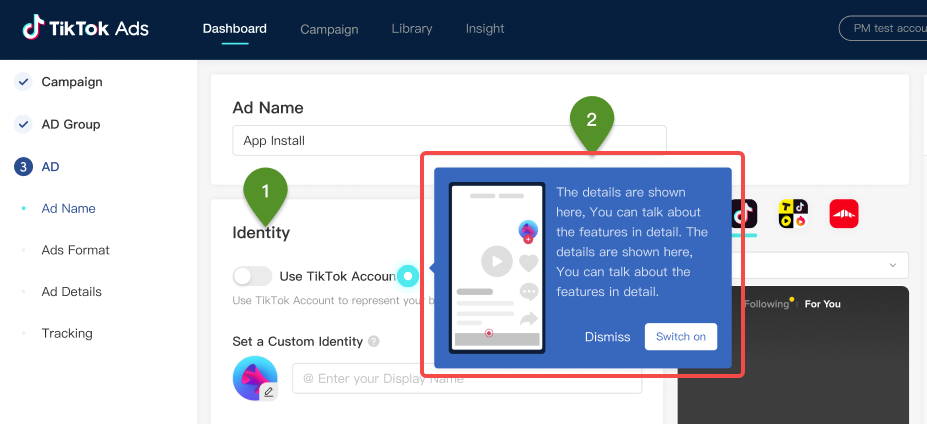 Step 2: Select "Use account owned by you"
– Choose existing posts from your linked Business Account or create/upload new videos from Ads Manager
Step 3: Retrieve content using "+TikTok Post"
– Under Ad Details, choose the TikTok Post and select the post you wish to use
– Click "Confirm"
Method 2: Utilizing Authorized Accounts or Posts from Other Creators
Step 1: Authorize advertising
– Ensure the post's creator turns on ad authorization
– Creator's Settings and Privacy > Creator Tools > Turn on ad settings
Step 2: Generate and share code
– Select a video for promotional use
– Tap "Generate Code"
– Choose authorization duration
– Copy and share the generated code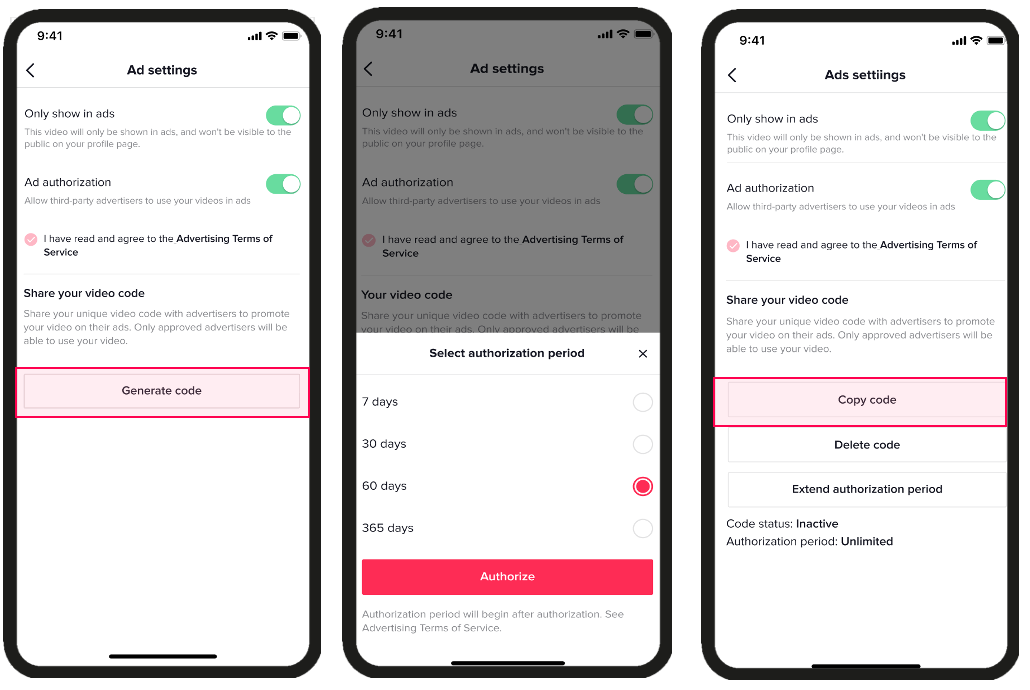 Crafting a Successful Spark Ad Campaign
Understand Your Audience
Before launching a Spark Ad campaign it is essential to gain a deep understanding of your target audience. With Spark ads you can choose your target audience and set interest targeting, ensuring the content is only shown to viewers that fit your targeting criteria.
Embrace Trends
TikTok found that up to 134% more users complete Spark Ads than regular in-feed ads. While traditional ads often struggle to make an impact within the fast scrolling TikTok environment, Spark Ads offer the advantage of blending organic content with native ad functionality. As a result, embracing trends while leveraging Spark Ads can significantly enhance your brand's performance on TikTok.
Collaborate Strategically
If you choose to collaborate with creators, be sure to select individuals whose values align with your brand. By tapping into creators who share your brand's values, you create powerful ads that resonate with your target audience. Through this collaboration, your brand's message can be delivered as a trusted recommendation from a familiar face.
Monitor and Adapt
Like any marketing endeavor, monitoring the performance of your Spark Ads campaign is essential. TikTok offers robust analytics tools that provide insights into engagement, reach, and audience demographics. Use this data to adapt your strategy as needed, refining your approach for optimal results.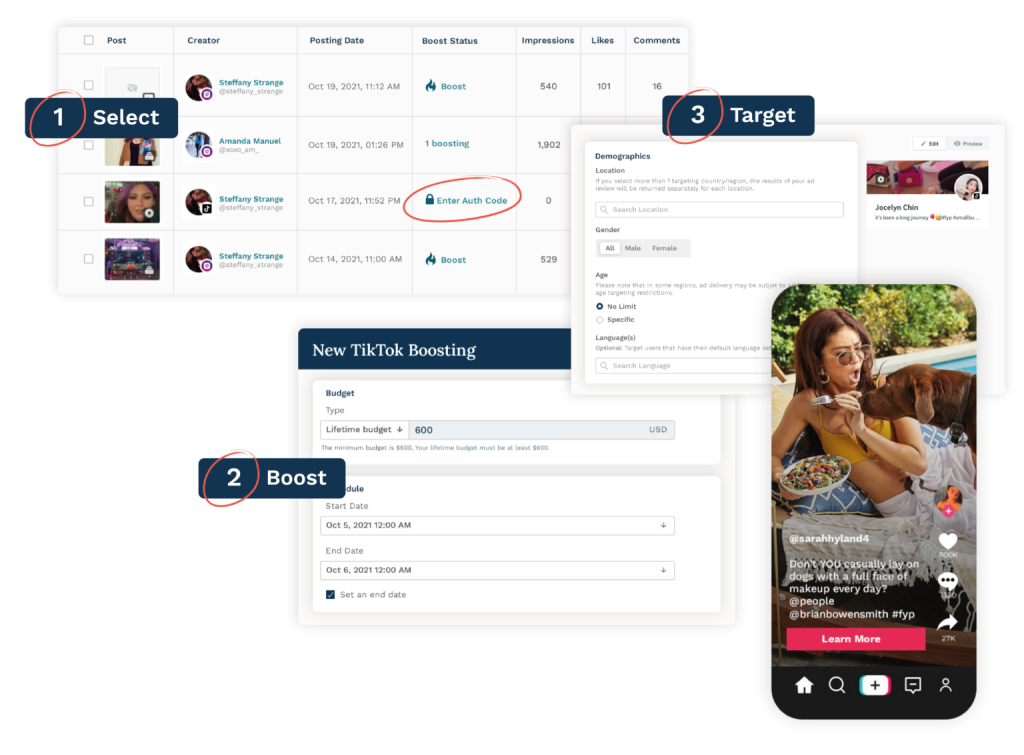 TikToks can be boosted from directly within the Captiv8 platform!
Conclusion
Spark Ads provide a platform for brands to catch the attention of their target demographic and resonate with them on a deeper level. By blending creativity, authenticity, and strategic execution, businesses can establish a meaningful connection with their audience through Spark Ads. Whether you're amplifying your own content or partnering with creators, now is the time to harness the power of Spark Ads.
Captiv8 makes discovering and partnering with the right brand advocates effortless, effective, and repeatable. As the first TikTok Creator Marketplace API partner, we built a solution with your most urgent needs in mind. Captiv8's Content Boosting Suite stands out as the first platform to support TikTok Spark Ads, offering an end-to-end platform with curated services for brands. Learn more about how Captiv8 can help you boost ROI with TikTok Spark Ads by taking a platform tour today!