YouTube Shorts Summer 2023 Updates: How YouTube Shorts New Capabilities Compare to TikTok and Instagram Reels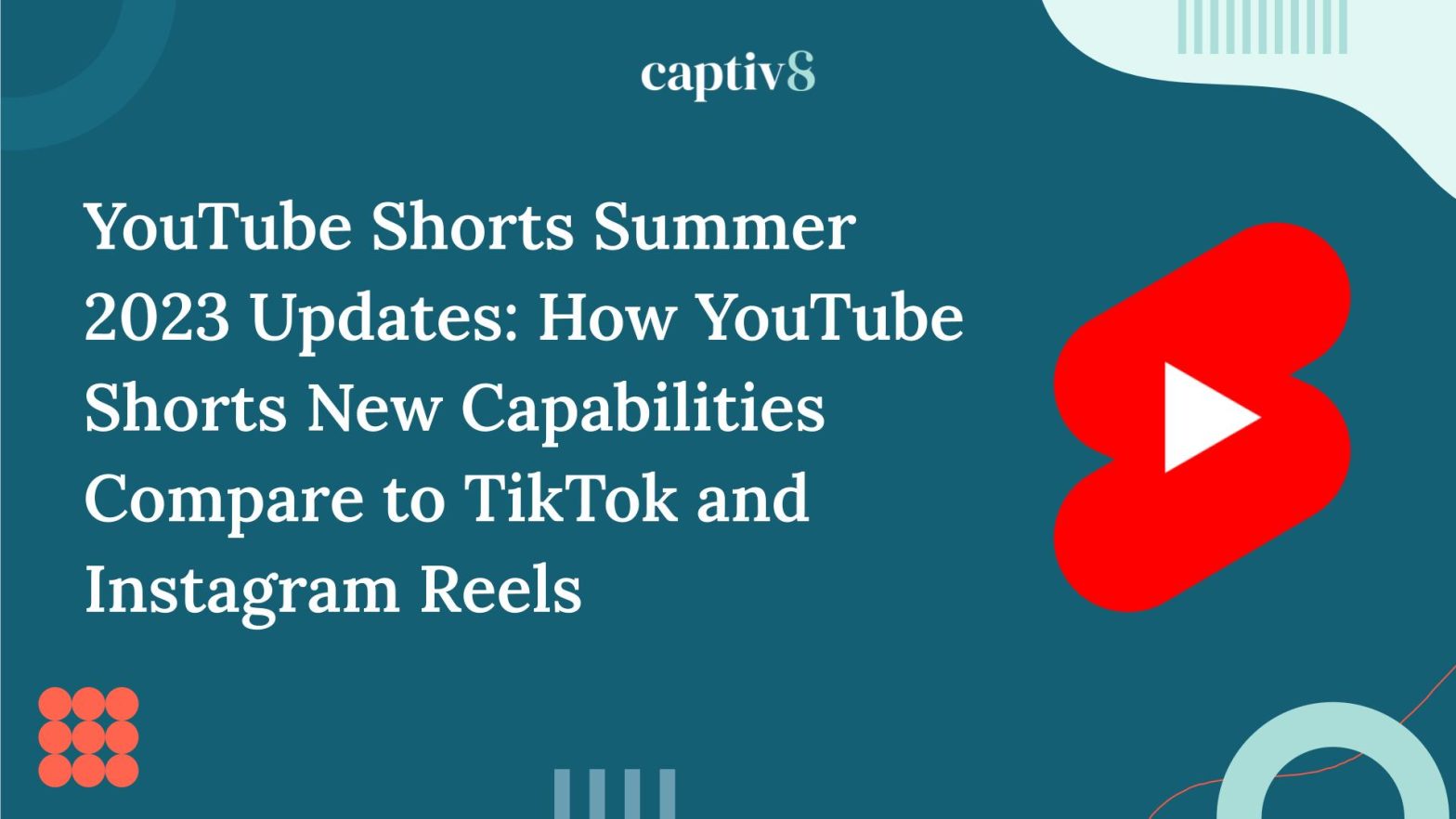 In an era dominated by on-the-go lifestyles, short-form content platforms have proven to be the go-to source of entertainment for many. Introduced as a response to the popularity of platforms such as TikTok and Instagram Reels, YouTube Shorts has quickly established itself as an impressive competitor in the short-video domain. As a feature within the vast YouTube ecosystem, Shorts enables users to create and consume engaging, concise videos, captivating audiences with its snappy format and seamless integration. With 2 billion monthly logged-in users as of July 2023, YouTube Shorts' growth might contribute to taking a larger share of the market. Keeping this in mind, here is how YouTube Shorts is attempting to strategically compete within the short-form content industry:
Growth of YouTube Shorts:
As competition within the short-form content realm intensifies, YouTube Shorts continues to solidify its position by adding new innovative features and continuing to maintain the unique opportunities YouTube was always known to offer growing creators and communities. They made long strides earlier this year on February 1st when they introduced their Partner Program which allows for the sharing of ad revenue with content creators. Phillip Schindler, Google's Chief Business Officer, pointed out how "People are engaging and converting on ads across Shorts at increasing rates". Creators also increasingly recognize the value that Shorts bring to the table as the number of channels uploading on Shorts also grew by 80% within the first quarter of 2023. YouTube Shorts has also crossed 50 billion daily views in the first quarter of 2023 according to CEO of Google Sundar Pichai, which is impressive growth compared to their 30 billion daily views in Q1 of 2022. Additionally, fan-created Shorts are contributing to the average music artist's unique viewers with an increase of 80% this last January.
YouTube Shorts in Comparison to TikTok and Instagram Reels:
As we further recognize the growth YouTube Shorts has made, comparing and contrasting the platform to its competitors will help us gain a better understanding of its place in the short-form content industry as of right now.
Similarities:
Although each platform has a unique user experience and currently caters to a different demographic, they also have numerous similarities making it difficult for the user to determine which platform is best suited for them. Some key similarities are listed below:
Every platform showcases short-form videos
Each offers an immersive experience through the use of a Feed. Scroll endlessly through content that is catered to you by an algorithm.
All three have similar features such as performance analytics, music libraries, overlaying texts, and many engaging filters
| | | | |
| --- | --- | --- | --- |
| Features | YouTube Shorts | Instagram Reels | TikTok |
| Orientation | Portrait / Vertical | Portrait / Vertical | Portrait / Vertical |
| Aspect Ratio | 9:16 | 9:16 | 9:16 |
| Resolution | 1920 x 1080 px | 1920 x 1080 px | 1920 x 1080 px |
| Interactions | Like, Comment, Share | Like, Comment, Share | Like, Comment, Share |
Differences:
While YouTube Shorts, Instagram Reels, and, TikTok, all share numerous similarities, they each boast distinctive features and qualities that set them apart from one another. These differences help users determine which platform accomplishes their needs best.
| | | | |
| --- | --- | --- | --- |
| Features | YouTube Shorts | Instagram Reels | TikTok |
| Video Length | Up to 60 secs | Up to 90 secs | Up to 10 mins |
| Shopping Links | In Testing | Product Links Function | Product Links Function / TikTok Shopping |
| Editing | Small range of Special Effects / Stickers | AR capabilities/ Special Effects / Stickers | AR Capabilities / Special Effects/ Stickers |
New Features Shorts has Added:
To further their place in the realm of short-form content, YouTube Shorts has introduced 6 new creation tools, granting their community more tools to level up their content. Here are some of the newest additions to YouTube Shorts' video editing suite as of August of 2023:
Playlists
A fan-favorite feature used on YouTube is also incorporated into Shorts. Users can save any Shorts from the feed to a playlist to refer back to later for more inspiration for their next Short.
Live
Live creators will now have greater chances of getting discovered since they will be immersed in the Shorts feed. Once a Live video is clicked on, users will enter a new scrollable feed full of other Live videos.
Collab
Under the "Remix" section a new feature "Collab" allows users to record a Short side-by-side with other YouTube or Shorts videos. With many different layout options and a green screen option users have a newer way to interact with existing content on the platform.
Bundles of Audios and Effects
To help further inspiration on the platform, YouTube now made it easier to use the same effect and audio from another Short. This can be done by clicking on "Use Sound" under the "Remix" button. The same audio time stamp with the effect will be bundled for users to create their own Short.
Shorts Effects and Stickers
An addition of dozens of stickers and effects gives the users newer inspiration. An upcoming "Q&A" sticker will also give them the opportunity to interact with their audience.
Recomposition
While still in the testing phase, Shorts wants to grant the ability to transform horizontal videos into Shorts as well.
Conclusion:
In conclusion, YouTube Shorts, TikTok, and Instagram Reels have captured the attention of many, but YouTube Shorts in particular continues to prove its value in the world of short-form content due to its commitment to growth and innovation. By continually introducing new features to its platform, YouTube Shorts is paving the way to being a highly recognized platform within this industry. While TikTok and Instagram may currently dominate the short-form content industry, YouTube Shorts' growth recently indicates its determination to claim a more significant share of the market. As the platform evolves and captivates both content creators and viewers with its engaging videos we may foresee a migration from other short-form video platforms. Interested in launching an influencer marketing campaign specific to YouTube Shorts given the hype of their new features? Reach out to us today!