Finance Influencers: 10 Creators Teaching Financial Literacy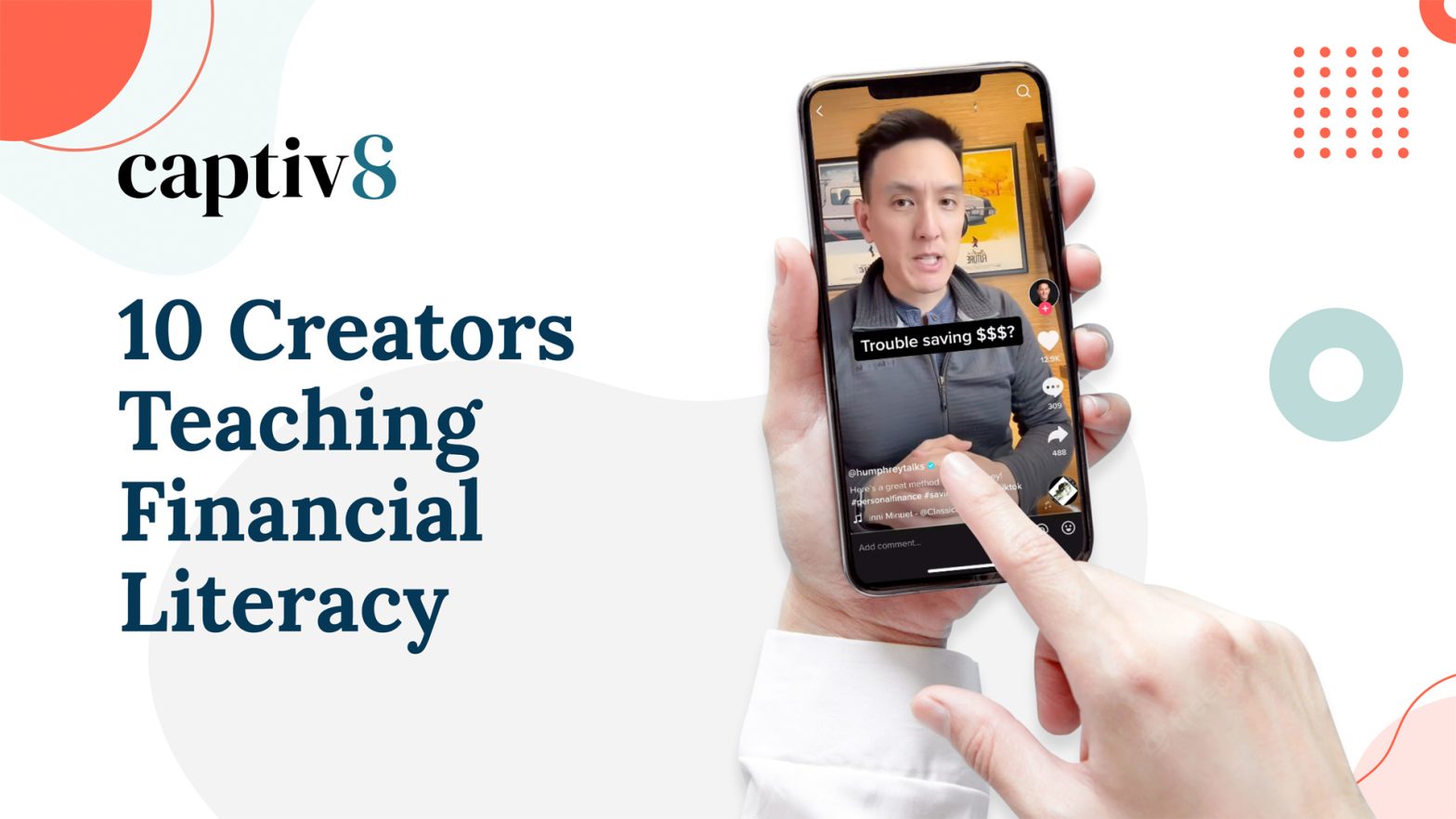 Collectively, many adults in the United States of America struggle with financial literacy. It's not the fault of most adults, as 27 states received grades of C, D, or F for subpar efforts in educating their students on financial literacy. Additionally, OppLoans found that 53% of adults are financially anxious. However, thanks to short-form content, financial experts have abundantly made financial education quick, easy, and digestible. Here are 10 finance influencers, you should be following if you are interested in learning how to budget, save, generate wealth, build new revenue streams, and earn passive forms of income!
Humphrey Yang – HumphreyTalks
Social Breakdown
TikTok – 3.2m
YouTube – 645k
Instagram – 484k
Facebook – 38.2k
Twitter – 10.9k
Humphrey Yang is a financial advisor who has made a living off of explaining the various ways in which finance works. Whether it was planning, saving, investing, or other topics, Yang's friends would often lean on him for advice. Since then, Yang decided to take his knowledge and educate people on social media about macro, micro, and personal finance. He has a presence across most social media platforms, however, his TikTok and YouTube channels garner the most engagement.
Preston – The Legacy Investing Show
Social Breakdown
TikTok – 2.2m
Instagram – 360k
Facebook – 343k
YouTube – 38.5k
The Legacy Investing Show focuses on helping its followers develop multiple streams of income to facilitate financial growth and freedom. The creator uses his own experiences and areas of expertise that he has developed over time, to guide and educate followers. While Preston sees extensive engagement across TikTok and Instagram, his content is also available on YouTube and Facebook.
Andrei Jikh
Social Breakdown
YouTube – 1.97m
Instagram – 129k
Twitter – 71.9k
Facebook – 2.4k
Andrei Jikh began creating content on YouTube in 2019 and primarily focuses on the stock market, investment tips, and financial awareness. Jikh covers both personal finance and macroeconomics for investors in a wide variety of financial situations. Whether you're a student trying to set up a brokerage account, a young adult saving for retirement, or a consistent monthly contributor, Jikh has got you covered.
Taylor Price – Pricelesstay
Social Breakdown
TikTok – 1.2m
Instagram – 87.6k
YouTube – 25.1k
Twitter – 1.9k
Taylor Price is a well-renowned Gen Z money mentor. During her time in school, Price identified the lack of financial education taught in the traditional schooling system. Price identified financial literacy as her passion and began educating followers through her Pricelesstay blog before expanding her content to social media.
Ricky Gutierrez
Social Breakdown
YouTube – 1.02m
Instagram – 194k
Facebook – 20k
Twitter – 14.2k
TikTok – 3.2k
Ricky Gutierrez is one of the youngest self-made millionaires in the state of Arizona. Gutierrez built his fortune through a variety of investment tactics between day trading and real estate investments. His most popular social channel is YouTube, where he shared detailed how-to videos. His content is largely educational, helping first-time investors navigate through the intricate world of stocks. His posts are informative and help followers learn the various ways in which one can invest to increase their income and savings.
Chelsea Fagan – The Financial Diet
Social Breakdown
YouTube – 967k
Instagram – 840k
Facebook – 59.2k
Twitter – 53.8k
TikTok – 2.9k
Chelsea Fagan of The Financial Diet focuses on raising awareness and imparting knowledge regarding various ways in which one can save, invest & reduce debt. Fagan wanted to start The Financial Diet after learning from mistakes made in managing her own finances. Having learned from her experiences, she now uses her social media presence to help guide others in their journey toward financial stability.
Gina Zakaria – Saving Whiz Gina
Social Breakdown
TikTok – 1.5m
YouTube – 11.1k
Instagram – 4.4k
Gina Zakaria is a financial educator with the goal of providing tools for others to crush their financial goals without having to sacrifice their lifestyle. Zakaria provides pro tips for cutting expenses on everyday purchases such as groceries, utilities, and much more! Zakaria is one of many finance influencers who has found an abundant amount of success through short-form content on TikTok with over 1.5M followers and counting!
Brian Jung
Social Breakdown
YouTube – 1.13m
Instagram – 71.5k
Twitter – 36.6k
Facebook – 11.5k
TikTok – 2.5k
Brian Jung is a popular financial creator who focuses on credit card hacking and cryptocurrency content. Jung attempts to help educate his creators at all levels of crypto experience. With what many feels is a difficult barrier to entry, Jung attempts to help those new to the category get started. However, Jung also provides his opinions on a wide variety of altcoins to help traders strategize future investments. One of Jung's most popular videos is a video of him paying off his mother's credit card debt of nearly $10,000 as a birthday present and the video has generated over 50M views.
Sara Finance
Social Breakdown
Sara Finance is a creator who attained financial freedom through building multiple streams of revenue and often focuses on house hacking. Through her methods, she has been able to pay off debts, and invest in new streams of revenue. Throughout her content, she breaks down how these revenue streams can be built, managed, and pay for themselves.
Felipe Finance
Social Breakdown
TikTok – 733.6k
Facebook – 172.6k
Instagram – 46.8k
Interested in learning more about finances but Spanish is your preferred language? Or perhaps you would like to help educate Spanish-speaking family members. But are you having difficulties finding finance influencers who speak Spanish? Felipe Finance has you covered! Felipe's content is mostly in Spanish and focuses on helping viewers understand the various aspects and benefits of investing and finance management.
Conclusion
In conclusion, these 10 finance influencers all have one common goal of educating the masses on the importance of financial literacy. If you are struggling with preparing your annual tax returns, check out this tax guide for the creator economy! interested in learning more about finance creators, their reach, and target audience? Reach out to us today!