Everything You Want to Know About Boosting Posts on Instagram
Instagram is still the most popular platform to launch paid media with over 60% of people saying that they discover new products on Instagram and 75% of Instagram users taking action after being inspired by a post. Paid media on Instagram appears throughout the app, including in users' feeds, Stories, Explore page, and more! They look similar to normal posts but always contain a "sponsored" label to indicate that they are an ad. They also often have more features than a normal post, such as links, CTA buttons, and product catalogs. Continue reading to learn about the different ad formats provided by Instagram, as well as how to begin boosting Instagram ads!
Instagram Paid Media Ad Formats
Image Ads
The traditional Instagram image ads are best suited for campaigns with compelling visual content that can be conveyed through imagery. Image ads can also take the form of carousels and include up to 10 photos and videos.
Video Ads
Similar to image ads, video ads provide users with a closer look at their brand's products and services. In-feed video ads can be up to 60 seconds long, but shorter videos are often more effective.
Story Ads
When watching the Instagram stories of people which you follow, Instagram story ads will appear as full-screen images or videos between stories. Instagram's stories feature is heavily used, with over 500 million Instagram users viewing stories every day.
Collection Ads
A combination between carousel ads and shopping ads. Collections ads showcase products directly from your product catalog. These ads are best suited for eCommerce brands, as they allow users to purchase products directly from the ad. When a user clicks on the ad, they're directed to an Instagram Instant Experience Storefront where they can learn more about the product and proceed to purchase.
Explore Ads
More than 50% of Instagram users access the Explore feature each month. Brands can attach paid ads to the Explore page in order to utilize the high-traffic segment to gain exposure. However, it is important to note that Instagram Explore ads do not appear within the Explore grid itself, but rather are shown after someone swiped past a photo or video that they've already clicked on.
IGTV Ads
Video ads play after a user clicks an IGTV video from their feed. Videos can be up to 15 seconds long and should be designed for vertical full-screen viewing. IGTV ads are currently available to users with Instagram Creator accounts in the US, UK, and Australia. Creators can opt into having ads shown in their IGTV videos, and earn 55% of the advertising revenue generated from each view.
Shopping Ads
There are 130 million users tapping on shopping posts every month on Instagram. With their new shoppable features, users can now view and purchase products without ever leaving the app. Instagram Shopping ads take users directly to a product description page within the Instagram app. They can then purchase through your mobile website. In order to run Shopping ads, you need to set up your Instagram Shopping catalog.
Reels Ads
With the successful launch of Reels, Instagram has integrated ads within the short-form video content category. Reels ads are shown in between Reels, similar to Story ads, and can be up to 30 seconds long.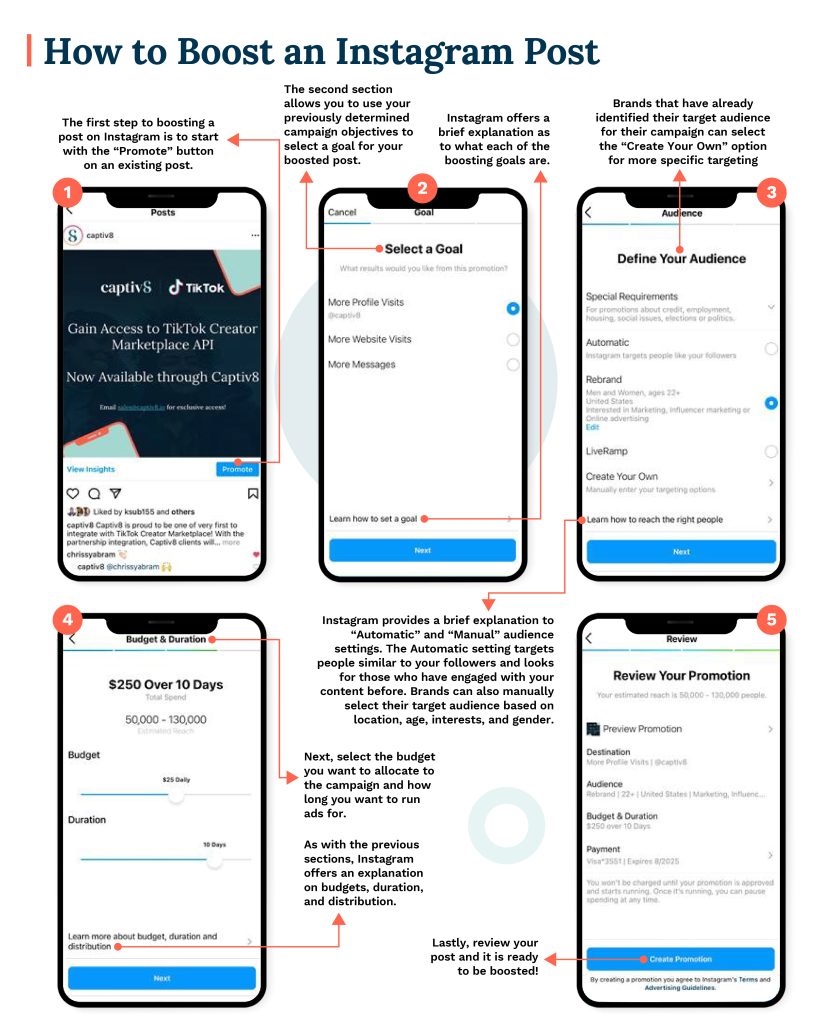 Conclusion
Interested in learning more about boosting Instagram ads, and ads on any other social platforms? Download the Complete Guide to Paid Media Social Ad Formats or visit Captiv8.io for more info!