Since quarantine, Peloton has seen a 66% increase in sales in the last quarter, a testament to not only the at-home quality of workouts but also their instructors who have developed large followings and fanbases. Here are the instructors who have seen major growth on social.

Total reach= 50.3K
Follower rate of growth: 53%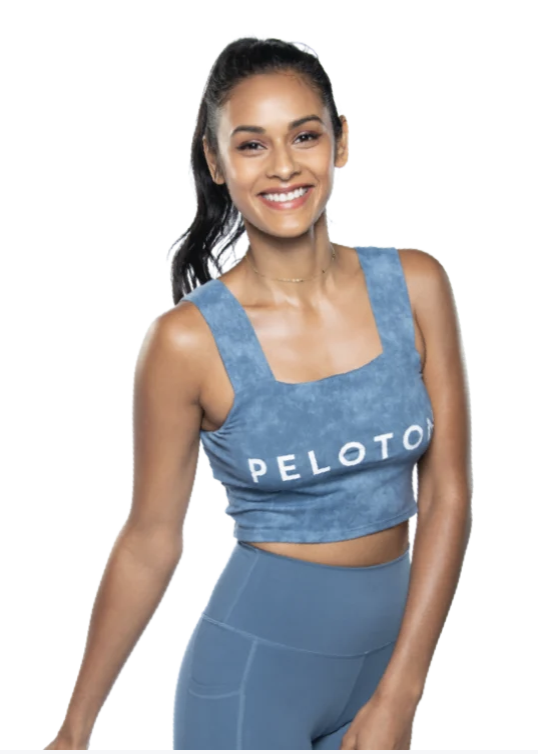 Aditi Shah was introduced to yoga at a very young age, but it wasn't until after living in India as a model and actor that she returned to the practice. With more than 10 years of practice, Aditi founded The Yoga Department, an NYC based corporate wellness company and was also voted best yoga instructor in ClassPass in NYC, a testament to her talent. She teaches yoga for Peloton now, combining her modern yet history-rich teaching style.

Total reach= 22.2K
Follower rate of growth: 57%
Anna Greenberg began her yoga practice as a child and after her teenage years, she developed a steady yoga practice. She views yoga as a healing practice and with Peloton, she strives to share the transformative properties of the practice. She's best known at Peloton for having clear cues in both beginner and intermediate practices with traditional yoga music.

Total reach= 490.96K
Follower rate of growth= 29%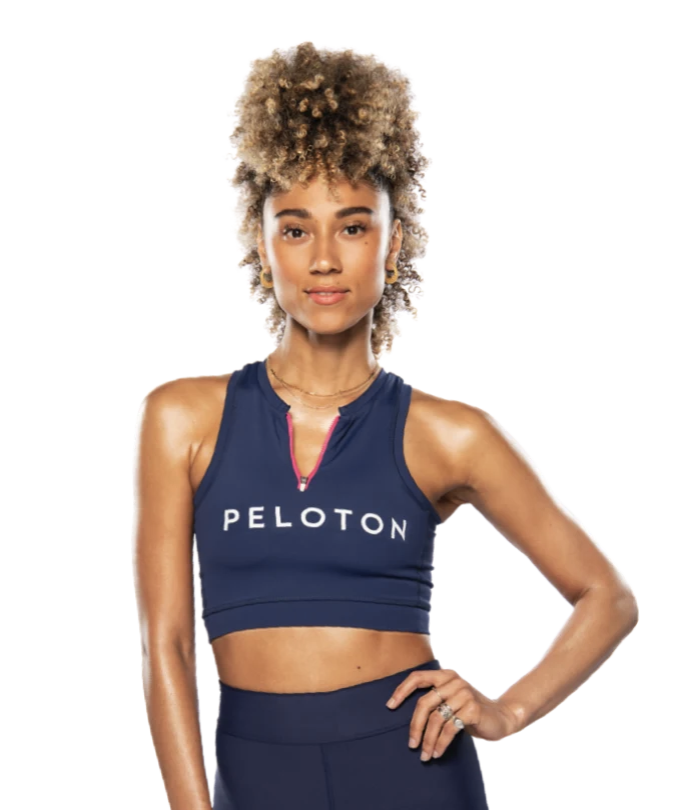 Ally is a multifaceted businesswoman and lover of all things health and wellness. She has served as a correspondent for US Open Now and founded the Love Squad Community which aims to encourage women from all walks of life to reclaim their agency in both professional and personal lives. As a Peloton instructor, she strives to change people's perspective push their limits and feel empowered, or BOSS'd UP.

Total reach= 67.85K
Follower rate of growth= 26%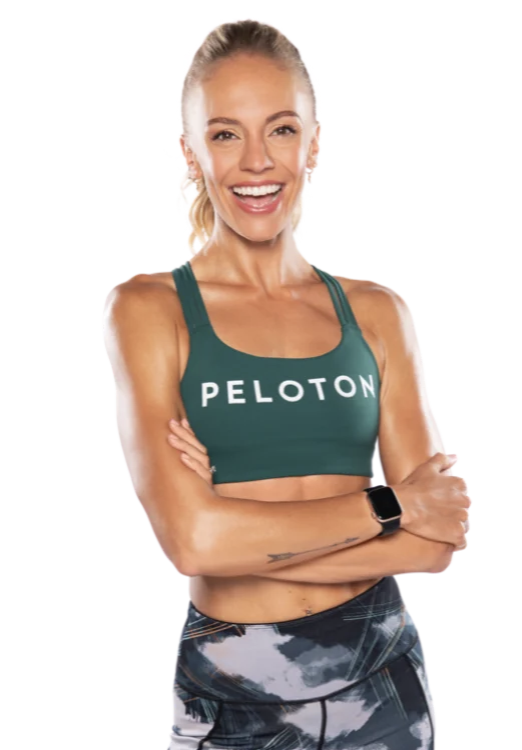 Becs is an ultra-runner with a sub 3-hour marathon under her belt. She trains on treadmills and so is no stranger to the thoughts and hardships that her audience goes through while running. At Peloton, she teaches long and tempo runs while using her words of wisdom to help beginners to seasoned runners. She is motivated and energized through coaching others and her biggest piece of advice to novice runners is to "Take every day as it comes."

Total reach= 108.96K
Follower rate of growth= 80%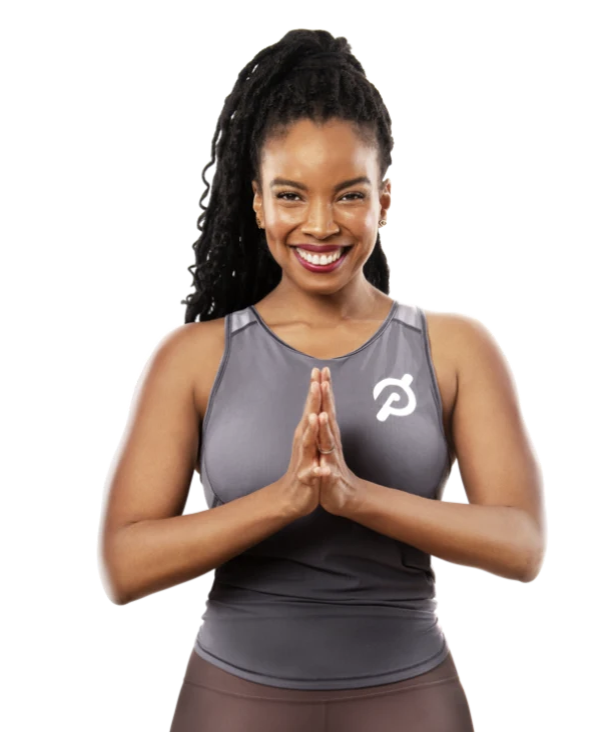 Dr. Chelsea Roberts is accomplished in both the academic world, with a P.h.D in Educational Studies, and in the fitness industry. As a teacher at a school where the majority of the families were under the poverty line, she noticed yoga's positive impact on hers and wanted to spread that unto others. As a Peloton instructor, she cherishes the far-reaching, large influence, and ability to connect with others from all walks of life.

Total reach= 34.83K
Follower rate of growth= 80%
Hannah Frankson has always been active from a young age, eventually becoming a competitive triple jumper and training alongside Olympic athletes. Her favorite part about being a Peloton instructor is seeing other women realize just how powerful they are. She teaches cycling with Peloton with the aim to energize her audience with upbeat music and making exercise fun for everyone.

Total reach= 229.55K
Follower rate of growth= 23%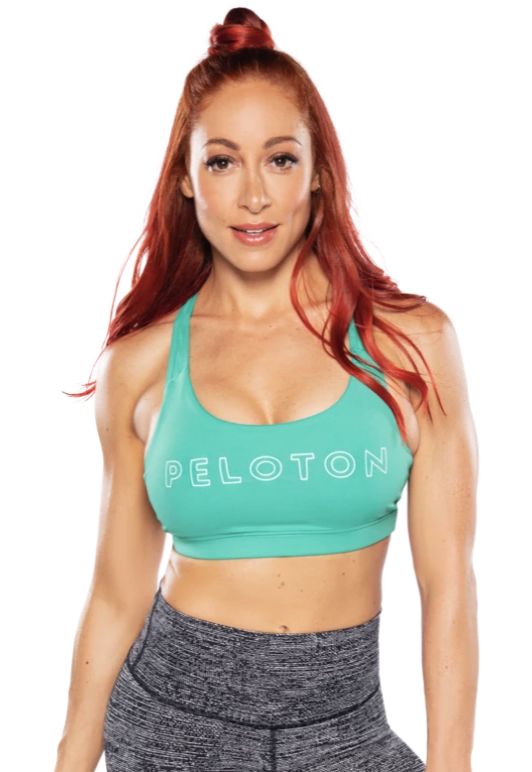 Jess King enters her workouts in a pink cloak bedazzled with unicorn and rainbow wings, a testament to the personality and fun she brings to all of her workouts. As a former So You Think You Can Dance finalist and Peloton cycling instructor for 5 years, King has developed quite the fan base with lines of fans waiting to meet her comparable to that of a popular ride at Disney Land. As a motivator and entertainer, she helps others transform their lives with the cycling burn.

Total reach= 187.59K
Follower rate of growth= 40%
Kendall Tool began her career at a tech startup and began boxing as a mechanism to cope. She quickly realized that through her background of professional cheerleading, gymnastics, dance, and boxing, her true calling was to empower others to break down barriers through sweat and movement.

Total reach= 104.99K
Follower rate of growth= 61%
Leanne has danced since the age of 3 and has danced on stage with major celebrities like Taylor Swift and Katy Perry. As a Peloton instructor, she likes to switch things up with achievable challenges for every rider. She believes growth comes from areas of discomfort, and by doing her classes, riders are sure to agree.

Total reach=613.59K
Follower rate of growth= 24%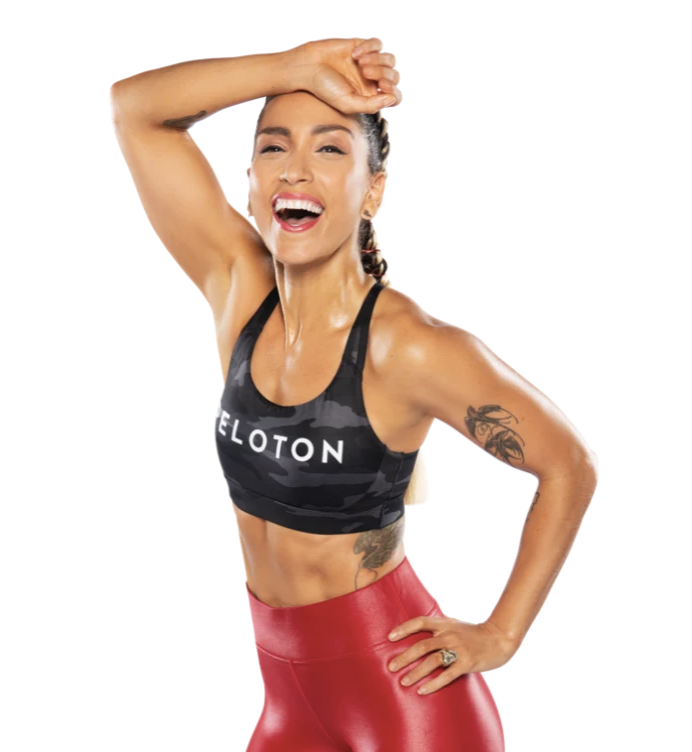 After leaving a successful law career, Arzon branched out into the ultra-marathoner and fitness coach. She is a RRCA certified running coach and author of New York Time's Best Seller Shut Up and Run, and through her empowering ethos that sweat transforms lives, she helps her runners rethink their limits.

Total reach= 304.21K
Follower rate of growth= 51%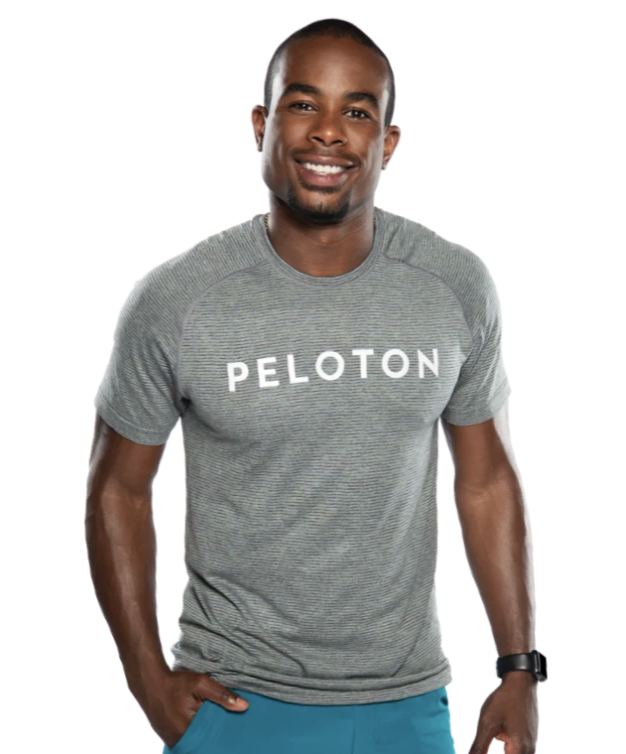 With a military focus, Alex has maintained his laser-like focus into his Peloton classes. His mantra, "Feel good, look good, do better" is sure to resonate with you even after leaving the class. He curates authentic playlists that he listens to in his free time and strives to make everyone feel included and motivated.

Total reach= 138K
Follower rate of growth= 12%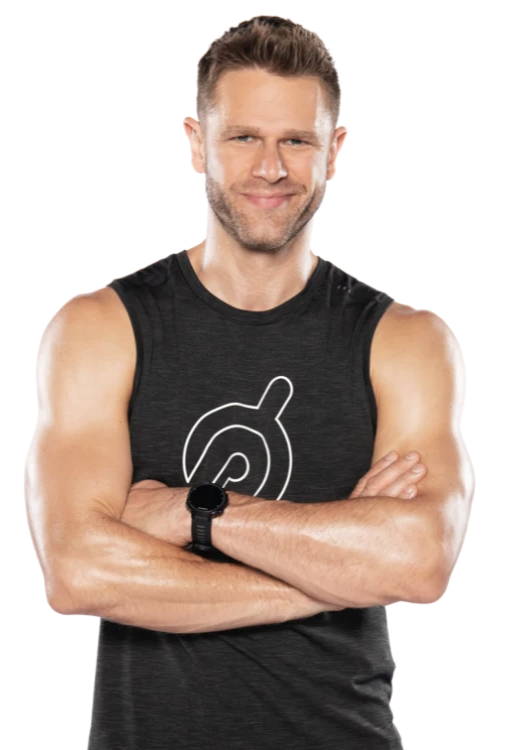 Former gymnast and pole-vaulter, Speer's life mission is to motivate others through fitness. One of his mottos is to "Fight Fitness with Focus" to help others through his technique-centered approach in a wide variety of fitness areas.

Total reach=374.76K
Follower rate of growth= 44%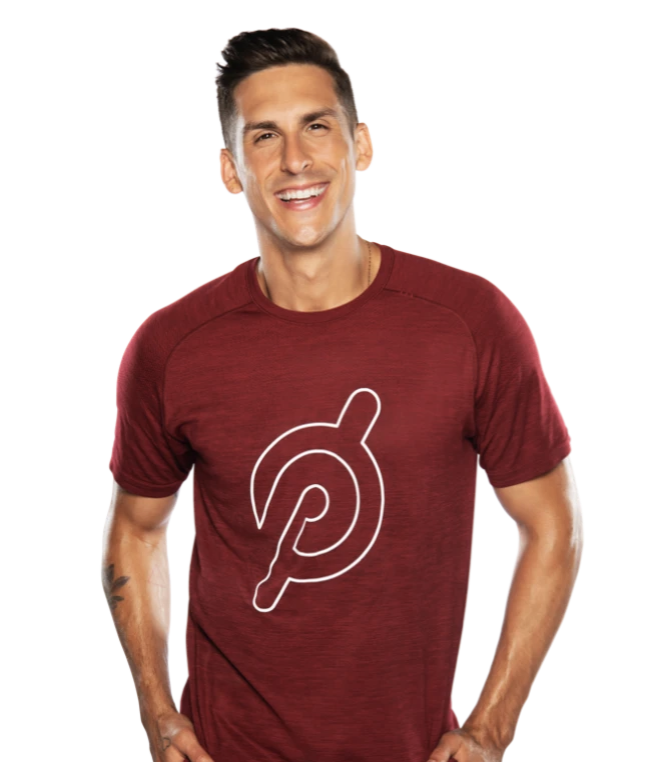 A master of motivating playlists and timing songs, Cody Rigsby has been a raved-about Peloton instructor for 5 years now. He brings his energy and joy for movement to his classes to inspire others to live their best life and have fun while doing it too.

Total reach=374.76K
Follower rate of growth= 37%
Denis brings his wide range of experience of 14 years to Peloton which includes his background in college football and aerial aerobatics. Known as super authentic and transparent, he's definitely grown a fan-favorite at Peloton, known for his playlists and motivating words.

Total reach=70.17K
Follower rate of growth= 31%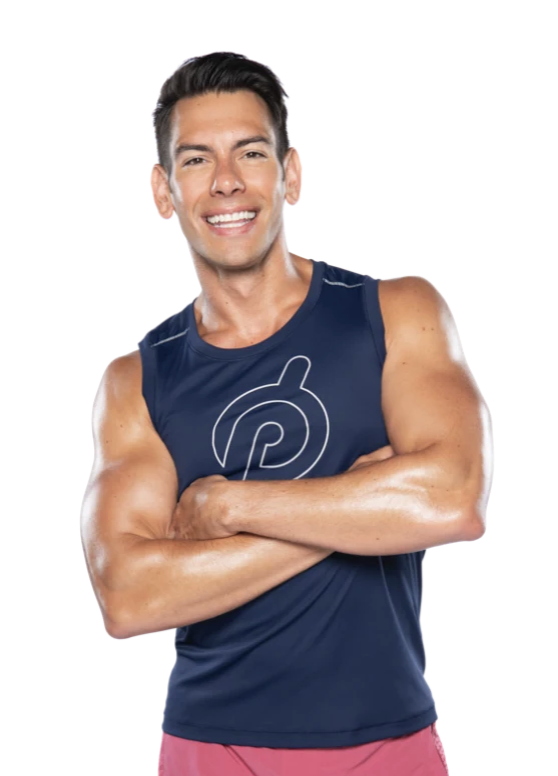 Matt brings his vivaciousness and entertaining quality to his classes, making everyone feel included and making sure everyone's enjoying the ride. A born entertainer and former TV reporter, he infuses storytelling and party-like energy to every session.

Total reach=27.08K
Follower rate of growth= 39%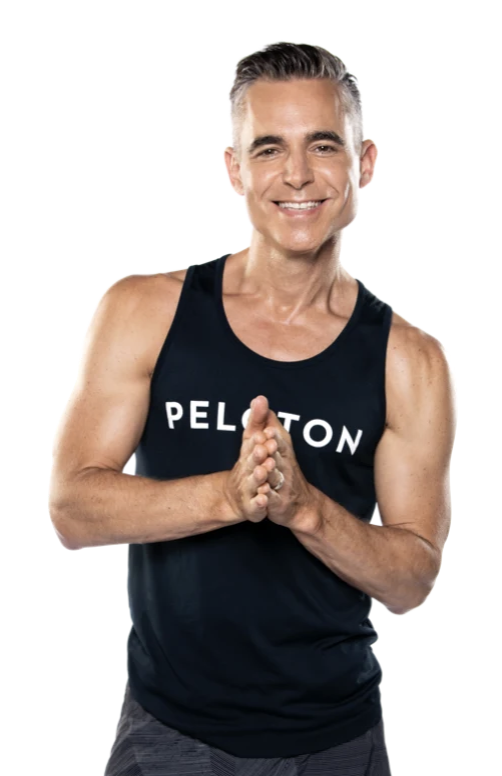 Ross is an expert on the inner workings of the body, with knowledge in biomechanics and the transformative properties of yoga. As a Peloton instructor, he encourages his class to find their authentic selves through movement and to explore the human spirit.

Christian Vande Velde
Total reach= 134.51K
Follower rate of growth= 4%
Christian is a former professional cyclist. His impressive resume includes a win from the 2011 Tour de France Team Time Trial, two top 10 Overall Tour de France finishers (2008 and 2009), and a 2012 overall win at the USA Pro Cycling Challenge. As a Peloton instructor, he's known for his clarity and realness.

Total reach= 30.2K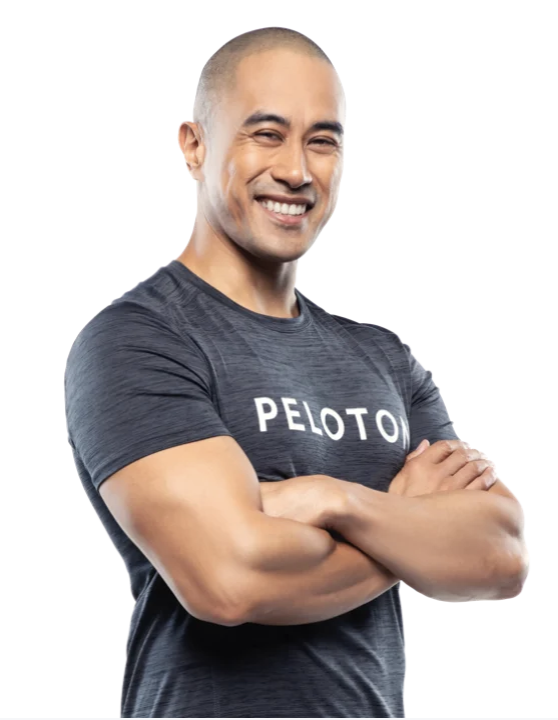 Sam brings 20 years of experience in entertainment and 15 years of experience in fitness. His passion for coaching stems from his love of seeing people discover something they've always had. He challenges his riders with showmanship and hustle.

Total reach= 134.71K
Christine is a decorated track cyclist from Pittsburgh, PA. Although she's a renowned cyclist among the community, she actually started off pursuing ballet at a young age. Unfortunately she had girls taunting her for having big thighs, thus she decided to try to lose the weight by cycling, which eventually led to her becoming who she is today.

Total reach=276.71K
Emma has vast experience in the fitness industry as both a professional dancer and a former SoulCycle instructor for 5+ years. As a former DJ, she brings her love of music to her classes, connecting heavy beats in the music to the workout's movements. Her motto is "Workout because you love your body, not because you hate it."

Total reach= 176.47K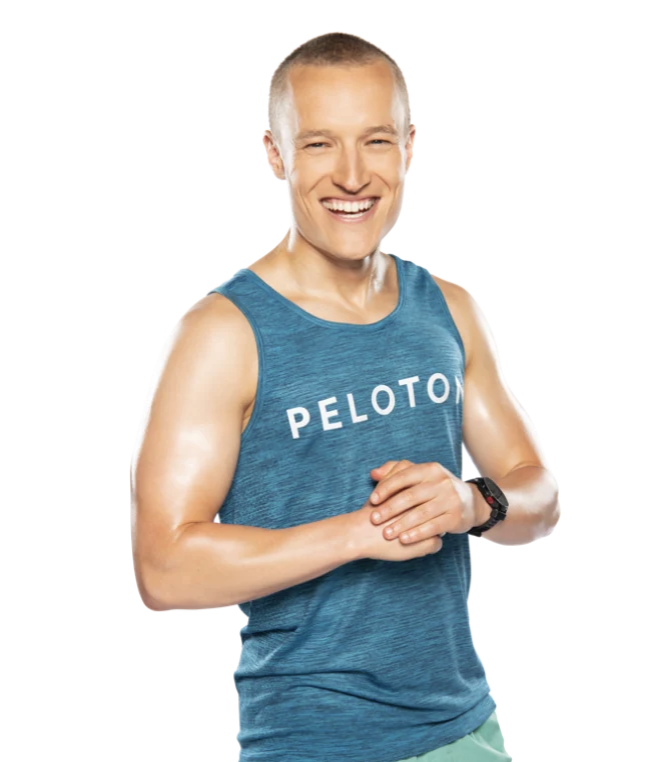 Matt Wilpers is a Division I distance runner with 10 years of experience coaching. He's an avid runner and cyclist He takes pride in helping his class understand what movements they're doing and why. He believes the best training comprises technical training and hands-on.

Total reach= 134.01K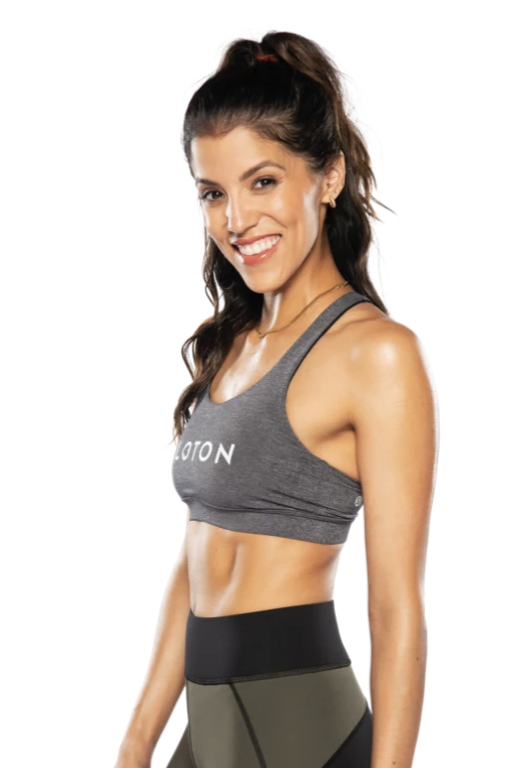 Hannah is a natural-born biker being from Portland, Oregon. Her teaching style will challenge you but treat you with compassion and humor. She combines old music and new music to make sure that everyone feels included and energized.

Total reach= 17.88K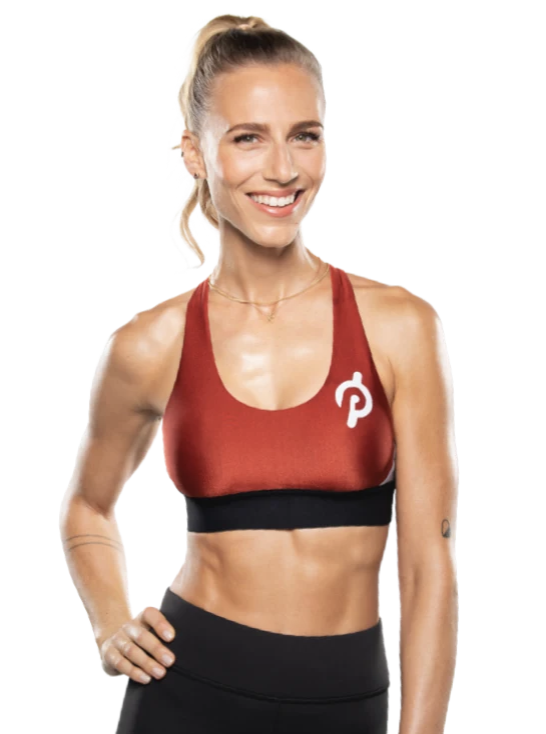 Irene Scholz started indoor cycling and teaching at the age of 17. She strives to help others discover a better version of themselves, and in doing so, helps her discover a better version of herself. Her favorite part about the Peloton community is the community aspect– holding each other accountable and motivating one another.

Total reach= 128.99K
Jenn Sherman was Peloton's first cycling instructor after selling out studios in her hometown of New Jersey. She brings an intense workout with upbeat music and promotes her sessions organically on Instagram, which only help grow her cult-like following fanbase.

Total reach= 120.16K
Jess Sims has been an athlete her whole life, even holding three team captain titles across different sports. Her life purpose is to be of service for others by establishing the connection between body and mind. As a former teacher for Teach for America, she strives to bring fitness to underserved communities.

Total reach= 88.05K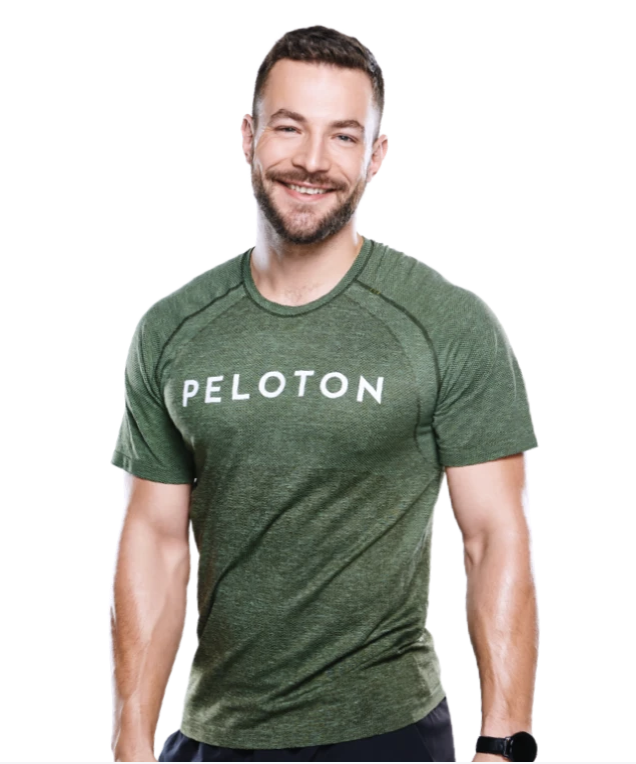 Erik Jager embodies the term "tough love" and anyone who has taken his classes can attest. His workouts are challenging but team-oriented and paired with the music of every genre to keep you energized throughout his fun workouts.

Total reach= 75.05K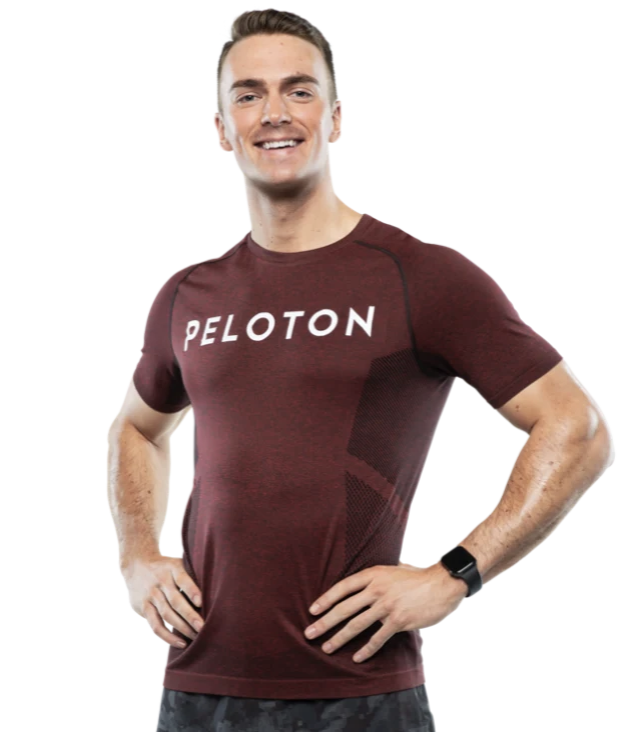 Ben Alldis's childhood was consumed by sports. It wasn't until he found himself working in finance and daydreaming about the past that he chose to take a leap of faith and pursue his passion for fitness. As a Peloton instructor, Ben strives to help others achieve their fitness goals and find a community in doing so.

Total reach= 41.59K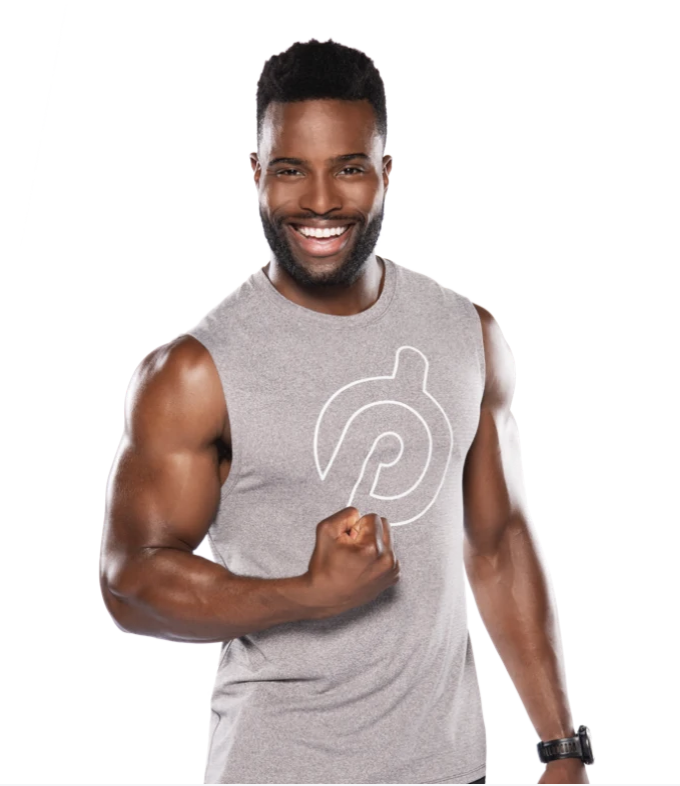 Chase Tucker grew up in a family of athletes and majored in kinesiology. Working in physical therapy and sports medicine, Chase enveloped himself in fitness as a career. He brings his positivity as a lifestyle coach into his Peloton sessions, leaving you feeling energized and motivated.

Total reach= 46.16K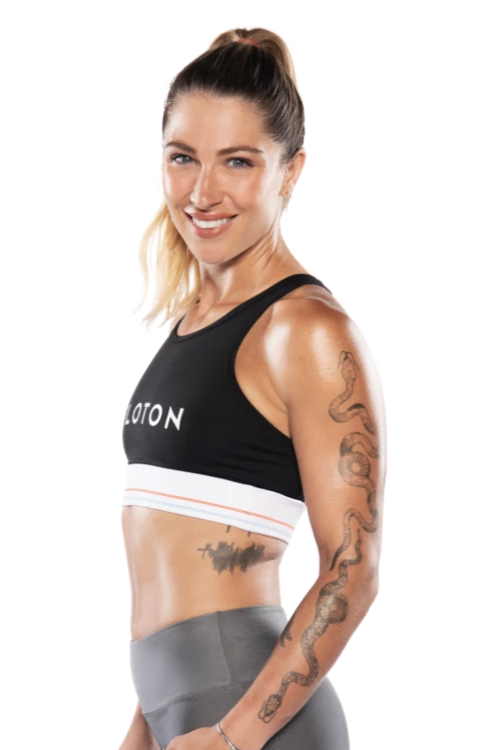 Growing up in a family of professional soccer players, Selena Samuela was always surrounded by fitness. After moving to NYC after college, she picked up boxing and marathoning. As a Peloton instructor, she strives to help others unleash their inner strength, even with her own hashtag, #StrongWithSel.

Total reach= 148.29K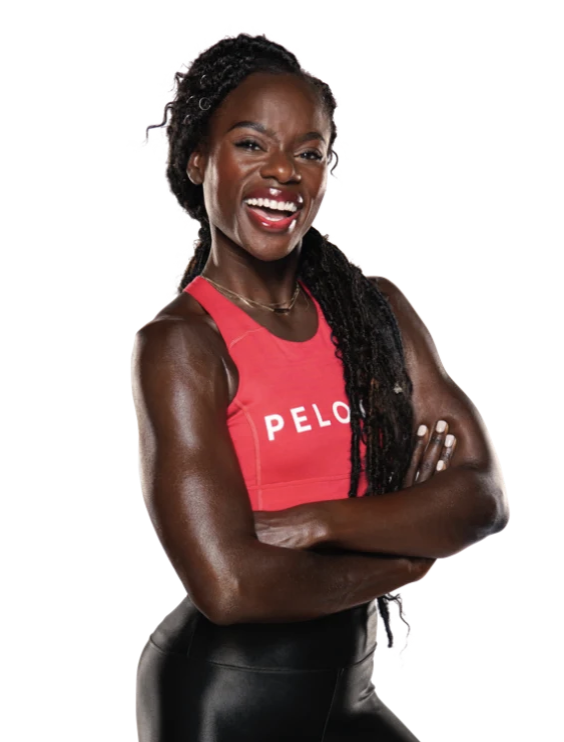 Tunde Oyeneyin began her career as a celebrity makeup artist and brand educator. After struggling with weight and self-confidence and her ability to teach, was when she realized her place in the fitness industry. She strives to make others feel beautiful on the inside through her empowering Peloton sessions so that they also feel beautiful on the outside.

Total reach= 44.66K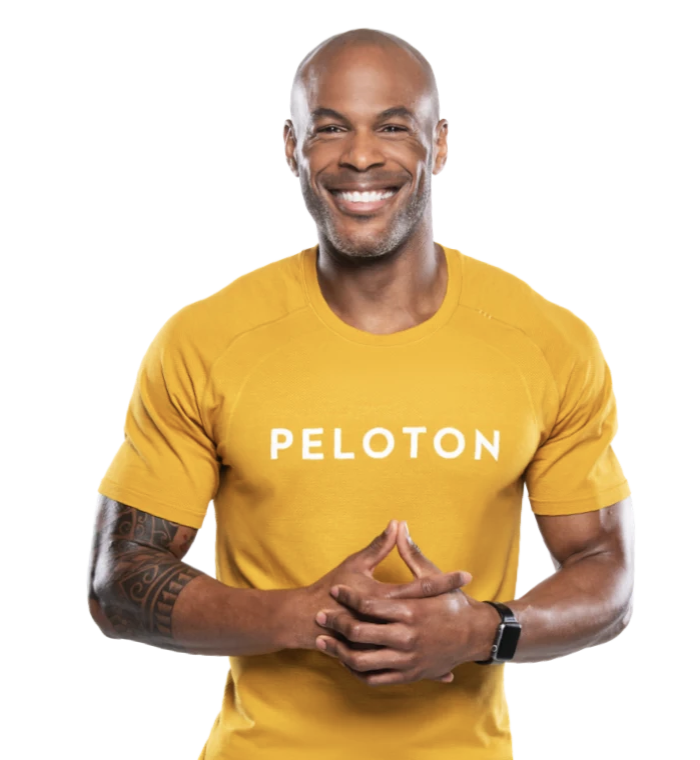 Adrian originally turned to fitness as a way to financially support his family until developing a passion and work ethic for it. He teaches strength and treadmill to every level. His goal as a Peloton instructor is to bring low-intensity workouts that bring smiles and joy to everyone.

Total reach: 144.2K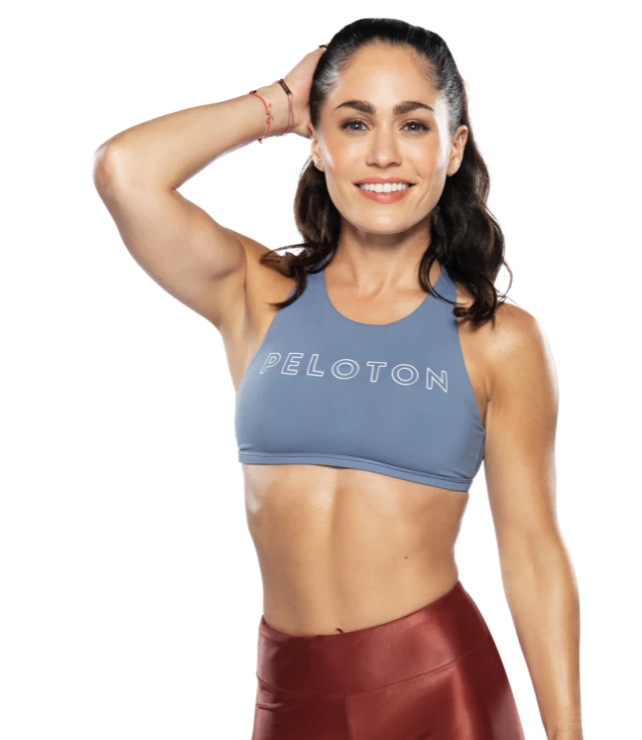 Olivia has been an avid athlete her whole life, from playing lacrosse to field hockey, to cheerleading and track. With a team-first attitude, she takes pride in Peloton as a company and group fitness as a way to empower others and grow confidence.

Total reach= 84.05K
Former NFL cheerleader, USA gymnast, and professional dancer, Rebecca's motto for fitness is "Power and Empower." In her Peloton sessions, she will get you to use all of your muscles, including your brain. She seeks to educate on the inner workings of health while bringing her energy and charisma to every class.

Total reach=94.4K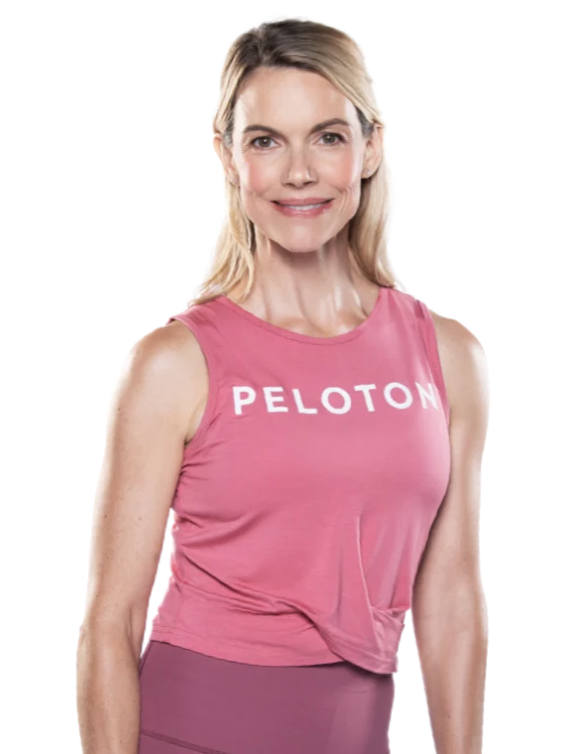 Kristen has been a pioneer in the yoga world, starring in over 100 yoga and pilates videos. She has completed a 500-hour yoga certification and 500-hour Urban Zen yoga therapist training, each making her most qualified to helping Peloton users achieve mind, body, and spirit harmony.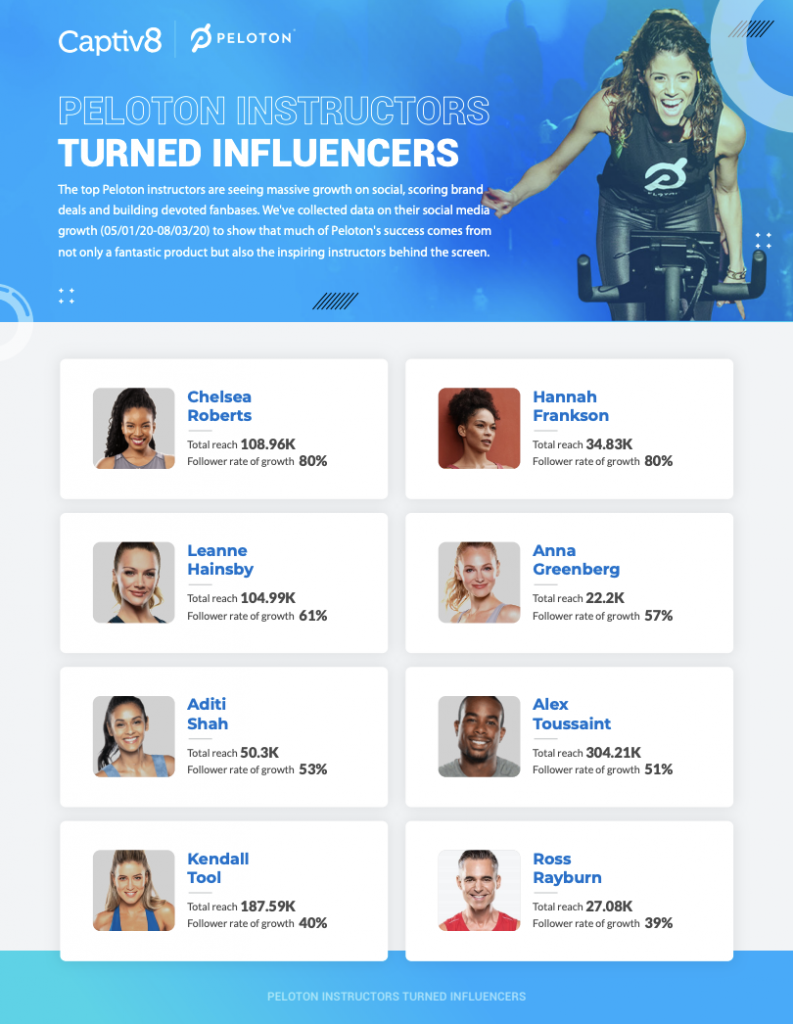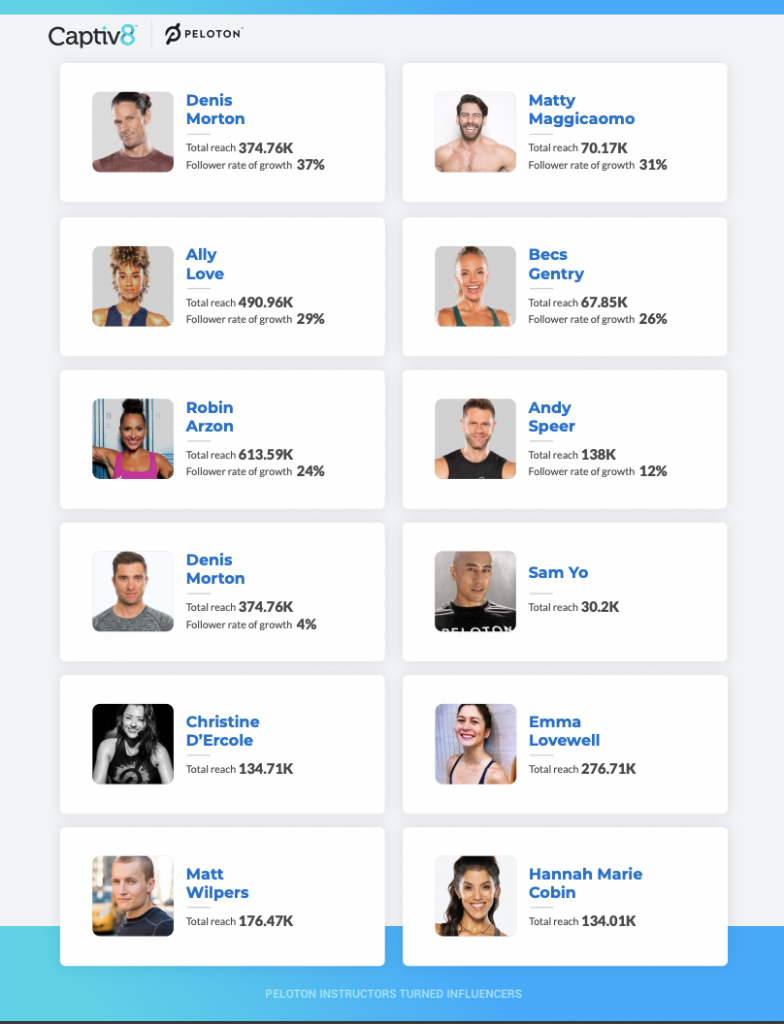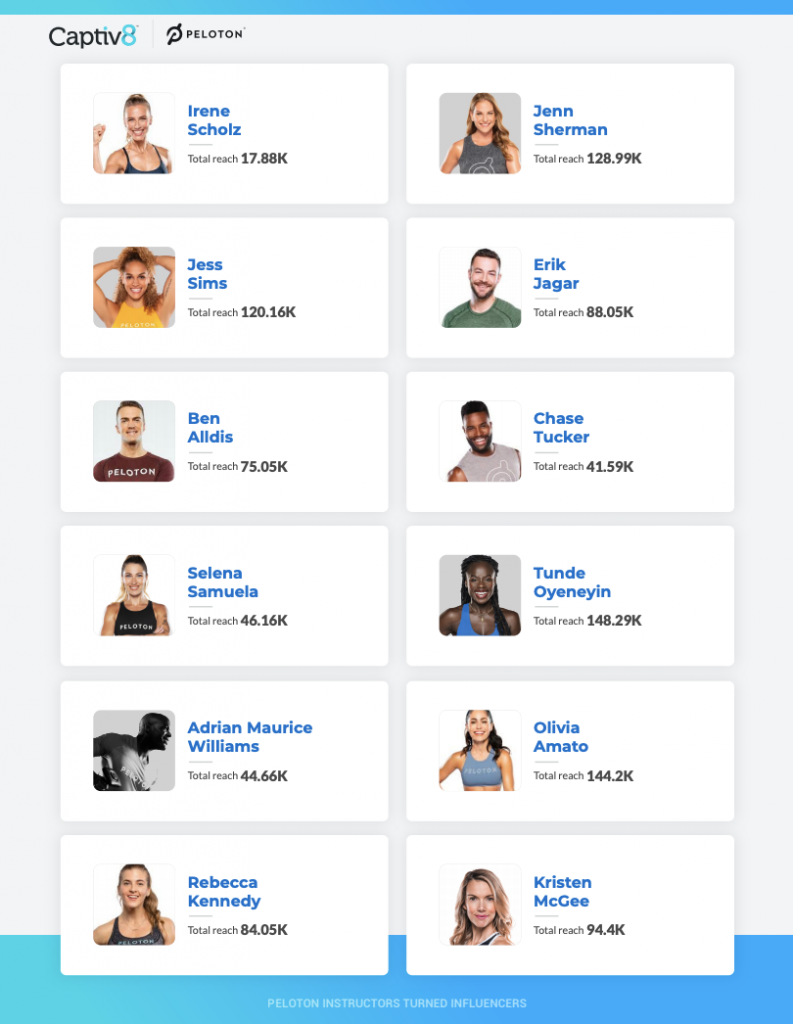 Looking to leverage influencers for your next campaign? Reach out to hello@captiv8.io.