Which College Football Players in the National Championship Game Had the Most Instagram Follower Growth in 2022?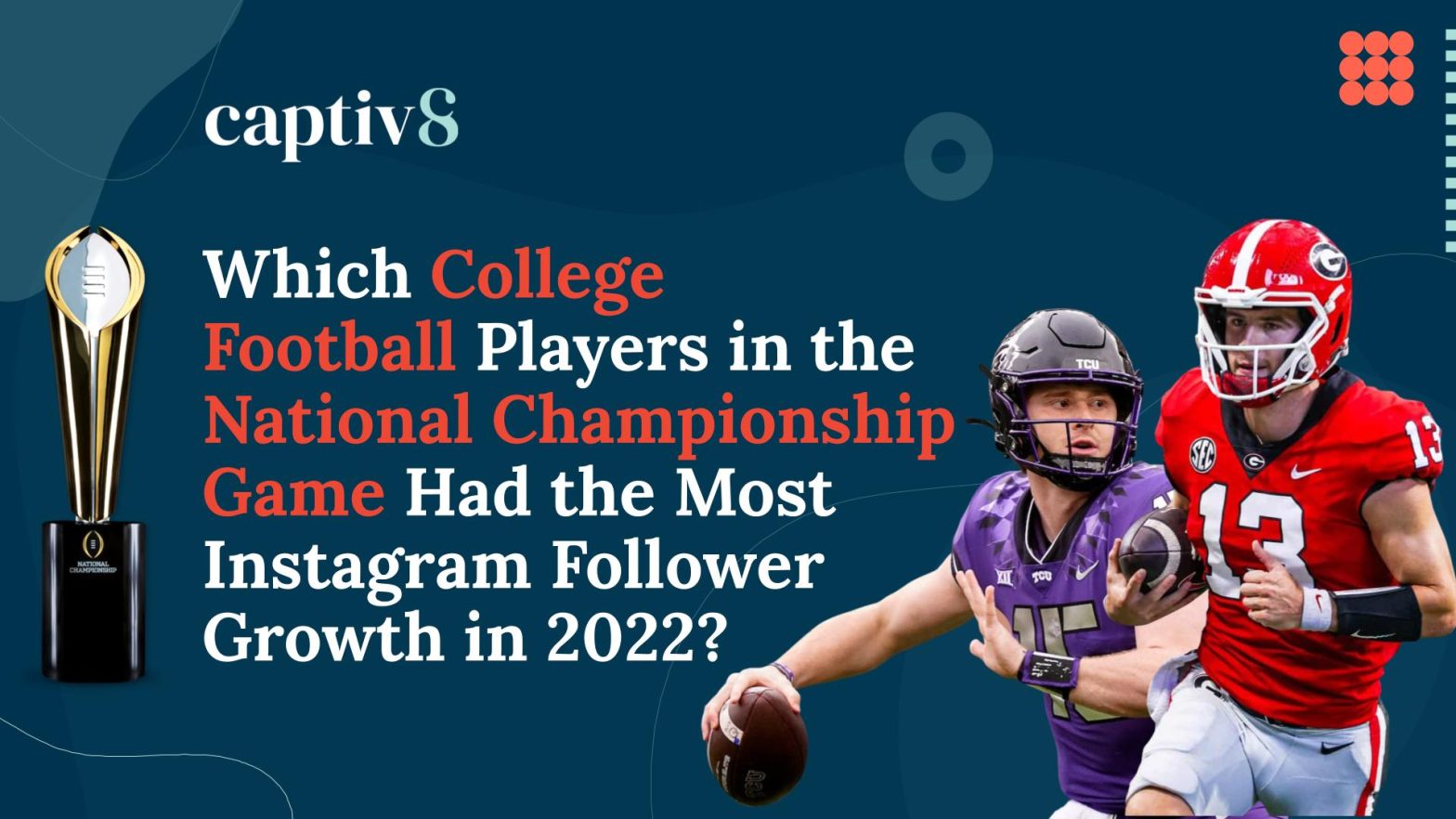 When the 2022 NCAA College Football season began, the two favorites to win the College Football Playoffs were the Alabama Crimson Tide and the Ohio State Buckeyes. Fast-forward five months, and neither team is competing for the national championship. This year's national champion will either be the reigning winner, the Georgia Bulldogs, or the Texas Christian University (TCU) Horned Frogs. In making the College Football Playoffs, let alone winning it all, TCU became the biggest preseason longshot ever to reach the playoff at 200-1 odds. As these two teams prepare to face off, the players have been in the midst of the media spotlight. Here is the Instagram follower growth of a few players competing in the national championship game.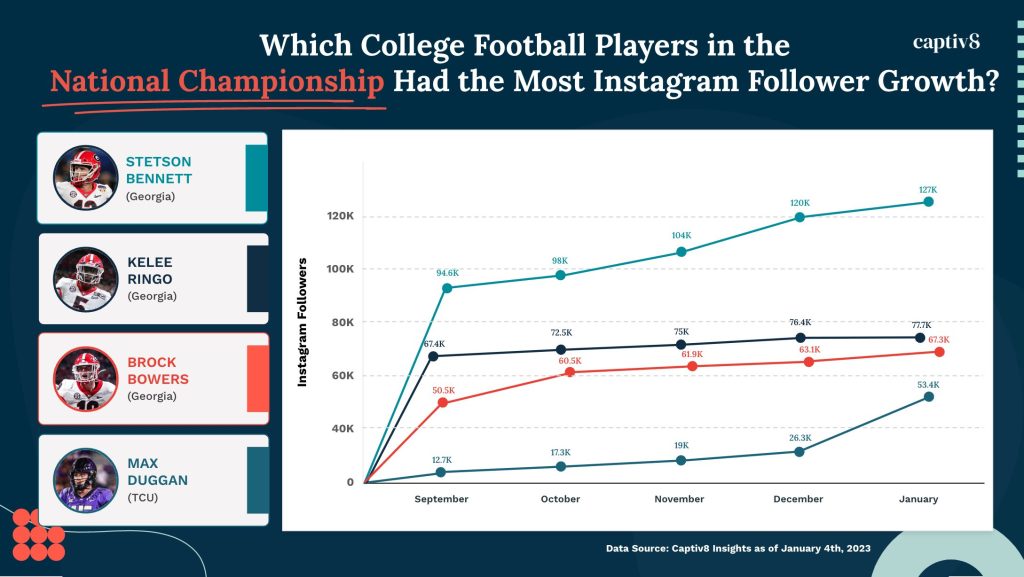 Leading the way in Instagram follower growth amongst players competing for the national championship is Stetson Bennett. Through the use of Captiv8's Comprehensive Insights, we identified that Bennett gained approximately 32.4K Instagram followers during college football season, good for a 34% growth percentage. Notably, not many TCU players saw much follower growth during the course of the season. Leading the way for TCU was quarterback, Max Duggan, who saw over a 320% increase, most impressively with a spike between December and January of over 100% in just a month!
College Football Players with Notable Instagram Follower Growth Percentages
Throughout the course of the college football season, many players gain a considerable amount of growth and exposure, not just the players who make it to the national championship game. Here are a few of the players who saw the most significant growth percentages during the season.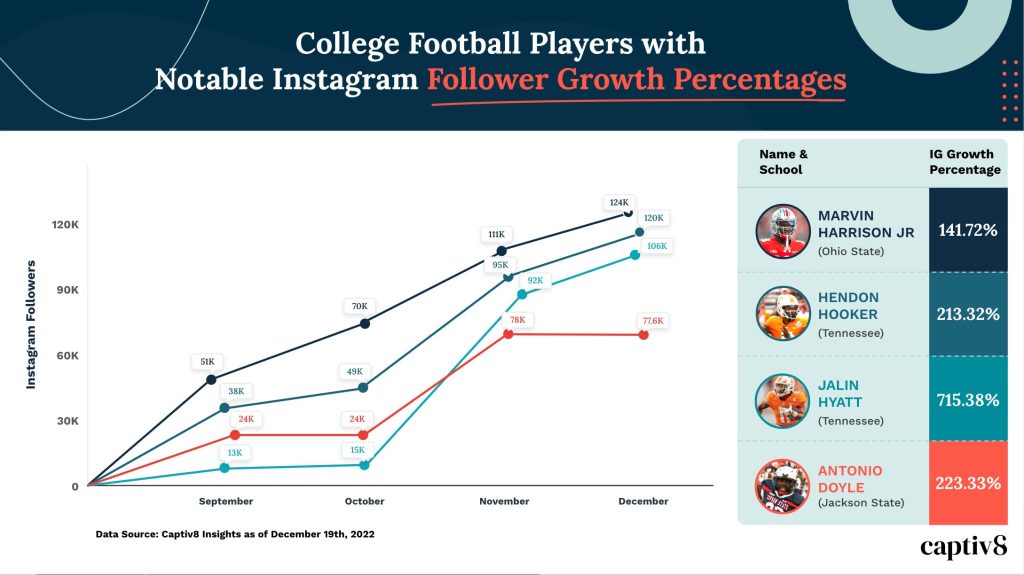 Notably, players can spike in followers and engagement after a big game. For example, Tennessee's wide receiver Jalin Hyatt had 15.93K followers on October 12th. On October 15th, Tennessee defeated Alabama for the first time in 15 years by a score of 52-49. In that game, Jalin Hyatt registered a jaw-dropping five touchdown receptions, breaking Tennessee's single-game program record which was previously three. In the ensuing days, Jalin Hyatt's Instagram following grew by over 300%! Since the Alabama game, Jalin Hyatt has inked endorsement deals with Bose, Hyatt Hotels, and Keller Williams among others. Hyatt's incredible growth is a testament to the opportunity brands have in striking partnerships with student-athletes at the ground level before they ascend to superstars.
Instagram Follower Growth of Notable College Football Players in 2022
In addition to the athletes previously mentioned, interested in finding out how some of college football's most notable names stacked up in follower growth during the course of the 2022 season? Here's a look at household names such as Caleb Williams (USC), Bryce Young (Alabama), and CJ Stroud (Ohio State).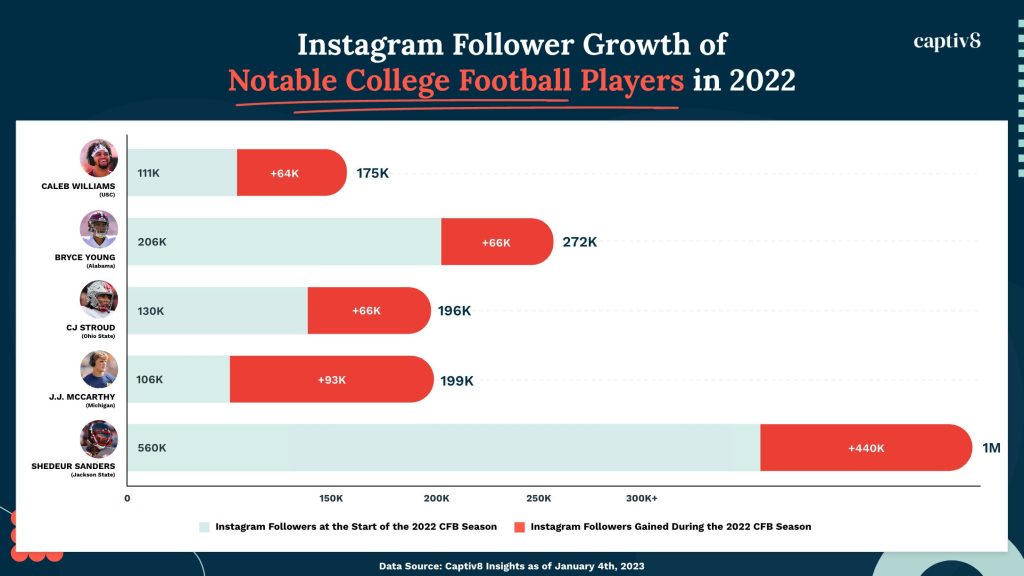 With significant media exposure throughout the course of the season, it's exciting to see skyrocketing follower growth rates for players. With this in mind, brands that partake in partnerships with collegiate athletes are awarded the opportunity to see incredible exposure and results along with these ascending student-athletes. Although the college football season is coming to an end, brands should not feel as though they've missed out on the opportunity. Rather, they should begin planning for what's next. The college basketball season is currently underway, with March Madness beginning at the end of March, brands will have time to build campaigns before a new group of student-athletes is given their time in the spotlight and in front of the national media.
Conclusion
In conclusion, college athletes can grow their social following drastically during the course of one competitive season. Whether they are household names or unknown to the public before the season begins, there is incredible room for growth for all. Through NIL, brands have the unique opportunity to work with the most engaging subset of creators. Interested in learning more or running your own collegiate creator marketing campaigns? Reach out to us today!
About Captiv8
Captiv8 is a full-service influencer marketing solution that redefines end-to-end, inspiring you to think bigger, enabling you to plan smarter, and empowering you to execute better. Through our intuitive workflow, brands can uncover actionable insights on trends, discover and vet influencers, seamlessly activate campaigns at scale, amplify branded content across the digital ecosystem, and prove business impact through our measurement dashboard. Our platform gives you the tools you need to build relationships and effective content, while our teams lend experiences and strategic services to steer you clear of common influencer marketing pitfalls.