How Marketers Can Use Instagram's New Live Video Guest Feature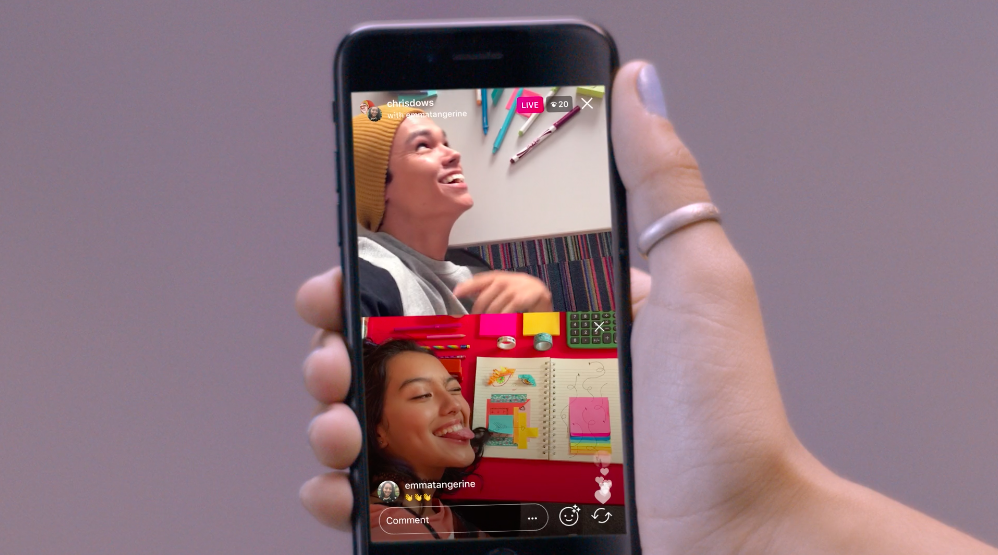 Instagram announced this week that it's upgrading its popular live video feature in Stories, incorporating the ability for users to add guests to their streaming broadcasts. While the upgrade may not initially seem like that big of a change, it's great news for marketers and creators, who will have new options to help grow their audience and engage potential followers. Here are some of the key opportunities and benefits.
Live video guests can help build your follower count: As we discussed in our blog post about social takeovers last week, Instagram content partnerships with creators are a great way to boost your follower count and introduce your brand to new audiences. Perhaps the biggest benefit of live video content is that it shows up "first" at the top of your follower's app, making it easy to attract the attention of Instagram users when they first sign on. In addition, inviting a guest to a live video broadcast can literally "double" your potential audience, instantly exposing your brand to a creator's own audience and fan base (and vice versa).
Guests can turn live video in an instant Q&A panel: We talked about some of the ways that marketers could utilize live video in our recent blog post on streaming content ideas, including the opportunity for fans and customers to get real-time answers to their most pressing questions. Adding a guest to a live video session instantly turns one of these live video Q&A sessions into an impromptu conference session, doubling its utility for followers and helping to add more perspective or expertise to the discussion.
Live video guests can make "hangouts" more fun: Feel like your brand needs a concrete reason to host a live video session? Not necessarily. Maybe the best reason to experiment with one of these real-time streaming sessions is to create new opportunities to engage customers. As the team behind the Instagram app explained last year, young people are increasingly using live video as a simple way to chat with friends. "The use case that caught our attention was people just hanging out on live, particularly young people," said Instagram's Shilpa Sarkar in an interview about live video. "After school, they jump on a livestream and hang out. That use of live is particularly interesting to us." Think of adding a guest to a live video stream as an easy way to create a more fun social setting for interacting with followers.
Instgram's new live video guest feature in Stories isn't a groundbreaking update. But even though the update may seem small, the ability to include guests has plenty of potential for marketers, who can use the function to help grow their audience and create new methods of engaging fans. Wondering how your brand might incorporate live video into its future content strategy? Reach out to the experts at Captiv8 today.