Influencer marketing is gaining popularity with all sorts of industries, from fashion to travel to CPG and beyond. But it's not just lifestyle sectors that are using influencers: increasingly, even highly-regulated industries like financial services, that once shied away from social media, are catching on to the benefits of creator-driven campaigns. One reason for this is the overwhelming effectiveness of influencer campaigns across all industries. In addition, there has been an increased importance of acquiring millennial customers, a segment that tends to be distrustful of finance brands and often has different attitudes toward saving, investing and spending than older generations.
But how can financial brands and banks get started with influencer marketing? What sorts of strategies should they use to partner with creators to reach these audiences? Here are three potential approaches.
1. Appeal to consumer aspirations: In the minds of many consumers, money is a symbol that represents a variety of values. For some it's about security, while for others money is a tool that helps them achieve their dreams, provide for loved ones, buy a house, or get out of debt. One example of an influencer-focused financial campaign that appealed to this aspirational association with money was US Bank's #ISaveSoICan program.
US Bank partnered with creators like Stephanie Frosch and Sam Larson, each of whom offered very different examples of how their saving helped them achieve their goals. Stephanie (right) was more focused on her personal relationships with loved ones, while Sam talked about how saving allowed him to live a life of creativity. Stephanie's image drove 12k likes on Instagram, while Sam's video generated over 72k views.
2. Show how financial products provide a more fulfilling lifestyle: Consumer attitudes toward spending have undergone a dramatic shift in the past several decades. These days, more people are choosing to spend their hard-earned dollars on experiences instead of physical things, a shift that is leading more credit card brands to recalibrate their messages accordingly.
A great example of this is American Express, a company that's been closely associated with affluent lifestyles for many decades. Using its #AmexAmbassador hashtag, the company is partnering with Instagram creators from a range of categories including sports, fashion and travel to help show how its credit card products provide access to experiences, not stuff. Tennis star Venus Williams is one great example of an American Express Ambassador. Williams (below, right) talked about how her credit card is helping her to build her fast-growing athletic apparel business, EleVen. Her video so far has more than 213k views.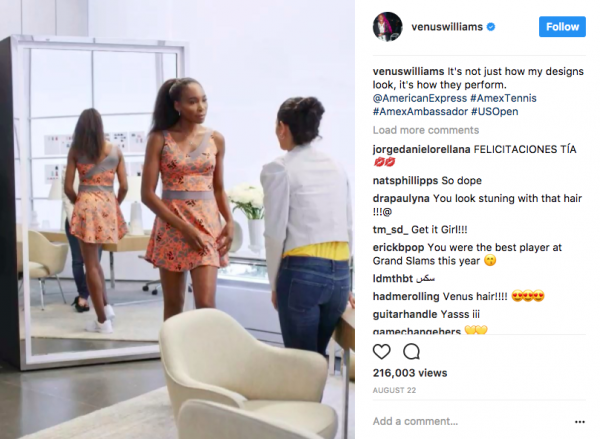 Meanwhile, for fashion and travel creator Leonie Hanne, the travel perks offered by her American Express card make her journeys more comfortable. This image of her hanging out at the American Express-sponsored "Centurion Lounge" at the Hong Kong Airport has more than 31k likes.
3. Humanize your brand: The financial crisis of 2008 had a negative impact on consumer attitudes towards the banking sector, a perception that has at times been hard to shake. That's why more financial brands in recent years have used influencer- and social-driven marketing campaigns to build goodwill with charitable causes and cultivate a more human-driven approach to their products and philosophy.
One example of a brand that's trying to give its brand a more human element is Capital One. The banking and credit card company wanted to extend its popular "What's in Your Wallet" ad campaign online. To do it, they partnered with various creators on a campaign called #walletstories, which documented the quirky and unique items that various influencers kept in their wallet. Photographer Paul Octavious, for example, shared a photo and an intimate story about his childhood memories of playing tee-ball, while Zach Driftwood described a memory of an epic road trip he took with a friend. The stories were deliberately not about spending, which while counterintuitive, was actually a great opportunity for Capital One to build some goodwill and awareness with potential customers. In fact, one post-campaign recap suggested that brand recall for the company had increased by 16%.
Financial services brands have a challenging task when it comes to marketing themselves on social media. How do they stay authentic and connect with customers when discussing a complicated, and highly-regulated, industry like banking? Increasingly influencer campaigns offer an attractive opportunity, whether your brand is looking to promote a new product, build goodwill, or simply grow brand awareness with younger audiences. Want to learn about insights that can help your own financial brand for an upcoming influencer campaign? Learn more about how Captiv8's platform can help you get your own influencer program off the ground.