The Influencer Marketing Experts Shaping the Creator Economy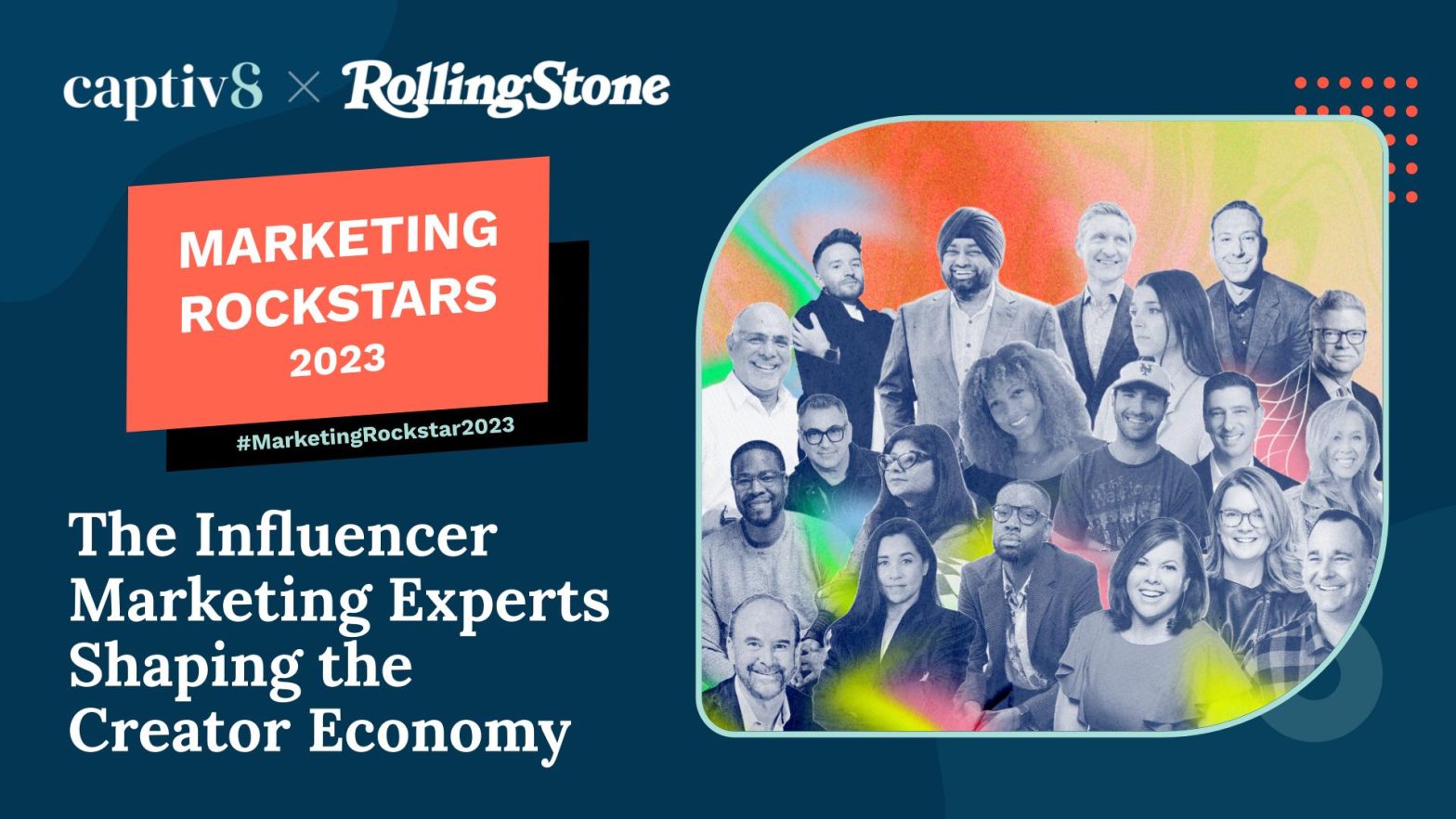 Rolling Stone leveraged Captiv8's comprehensive platform in order to identify the influencer marketing experts that are shaping the creator economy. As the leader in coverage for rock and roll lifestyle content, Rolling Stone performed a deep dive into the data behind these influencer marketing experts in order to compile a list of the 20 Marketing Rockstars Shaping the Creator Economy.
When asked about the partnership with Rolling Stone, Captiv8 Co-Founder and CEO, Krishna Subramanian stated "Marketers are the rockstars of the creator ecosystem. They play the crucial role of opening doors for talent, driving innovation, and creating monumental cultural impact. The entertainment industry is undergoing significant disruption as branded content and brand experiences rival those of major television and movie studios. The future of entertainment lies within the realm of our phones, where creators take center stage, and marketers produce the show. It's an honor to celebrate some of the most unique leaders who are pushing the limits of creator marketing. This is just the beginning." Find out which influencer marketing experts Rolling Stone selected with the support of Captiv8 data.
The 20 Marketing Rockstars Shaping the Creator Economy
As head of digital at E.L.F. Beauty, Chopra champions inclusivity by collaborating with creators from diverse backgrounds. Her innovative and empathetic approach has led to the brand's success, transforming beauty standards and empowering everyone to feel beautiful.
Tariq Hassan is reimagining the world's most iconic fast-food brand by collaborating with billions of McDonald's fans worldwide. He's letting creators remix brand artifacts and teaming up with artists and fashion designers to put the brand at the center of culture.
Mastercard empowers creators to follow their passions in purposeful and impactful ways, connecting artists with mentors worldwide through their Web3 artist accelerator. Rajamannar understands the creators' difficulties with getting paid and champions creation as a core part of the human experience.
Todd Kaplan brings Pepsi into the creator age by engaging with billions of Pepsi lovers worldwide. He understands that the best marketing ideas come from the ground up, ensuring the brand is listening and creating cultural touchstones for decades.
Unilever's Personal Care CMO, Samir Singh engages billion-strong customers in honest and inclusive ways, working with global creators to unleash the power of authenticity in brand communication.
PacSun's Brieane Olson revived the California Cool brand's fortunes with a community-focused marketing strategy. Turning fans into creators, PacSun speaks to Gen Z on multiple levels, building lasting relationships with its brand evangelists.
Savage X Fenty's authentic community-building has helped the brand soar, and Guzman has been instrumental in working with diverse, inclusive creators to support marketing campaigns. "We're proud of the community we've built," says Guzman.
Logitech's Erin Chin is a strong advocate for the creator economy, leading programs that explore how creators have transformed the music industry. "We do it with our consumers at the heart of everything we do," she says.
Mack's secret to Gymshark's success? A pioneering creator program that centers on the people using the brand to achieve their fitness goals and inspire others. He calls the creator economy "the most exciting thing to happen to marketing and branding in a long time."
Zappos' Ginny McCormick puts inclusivity at the center of the brand's marketing, bringing in diverse perspectives from customers and partners alike. "All consumers are part of the creator community," she says.
Liquid Death's VP of Marketing, Greg Fass, creates some of the most irreverent and memorable ad campaigns by blending mischief and soul. Fass's strategy is to put entertainment first, working with creators to come up with hilariously unexpected collaborations.
Hilton's Mark Weinstein taps into guests' love for the brand by turning them into brand ambassadors. He also bucks trends on creator platforms, proving that being unconventional can break through the noise, like their viral 10-minute TikTok.
Chikumbu's empathy for creators is rare at the top of the creator economy. As a former creator himself, he understands their needs and wants to make them feel seen, appreciated, empowered, and amplified. His leadership at TikTok could be a game-changer for the platform.
Rutledge's support for small businesses has been integral to American Express's mission. Last year, she partnered with TikTok to give small businesses ad credits to reach Gen Z audiences, working with influencers to spread the word. Rutledge's authentic approach connects with the company's values, delivering engaging content that brings Card Members closer to their passions.
Ratner's marketing strategy for Rhode is unconventional and effective. Pairing a traditional debut with YouTube videos, Ratner provided an intimate look at the brand, showcasing Haley Bieber's emergence as a creator and influencer. The strategy has paid huge dividends as Rhode continues to grow.
Mapes knows that customer experience is key to retaining loyal customers, and he's turned to creators to put that experience front and center. "Creators have built trust with their highly engaged audiences," he says. Delta's dedication to its customer creators speaks volumes.
Walmart Creator empowers creators with tools and resources to inspire and track their content's performance, democratizing the company's massive retail offerings. William White knows the power of putting their creators in control, giving them the tools to create inspirational stories.
Mollica knows that sound is key to creators' work and that music plays an integral part in people's lives. By using Bose's decades of expertise, he is building audio experiences for listeners worldwide, helping marketers thrive.
Tresvant's marketing expertise keeps Taco Bell relevant and popular, connecting with Gen Z and the chain's loyal fanbase in authentic and irreverent ways. By partnering with the right creators, Taco Bell's marketing initiatives have achieved phenomenal results, such as the Doja Cat and Mexican Pizza campaign.
Chris Brandt taps viral creators for vital components of Chipotle's marketing campaigns. Focus on building direct relationships with creators, Brandt finds opportunity in the chaos of order remixing, making them an essential part of the restaurant's menu hacks.
Conclusion
In conclusion, through the use of Captiv8 data, Rolling Stone was able to validate each influencer marketing rockstar selected for this list. Oftentimes, creators are the talent that is spotlighted in an influencer marketing campaign and we are excited to have been able to assist Rolling Stone in their goal of celebrating these unique and incredible leaders who are pushing the limits of creator marketing. Interested in learning more about the data that went into compiling this list and how you can use it to make future influencer marketing decisions? Reach out to us today!
About Captiv8
Captiv8 is a full-service influencer marketing solution that redefines end-to-end, inspiring you to think bigger, enabling you to plan smarter, and empowering you to execute better. Through our intuitive workflow, brands can uncover actionable insights on trends, discover and vet influencers, seamlessly activate campaigns at scale, amplify branded content across the digital ecosystem, and prove business impact through our measurement dashboard. Our platform gives you the tools you need to build relationships and effective content, while our teams lend experiences and strategic services to steer you clear of common influencer marketing pitfalls.