Captiv8 Cannes 2023: Recapping an Impactful Advertising Week Abroad
On the sun-soaked shores of Cannes, Captiv8 took center stage for a week of unparalleled inspiration, networking, and innovation. From private planes to impromptu brainstorming sessions, this year's event was nothing short of remarkable.
Captiv8 x PTTOW: The Journey Begins
Captiv8 Cannes take you there! We kicked off the trip with a touch of glamour, taking to the skies in a PTTOW private jet. We brought along 75 creators and CMOs who are driving change in their respective fields. This diverse group of minds shared knowledge and insights during their travel, fostering connections that span the globe.
Captiv8 x Rolling Stone: Celebrating Marketing Rockstars
The picturesque Mastercard Villa served as the backdrop for a celebration of our collaboration with Rolling Stone. While there, 20 Marketing Rockstars gathered to discuss and shape the future of the Creator Economy. A special feature panel focused on "Entertainment and How Brands and Creators are Shaping the Future of Content and Connection" included Raja Rajamannar, CMO of Mastercard, Josh Richards, Creator and Venture Partner, Meridith Rojas, CBO of Captiv8, and Gus Wenner, CEO of Rolling Stone.
Panel Insights: Building High-Performing Teams for an MVP World
Captiv8 CEO Krishna Subramanian took on the role of moderator for the "Building High-Performing Teams for an MVP World" panel at Brand Innovators Croissants and Conversations. Esteemed figures from various industries participated, including Liz Caselli-Mechael from Nestlé, Carol Chen from Shell, James Clarke from PepsiCo, and Reese Fitzpatrick from Bayer. The discussion delved into the complexities of forming and fostering teams that excel in a rapidly changing and dynamic environment.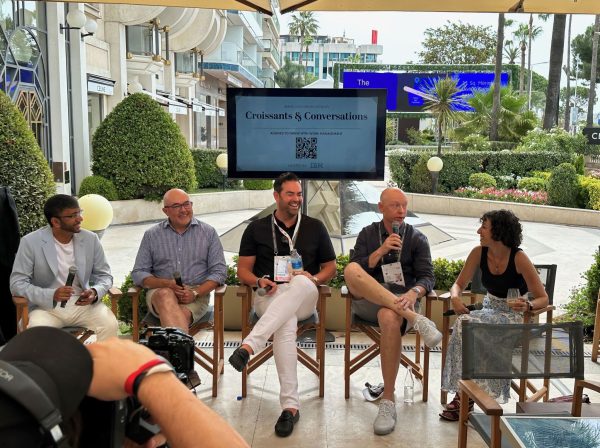 Brainstorming with Industry Titans
In a unique twist, our journey took us on a small tender to an island lunch, where Sir Martin Sorrell and several industry-leading CMOs engaged in an impromptu brainstorming session. The result was a lively exchange of ideas and insights, set against the stunning backdrop of the Mediterranean.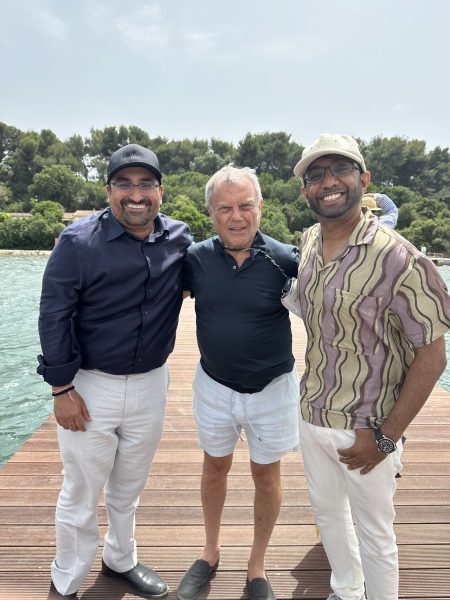 Thought Leadership on Display
Throughout the week, Captiv8's leaders showcased their expertise on various panels. Our Chief Brand Officer, Meridith Valiando Rojas, graced the stage at the MediaLink beach to join the panel "Reaching your Future Consumer: Creators, Community, and Culture", while Bryce Adams, Captiv8's VP of Business Strategy and Success shared his insights at Reddit's beachside event "How to Tap Into Diverse Gaming Communities". The audience was treated to a wealth of knowledge and perspectives from these trailblazers.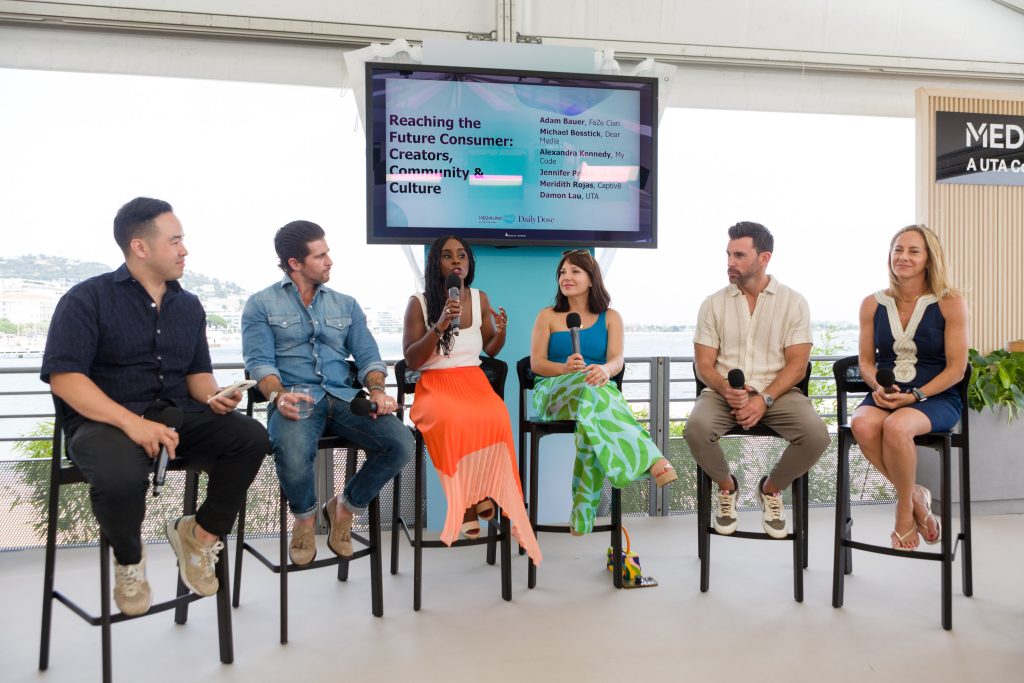 Captiv8 x ThisThat: A Podcast Aboard ThisThat's Yacht
Our journey took an audio turn as we recorded a podcast on the enchanting ThisThat's Yacht. Max Osborne and Dominic Ivison dove into discussions with Captiv8 co-founders Krishna Subramanian and Sunil Verma, and Chief Band Officer Meridith Valiando Rojas regarding influencer marketing and campaign strategy. Watch the full episode below!
Influencers and Industry Leaders: Creator Bites and Insights
Nurturing the exchange of ideas, our "Creator Bites and Insights" lunches provided a platform for influencers to share their stories of the ascent to stardom and the invaluable lessons they've learned along the way. Captiv8 hosted two successful creator lunches at Annex Beach with insights from David Dobrik and Jake Shane. CMOs and industry leaders were able to gain unique perspectives from these rising stars and delve into the strategic underpinnings of the creator economy.
As we reflect on Cannes 2023, Captiv8's impact serves as a glimpse into the future of influencer marketing. Amidst picturesque settings and insightful conversations, the event showcased that the upcoming trends in influencer marketing involve strategic alliances, collaborations spanning industries, and a seamless blend of creativity and innovation. The diverse range of experiences, from high-flying discussions on private jets to spontaneous brainstorming sessions, mirrors the changing landscape of influencer engagement, where genuine connections and expertise drive success.
Cannes offered marketers a creative week of collaboration and inspiration, setting the stage for brands to find their strategic partner. If you are looking for a strategic partner look no further than Captiv8. Our comprehensive influencer marketing solution transforms the entire process, enabling you to envision larger goals and plan smarter. Interested in learning more? Take a platform tour to see what is possible!