It's Time to BeReal: Everything You Need to Know About BeReal and 3 BeReal Influencer Marketing Predictions for 2023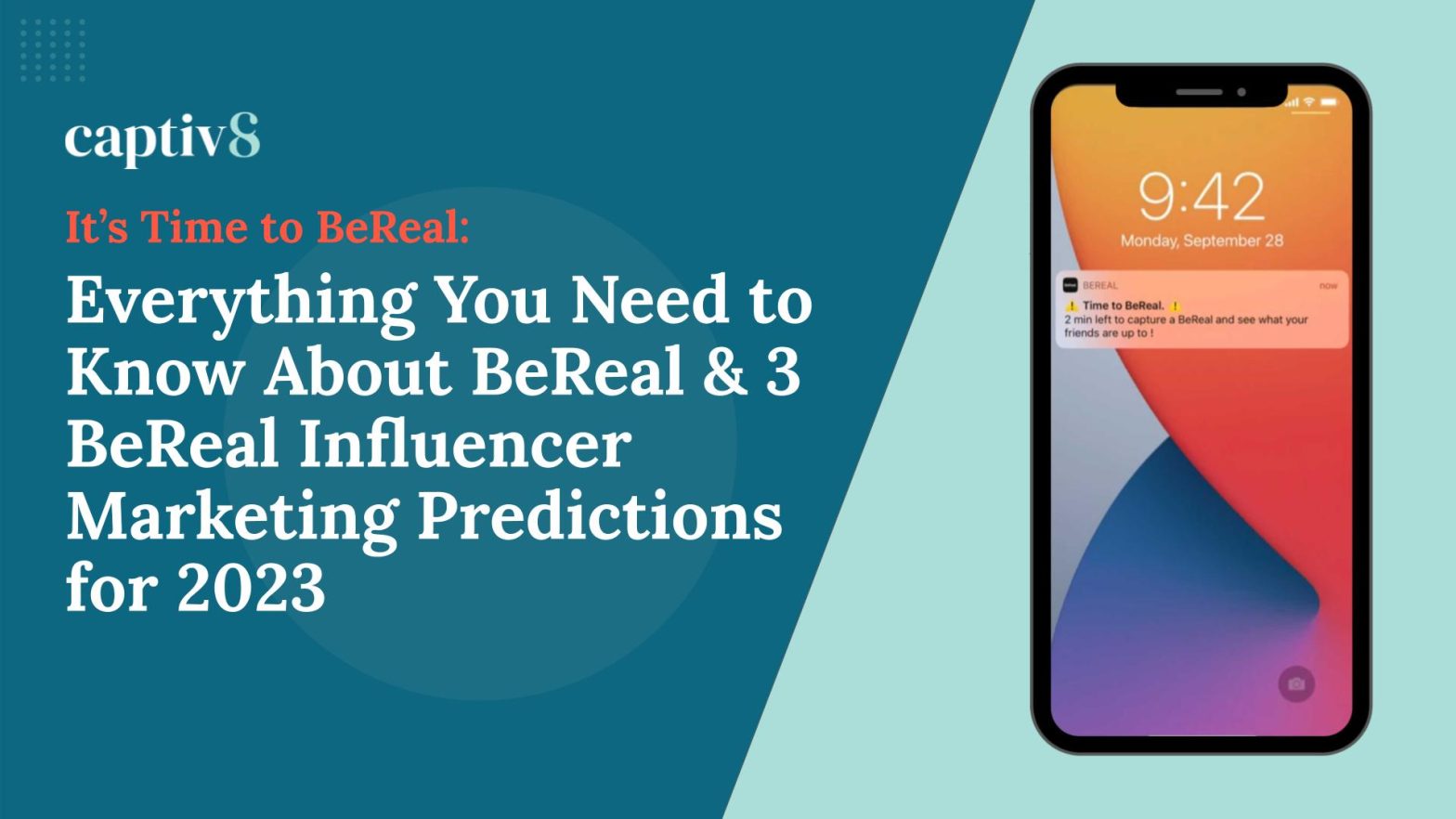 What time is BeReal today? This is the question on everyone's mind as BeReal takes the world by storm. Well, the answer is sometime between 7 am and 11 pm depending on your time zone. However, that's the beauty of BeReal. Catching you 'off guard' to share your most authentic self, BeReal is a social media app that nobody can prepare for because you never know when it will prompt you to share your life.
What is BeReal?
BeReal was released in 2020, by former GoPro video producer, Alexis Barreyet. BeReal's biggest rule differentiates itself from other popular social media platforms. The rule is that users are randomly notified and given two minutes to upload an authentic post using both the forward and back-facing cameras of their phone, similar to a Facetime screenshot. Any posts uploaded outside of that two-minute timeframe have a label as to how late the user was to upload their post. This eliminates any inauthentic preparation before posting to social media.
How Popular is BeReal?
As of July 2022, BeReal had over 21.6 million users, and 2.93 million daily active users. BeReal is in the top 4 most downloaded social media apps in the app store in the US, UK, and France behind only Instagram, Snapchat, and Pinterest. Additionally, BeReal had 2.7 million downloads in the US alone as of May 2022!
3 BeReal Influencer Marketing Predictions for 2023
Stories features on platforms like Instagram and Snapchat have been a hotbed for influencer marketing sponsored content. Similar to stories, BeReal content is live for 24 hours, creating an opportunity for brands to strategically dabble into the authentic social media app. Here are 3 BeReal influencer marketing predictions for 2023:
1) Brands Will Flock to BeReal
As influencers documented their lifestyles back in the mid-2010s on Snapchat, we predict that BeReal influencers will have a similar effect. Think Dj Khaled and Cîroc in 2016 and the effect that he had on Snapchat users. We envision brands strategically inserting themselves into the daily BeReals of the app's most polarizing figures.
2) Creators Will be Quick to Join this Platform
In addition to brands flocking to BeReal, we also anticipate more and more creators to join BeReal in 2023. As an avenue to provide behind-the-scenes looks into their lives and build authenticity, BeReal will become a great tool for creators to build authentic connections with their following.
3) BeReal Will Evolve to Implement New Influencer Marketing-Friendly Features
In 2023, we anticipate BeReal to continue to update its platform and implement new features. One feature could be the implementation of an Instagram story highlight-esque feature. This would allow creators to highlight some of their favorite historical BeReal moments and also provide an opportunity for brands to dabble and extend their campaign's lifecycle past the standard 24-hour window.
Conclusion
In conclusion, BeReal is a newer and more authentic social media app that is taking the world by storm. With audiences craving authenticity over the past few years, it's no surprise that the app has over 21.6 million users, and is quickly growing to become a must-have social media platform. In 2023, we anticipate brands and creators to flock to the app in addition to the app evolving to add new creator-friendly features. Interested in learning more about BeReal or how your brand can launch influencer marketing campaigns on the platform? Reach out to us today!
About Captiv8
Captiv8 is a full-service influencer marketing solution that redefines end-to-end, inspiring you to think bigger, enabling you to plan smarter, and empowering you to execute better. Through our intuitive workflow, brands can uncover actionable insights on trends, discover and vet influencers, seamlessly activate campaigns at scale, amplify branded content across the digital ecosystem, and prove business impact through our measurement dashboard. Our platform gives you the tools you need to build relationships and effective content, while our teams lend experiences and strategic services to steer you clear of common influencer marketing pitfalls.