Michelle & Barack Obama. Victoria & David Beckham. Beyonce & Jay-Z. George & Amal Clooney. Common factor? Power couples. Power couples are found in every industry: politics, sports, music, and now in the Influencer space. Nowadays with 40% of millennials spending more time on their phones than with their friends or family, Influencer Couples are a powerful brand marketing tool to leverage.
Chrissy Teigen is a digital Influencer who is known for her dry wit and outspoken views.
In addition to their massive social followings, there are a few reasons why working with Influencer Power Couples or even just a creator who has an influential partner, is a smart move for brands.
Brands gain additional exposure and earned media by having both Influencers post or if you only work with one of them, organically having the significant other support their partner by reposting or promoting the content.
There is an emotional connection that arises out of content created by talent who are romantically involved.
Here are three brand takeaways to look for from Influencer Power couples when planning your next campaign:
Authenticity Wins: Gypsea_Lust & DoYouTravel
Combined Reach – 5.1 Million Followers
Couples such as Lauren Bullen and Jack Morris essentially live the dream – capturing breathtaking content while traveling to the hidden and exotic corners of the world. Joining the gorgeous duo for their travels are brands such as the financial services giant, American Express, and Lulu's, a trendy California-based fashion apparel brand. Both brands understand the value of working with the duo, which combined, have over 5.1m followers.
In an interview with Huffington Post, Morris said the tip to becoming successful on social is to "be authentic, original, and do what you love. If you want to stand out, you need to have a point of difference." The couple honors this advice by creating content they genuinely love, never posting visuals which feel phony – a trait that is genuinely appreciated by millennials. Captiv8's Insights tool shows that over 75% of Lauren's followers are millennials, making this couple a great fit for brands who are looking to increase trust in their consumers with a brand partnership. (Fun Fact: Lauren + Jack met on a branded job in Fiji. Yes, dreams do come true.)
Play Up Your Strengths: Liane V & Don Benjamin
Combined Reach – 9.1 Million Followers
Influencers do great things – they create staggering brand followings and inspire audiences daily. They motivate with content and are not afraid to laugh at themselves. Power couple Liane V and Don Benjamin are a photogenic duo who love a good laugh. Whether the duo is traveling together or attending a family wedding – it's evident that they're always having a great time. Take this Old Spice campaign for example: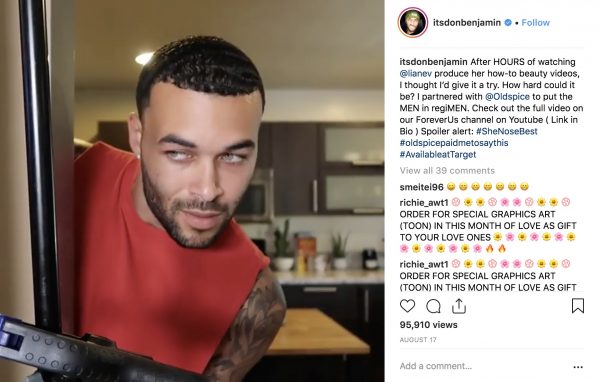 In the campaign, you see Don waiting patiently for Liane to leave so that he can take over as the resident beauty Influencer. Old Spice capitalizes on the duos natural comedic timing – making followers laugh and enjoy a genuinely funny piece of content. Though content is housed on Don's page, Liane makes an appearance, adding to the star power of the campaign.
Master Storytellers: Matt Cutshall & Arielle Vanderburg
Combined Reach – 2 Million Followers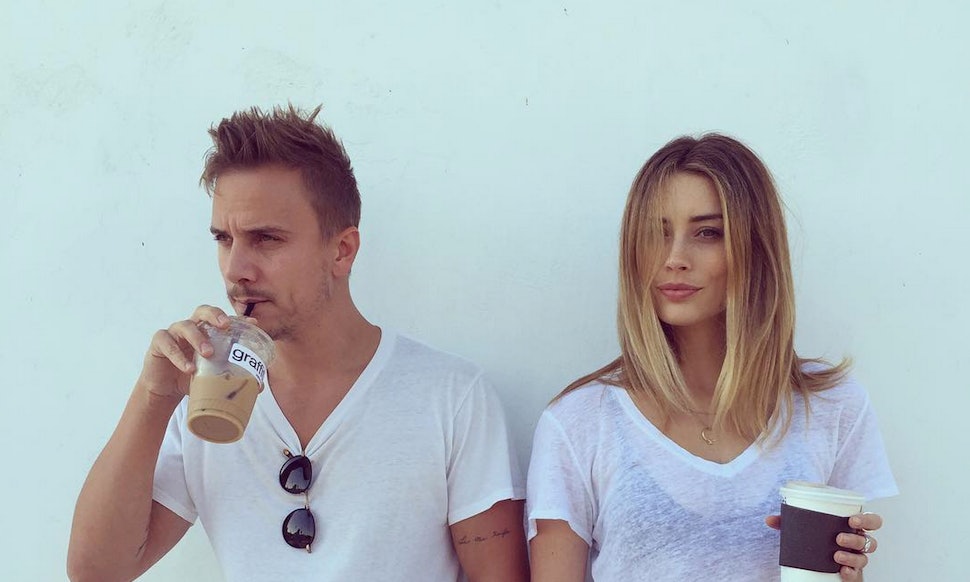 Matt and Arielle, who both gained their initial popularity on Vine, confirmed their relationship in 2017 via witty and adorable Instagram posts. Since then, the couple has made numerous cameos in each other's social feeds and their fans have been loving the love. Additionally, the two know how to tell a good story and enjoy making people laugh with videos like "Unfollowed". Matt recently partnered with Stubhub for their #1in100Million campaign, to celebrate the brands milestone of hitting 100 million orders.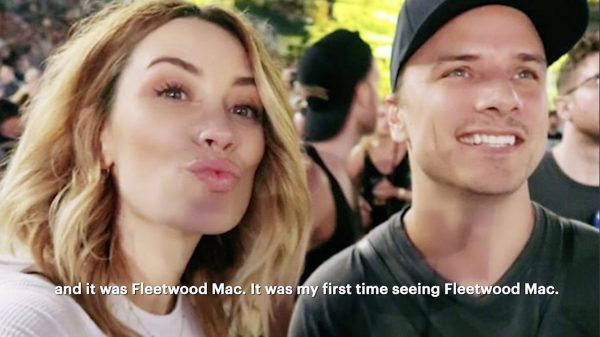 Click the image to watch the full Stubhub #1in100Million video.
Stubhub sent Arielle and Matt to experience a Fleetwood Mac concert, and then immortalized their experience by creating a life-size poster of the ticket for the pair to keep. It's through experiences like this that brands maximize their footprint and impact.
https://www.instagram.com/p/Bkfx8VxB7mg/?taken-by=mattcutshall
The thing to note about branded campaigns is that it is all about telling a story. And when that story is told by two separate individuals, it adds a greater degree of believability. An effective Influencer marketing campaign cuts through the noise of social content – and with power couples' brands can maximize their overall messaging, impact, and social reach.
Captiv8 uses data to drive partnerships between the brand and the perfect Influencer Power Couple. Want to learn more about our data-driven approach? Reach out to learn here!