Thanksgiving is just around the corner. If you're a retailer, that means one thing: Black Friday. This annual buying extravaganza, along with its newer e-commerce sibling Cyber Monday, are becoming two of the retail world's most important annual events. According to the National Retail Federation, this annual shopping and sales day in 2016 was worth an average of $289 per shopper to businesses. But with so much money on the line, nearly every business is trying to promote their Black Friday deal, making promotion complicated. Here's three ways to use influencers to help ensure your Black Friday message doesn't get lost in the crowd.
Ignore the holiday "hype"
Odd as it may sound, one of the most strategic decisions brands can make on Black Friday is to "opt out" of any kind of overt promotional message. Consider the example of Patagonia and REI, two outdoor-focused retail brands that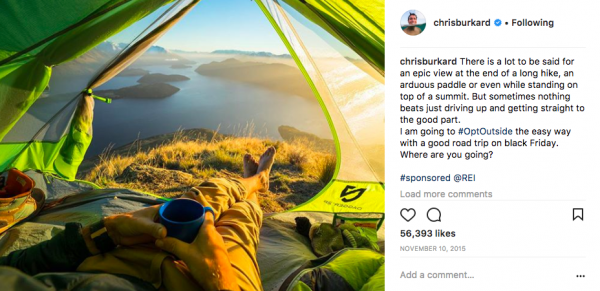 choose to use Black Friday as an opportunity to encourage consumers to shop less, not more. While it may seem counterintuitive, the brands that encourage this tactic are taking a "long term" approach to their relationship with their customers, hoping to build loyalty and goodwill that will help them have more credibility in the future.
This is the strategy behind REI's #OptOutside campaign, which has been supported by well-known outdoor travel photographers like Chris Burkard. This outdoor-themed post from Chris announcing his support for #OptOutside collected more than 56,000 likes on Instagram.
Make Black Friday an event
As evidenced by REI, Black Friday doesn't necessarily have to be about special deals. In fact, more brands are realizing that they can use the shopping holiday to help get the word out about a good cause and ways to improve local communities. It's one of the reasons why American Express has been building a growing movement around its "Small Business Saturday" initiative, a campaign that encourages consumers to patronize local businesses during the Black Friday period rather than big retail chains. As part of its effort to get the word out to consumers, American Express has been partnering with a range of influencers big and small, including NBA star Shaquille O'Neal and fashion creators Nikole Powers and Penny Pincher Fashion, among others.
Provide inspiration
Black Friday marketing tends to be very discount-focused. But encouraging this discount-seeking behavior among consumers is not always the right move for brands, who may find that it forces them to rely on the same promotion-focused tactics year after year. H&M is another retailer that has struggled to steer clear of the typical Black Friday discount-focused messaging. Rather than use its influencer partners to promote yet another discount, H&M teamed up with actress and LGBT advocate Shannon Beveridge, as well as fashion influencers Sierra Furtado and Tess Christine for a campaign that shared some of the clothing items from their new fashion line released on Black Friday. The social posts' straightforward imagery and simple messaging was a welcome relief from the "hard sell" of most Black Friday-focused social content.
Black Friday and Cyber Monday are getting bigger than ever. That growing popularity is raising the stakes among brands, which need to find new ways to connect with consumers on this increasingly important consumer holiday. But rather than rely on the same old discount-driven approach, influencer-driven social campaigns offer a potential method to help break through noise and reach consumers when it counts. How might you utilize an influencer for this year's post-Thanksgiving shopping rush? Get in touch with the team at Captiv8 to discuss your holiday marketing plans.