How does the social media performance of celebrity influencers compare with "micro-influencers?" We examined some recent influencer efforts by Australia's tourism board to understand the difference.
Earlier this month, we took a closer look at the rise of so-called "micro-influencers." Whereas a lot of the early focus of influencer marketing campaigns was on big-name celebrities with huge social media followings, a growing range of brands are taking a different approach, choosing to work with "micro-influencers." These lesser-known social media stars may not have the huge audiences of an A-list athlete or movie star, but many brands like working with them because they are cheaper to sponsor, often have higher engagement with their followers and are supposedly easier to work with. Do marketers' expectations for micro-influencers match their performance? Or are celebrity influencers still worth a second look? We examined some recent partnerships from travel industry brand Tourism Australia to try and find out.
Australia's various national and regional tourism boards have taken a two-part approach to their influencer relationships. On a global level, Tourism Australia has partnered with celebrity megastar Chris Hemsworth to be the country's global tourism ambassador. At the same time, many of the country's state- and city-level tourism groups are working with a range of more travel-specific influencers like Lauren Bath, a former chef-turned-photographer who now travels across Australia taking wanderlust-inducing images of her home country. How do these two different types of Instagram influencers stack up in terms of engagement?
If you take their post performance at face value, there's no question that Chris Hemsworth has more star power. Consider this 2016 post in front of Australia's famous "Uluru" tourism site, which generated more than 280,000 likes: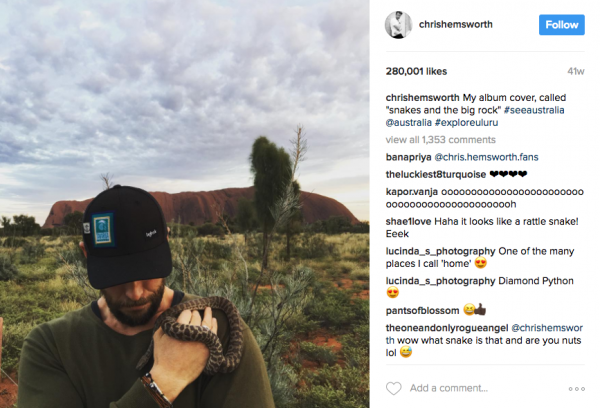 Contrast that with one of Lauren's most-popular Australian-themed Instagram snaps in recent months, like this sunrise image in front of the country's Lake Mulwala, which gathered just over 9,100 likes: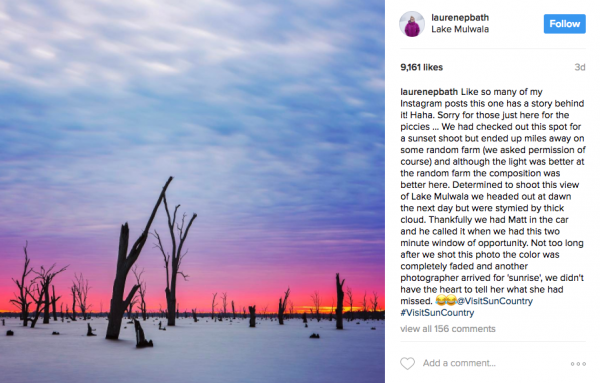 But even though Chris's Instagram performance appears to be far better, a review of Captiv8 insights for each account tells a different story. As it turns out, Lauren actually has a much higher rate of follower engagement with her content relative to her follower count. For example, when comparing active followers (the proportion of an account's audience that comments on posts) Lauren performs much better, with more than 42,000 active followers compared to only 16,000 for Chris Hemsworth. Lauren is also a much more active poster, contributing more than 70 images to her account during the past month, while Chris only posted 10.
So which approach is better? Celebrity influencers, or micro-influencers? For high-profile brands like Tourism Australia that can afford it, the answer is actually both. The destination is able to drive overall awareness using Chris, while boosting their engagement and building more genuine relationships with potential travelers using influencers like Lauren. But for those marketers looking to save money and drive their business goals at the same time, micro-influencer campaigns appear to offer a significant "bang for the buck."
Want to know if the micro-influencers you're working with for your next social campaign will help move the needle for your brand? Captiv8's social analysis tools will give you the insights you need to make an informed decision.