Earlier this week, we took a closer look at how brands were using their social accounts at the South by Southwest festival to build excitement for various marketing programs. But given the extent of marketing activity happening in Austin, a single post isn't really enough. In this second installment on SXSW, we're going to investigate how marketers are partnering up with social influencers to ensure their message doesn't get lost in noise of this annual Texas bonanza of barbecue, brands and beer. Here are a few of the best-performing examples we've identified using Captiv8's social analysis tools.
Bravo TV: Stripped
The premise of TV network Bravo's new reality series Stripped is rather extreme. Participants agree to give up everything they own for 21 days to find out what items matter most in their lives. The show's extreme premise was the inspiration for an equally "extreme" influencer effort in Austin. Bravo teamed up with actor and comedian Josh Peck, along with internet comedian Matt Cutshall to literally "strip" down in front of the camera. The results of this attention-grabbing approach have been significant, with the two Instagram shots earning 15,000 and 96,000 likes.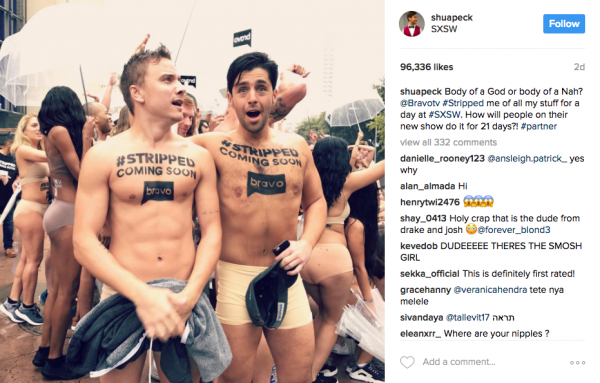 Influencer Josh Peck bares all (literally) for a new sponsored campaign produced by Bravo.
Don Julio and The Infatuation
Food and drink are an essential component of the Austin experience, a city that's known for its craft beer and top-notch barbecue. Don Julio tequila looked to whet the appetites of Austin's foodie-loving visitors with a special SXSW party co-sponsored by restaurant review company The Infatuation and featuring actor Eiza Gonzalez. This elegant snap from Eiza's account mentioning the Don Julio event collected more than 72,000 likes.
Actor Eiza Gonzalez celebrated Austin's Mexican-influenced food and drink scene with this post for top-shelf tequila maker Don Julio.
Animal Kingdom on TNT
Stripped wasn't the only TV show looking to make a splash at SXSW. Other shows like AMC's "Better Call Saul" and TNT's "Animal Kingdom" also had big social media presences in Austin. TNT was one network that tapped into its social-savvy cast to help out with the heavy lifting for its new Southern California-based show Animal Kingdom. Castmember Ben Robson, formerly the star of the History Channel's "Vikings," posted this preview video to help get SXSW attendees excited for the show, earning more than 15,000 views.

TNT turned to the social-savvy cast of its new show Animal Kingdom to help build buzz in Austin.
Honorable Mentions: Smart and Mexico Avocados
Plenty of other brands tapped into influencer creators to build buzz during SXSW. While the performance may not have been quite as impressive, automotive company Smart Car teamed up with influencer Ashley Rose of Sugar and Cloth, and Avocados from Mexico partnered with fashion and lifestyle influencer Lee Anne Benjamin for a SXSW-themed Instagram post.
All signs suggest that influencers will continue to play a bigger role in event marketing strategies in the future. How will your brand take advantage? Get in touch with the Captiv8 team today to figure out how you can make the most of your next influencer-driven event.