SXSW is one of the year's biggest festivals, combining a smorgasbord of film, technology, music, and art into nine days of good times in Austin. But behind-the-scenes, SXSW is also one of the year's biggest events for marketers, a time when brands experiment with a wide variety of events and sponsored content posted to social media. How will advertisers use social to get noticed at this year's festivities in Texas? Based on a recent social analysis of the #SXSW from the Captiv8 team, fashion and music will be key topics for this year's marketers.
It's perhaps no surprise that youth-oriented fashion brands have a strong presence at SXSW. The music portion of this annual Austin festival is a sure-fire opportunity to reinforce these companies' cool factor by sponsoring events for today's newest cutting edge music acts. The added bonus of hosting these live music performances is the content gets a second life when it's then posted and re-shared on social media.
Shoemaker Vans is one example of a brand taking the sponsored events approach. The California-based skate brand is returning its long-running House of Vans (#houseofvans) SXSW concert series, a program that was announced on the company's Instagram account in early March. Excitement for the event among social media followers appears to be strong, as Vans was able to accumulate nearly 70,000 likes with this Instagram posting.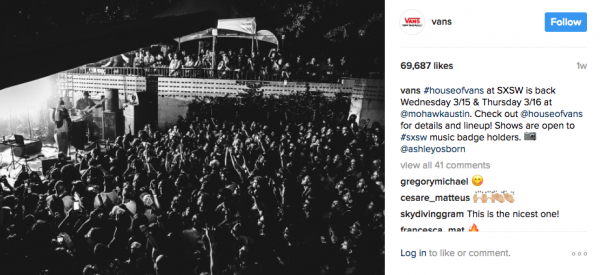 Youth-focused retailer Urban Outfitters is yet another fashion brand tapping into the excitement surrounding music performances in Austin. This promotional post highlighting a concert performance by The Internet at the Urban Outfitters-branded #UOLive venue collected more than 34,000 likes.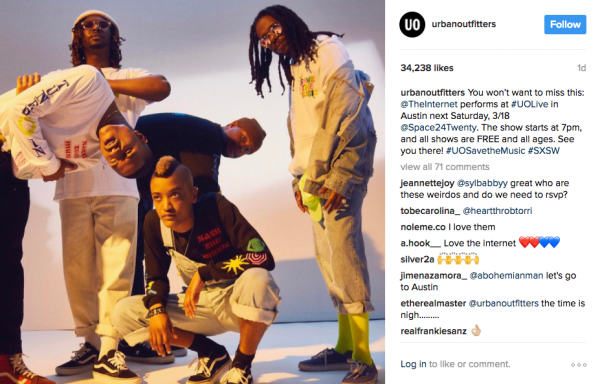 English boot-maker Dr. Martens is one more youth-focused fashion brand that's also taking the live event route for this year's SXSW event. Much like Vans and Urban Outfitters, the focus of their branded #SXSW post was the launch of their sponsored concert series at Austin's Container Bar. This music-themed Instagram snap earned more than 28,000 likes.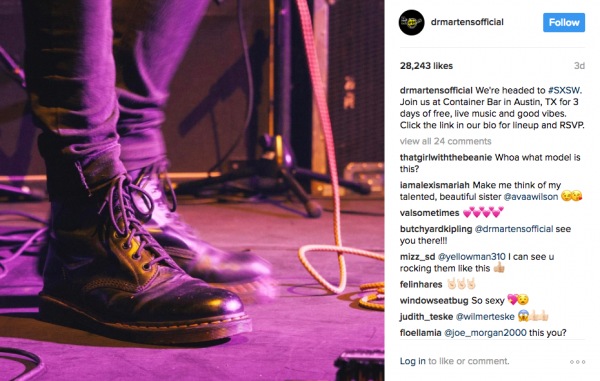 As it turns out, music isn't the only approach used by savvy marketers at SXSW 2017. Following the pattern seen earlier this year at the Academy Awards, some luxury fashion retailers are tapping into film as the main focus for their social posts in Austin. High-end fashion company Armani is debuting a new short film series at this film portion of this year's SXSW festival, a program the brand announced with this Instagram post that earned more than 41,000 views.
Social media is an essential component of any live event marketing strategy, whether we're talking about SXSW or beyond. How is your brand tying together events and social into a seamless package? Get in touch with the Captiv8 team today to strategize about how to bring your next event to life.