Influencer Outreach Tips: Do's and Don'ts of Influencer Marketing Recruitment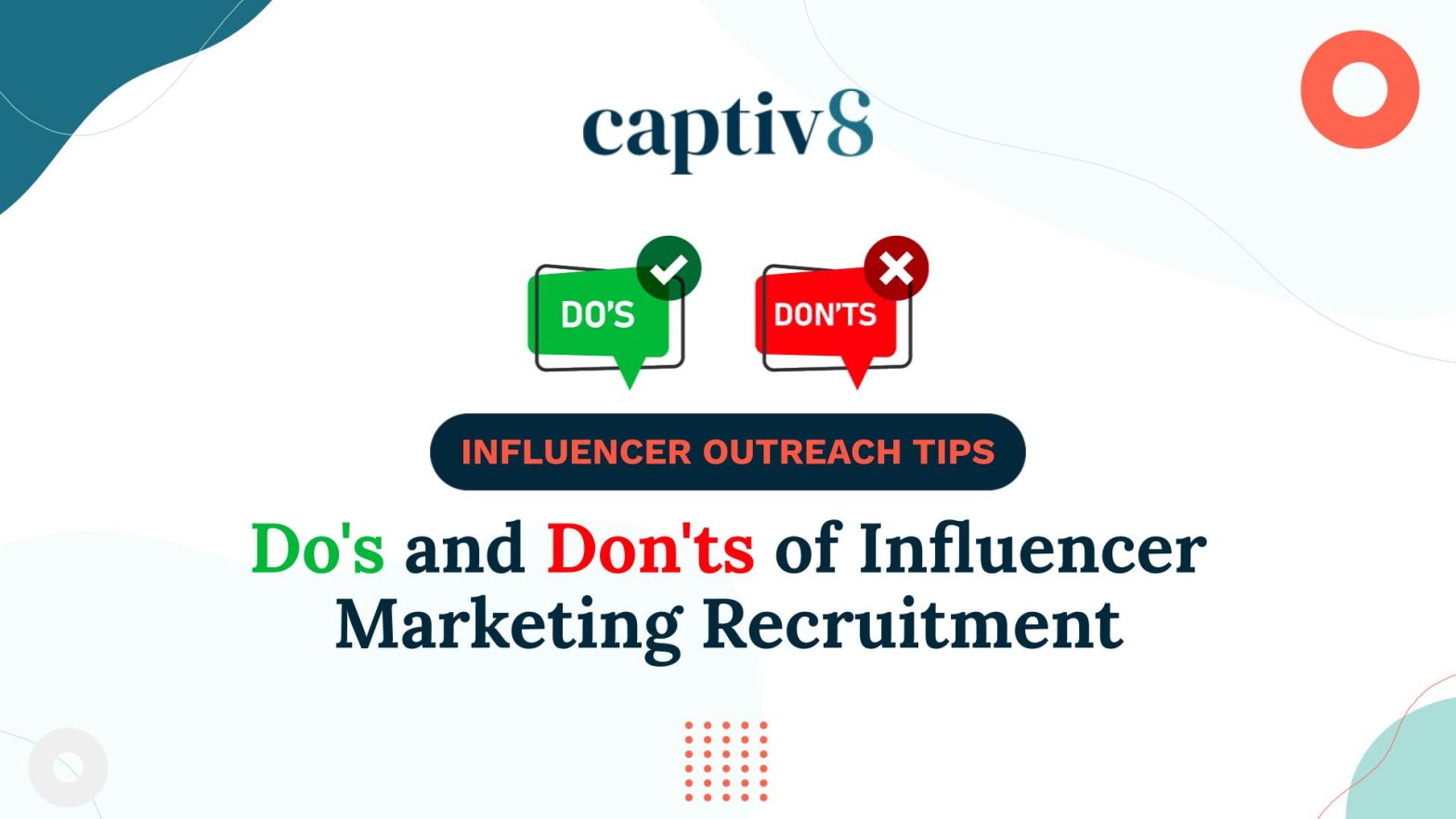 Influencer outreach and identification have become some of the most time-consuming challenges within the creator marketing industry. To solve influencer identification difficulties, Captiv8 built the Influencer Velocity Index (IVI) tool which was recognized as the winner of TikTok's #BuildforTikTok Innovation Challenge. With IVI, the influencer identification process was proven to have drastically decreased the time required to identify quality creators. However, influencer outreach remains a difficult manual task for many. With this in mind, we have put together a list of do's and don'ts when conducting influencer marketing outreach:
The Do's and Don'ts of Influencer Marketing Outreach
Do:
Ensure that your prospective creators know what a potential partnership would require of them. There needs to be a clear directive of what the scope of work will be.
Provide as much information upfront as possible. This allows creators to assess the opportunity and provide a thoughtful response limiting the back-and-forth discussions necessary to agree on terms.
Make sure that the creator knows the partnership is a paid opportunity if there is a budget for the campaign. Using "paid opportunity" in an email's subject line and asking for a rate or pay range is a great way to convey this message.
Try to identify a method of contacting the creator outside of their DMs. Most creators get an exorbitant amount of messages in their inboxes and your message runs the risk of going unseen. Their email or agent may be listed in the bio of one of their social channels, increasing the likelihood of your message being seen.
Don't:
Forget to provide information on your brand, product, and goals for your campaign.
Use a universal greeting. Be sure to personalize your message!
Leave a sloppy first impression with typos. Double or even triple-check your work if necessary before sending an outreach message.
Forget to align on timing expectations for a campaign's dates along with usage and exclusivity rights if applicable.
Influencer Outreach Example
Now that we know the basic do's and don'ts of creator marketing outreach, let's put together a sample influencer outreach message using what we've learned!
Conclusion
In conclusion, these are the do's and don'ts of influencer marketing outreach. Interested in learning more about Captiv8's influencer velocity index or how to conduct influencer outreach? Reach out to us today!
About Captiv8
Captiv8 is a full-service influencer marketing solution that redefines end-to-end, inspiring you to think bigger, enabling you to plan smarter, and empowering you to execute better. Through our intuitive workflow, brands can uncover actionable insights on trends, discover and vet influencers, seamlessly activate campaigns at scale, amplify branded content across the digital ecosystem, and prove business impact through our measurement dashboard. Our platform gives you the tools you need to build relationships and effective content, while our teams lend experiences and strategic services to steer you clear of common influencer marketing pitfalls.