The Instagram Engagement of Major Sporting Events During Thanksgiving Weekend 2022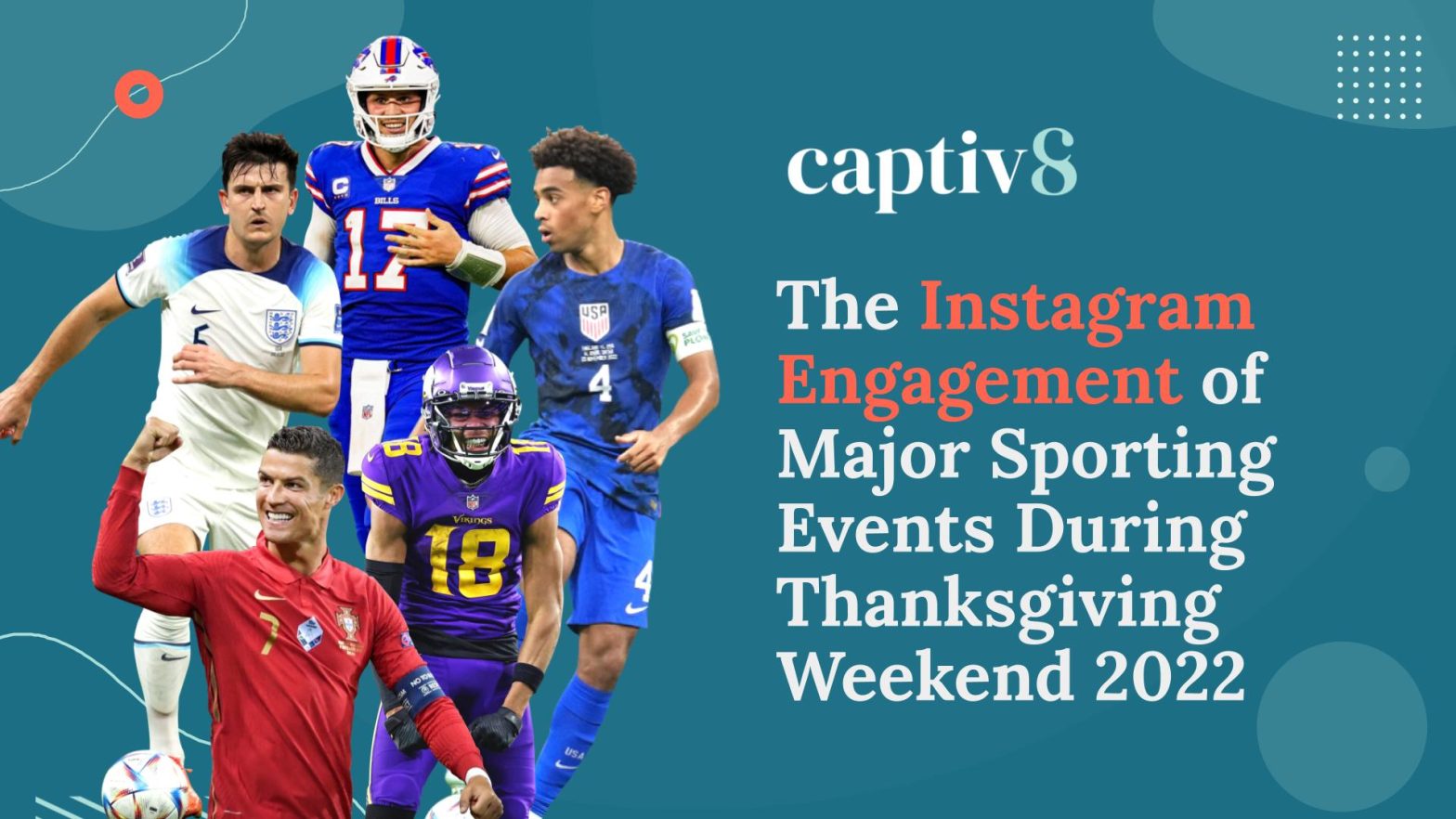 The Thanksgiving break brought sports fans many monumental events from NFL Thanksgiving to the USA vs England Black Friday showdown at the FIFA World Cup and many more incredible World Cup games in general. With all of this excitement around these major sporting events came a ton of social media engagement! We analyzed the Instagram engagement of a few key teams, players, and events during this time to identify some of the most talked about events from this action-packed weekend!
Comparing the Instagram Engagement of NFL Thanksgiving and the 2022 FIFA World Cup
A longstanding tradition of Thanksgiving in the United States has been the playing of NFL Thanksgiving games. The tradition began in 1934 and has become a staple of the Holiday ever since. Similar to years past, this year's slate of NFL Thanksgiving matchups pitted rivals against one another, produced highlight plays, and gave NFL fans much to be thankful for. However, another form of football dominated television viewership and social media headlines during the Thanksgiving weekend as the United States men's national soccer team went up against England in the World Cup on Black Friday. The World Cup match drew 20M live television viewers within the United States, making it the most-watched men's soccer game in U.S. television history. The soccer match's viewership even eclipsed the 2022 NBA Finals, MLB World Series, and NHL Stanley Cup Finals that drew in 12.4M, 11.8M, and 4.59M U.S. viewers respectively.
After analyzing Instagram engagement data from the World Cup and NFL Thanksgiving football games, we found that the World Cup dominated engagement. The Minnesota Vikings and Buffalo Bills generated the most NFL engagement on November 24th with 225.4K and 132.6K Instagram engagements respectively in part thanks to superb performances from Justin Jefferson and Josh Allen. However, on November 25th, USMNT and England generated 1.7M and 1.3M engagements respectively as football overshadowed American football in this instance.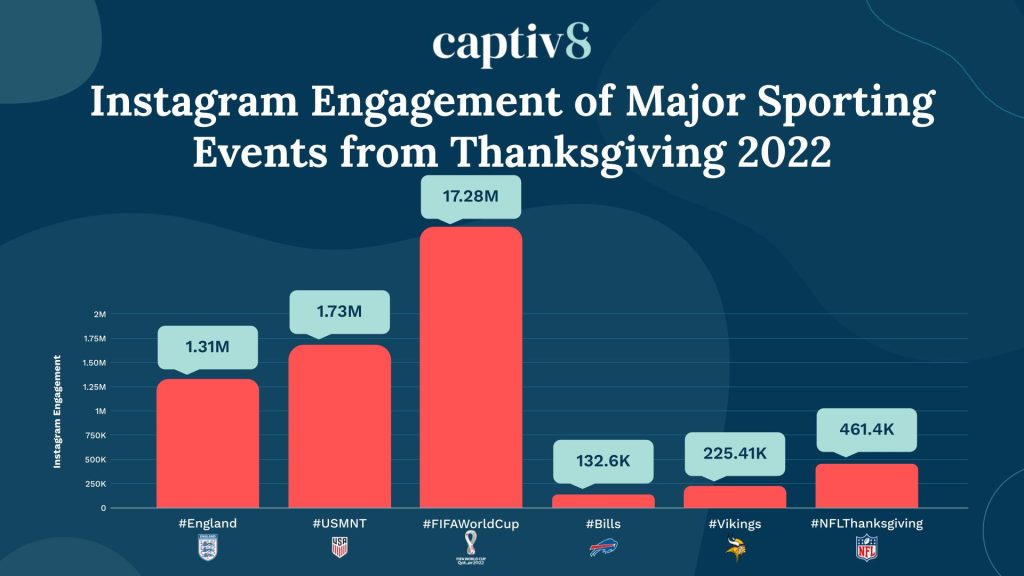 Cristiano Ronaldo's Record-Breaking Week
Cristiano Ronaldo has had quite an action-packed week. First, Ronaldo broke the internet by joining forces with long-time rival Lionel Messi as they teamed up for a sponsored campaign with Louis Vuitton. The image was posted separately by both Ronaldo and Messi amassing a combined 70.2M likes, eclipsing the World Record Egg image with 56M likes from 2019.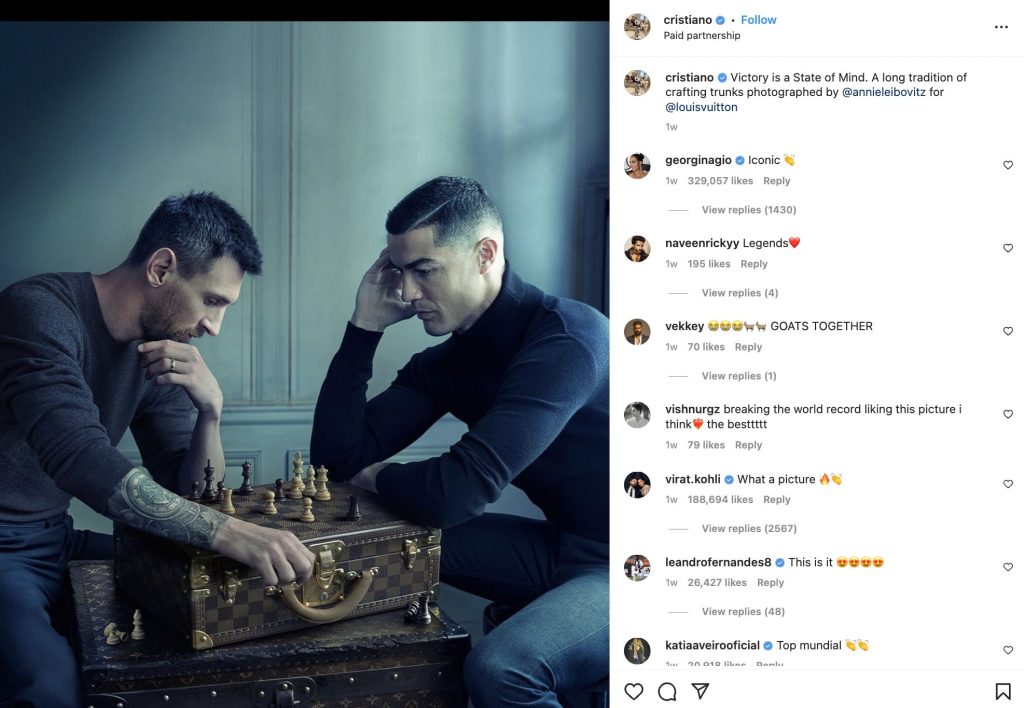 Continuing to build on his incredible week, Ronaldo became the first person to reach 500 million Instagram followers. Following this, Ronaldo's contract with Manchester United was terminated after his tell-all interview with Piers Morgan in which he did not hold back his feelings for his club, owners, coaches, and teammates. As a result, he generated a staggering 1.83B Instagram engagements! Furthermore, Ronaldo scored during his 2022 World Cup opening match against Ghana on Thanksgiving day, making him the first men's soccer player to score at five different FIFA World Cups, matching Brazilian women's soccer legend Marta, and Canadian women's soccer legend Christine Sinclair as the only other player to do so. As a result, #Ronaldo generated 6.33M Instagram engagements, eclipsing all of the NFL Thanksgiving football games combined! On the back of all of these events combined, #Ronaldo generated an incredible 1.87B Instagram engagements in the past week!
Conclusion
In conclusion, the 2022 Thanksgiving break gave many much to be thankful for. For sports fans, they were treated to many marquee events as the World Cup and Cristiano Ronaldo stole the show. Interested in learning more about Captiv8's insights and social listening capabilities to identify Instagram engagement? Reach out to us today!
About Captiv8
Captiv8 is a full-service influencer marketing solution that redefines end-to-end, inspiring you to think bigger, enabling you to plan smarter, and empowering you to execute better. Through our intuitive workflow, brands can uncover actionable insights on trends, discover and vet influencers, seamlessly activate campaigns at scale, amplify branded content across the digital ecosystem, and prove business impact through our measurement dashboard. Our platform gives you the tools you need to build relationships and effective content, while our teams lend experiences and strategic services to steer you clear of common influencer marketing pitfalls.