Creator Spotlight: LGBTQ+ Brand Campaigns for Social Good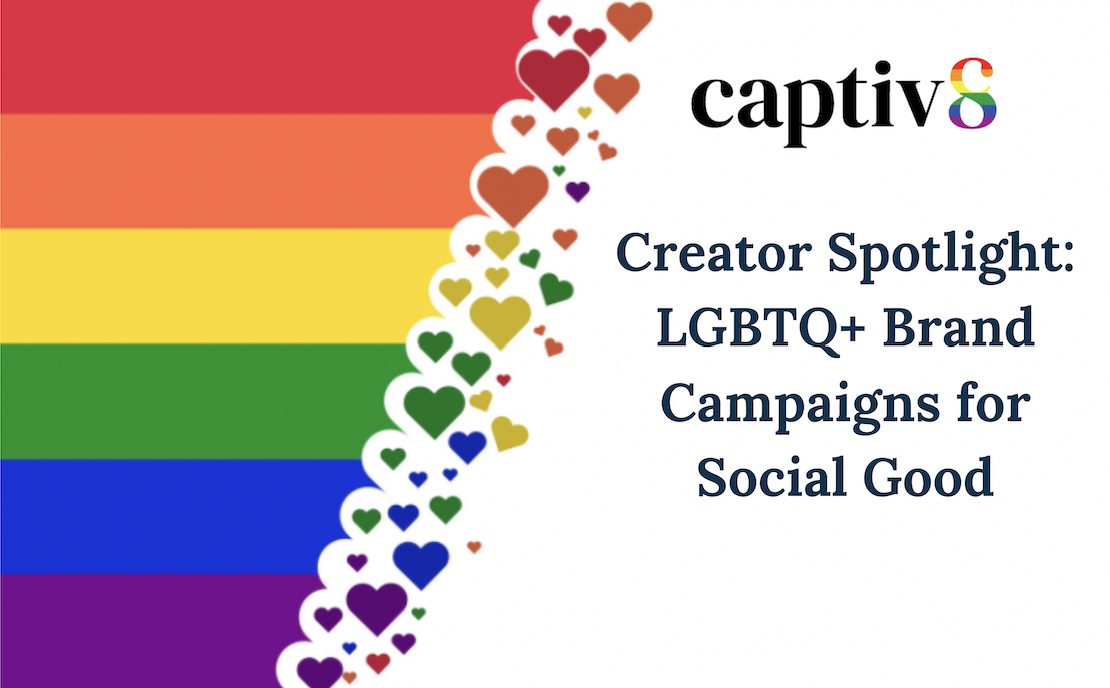 As Pride Month takes place in June, many brands are activating LGBTQ+ influencers to celebrate and show their support. 2020 was a year that highlighted social activism. To capitalize on the momentum; brands such as DKNY, Saks Fifth Avenue, Kay Jewelers, Adidas, and many more have already begun their Pride Month campaigns with outstanding results. However, many of these brands are also incorporating acts of social good in their campaign, as many are donating portions of proceeds towards LGBTQ+ causes.
DKNY and Saks Fifth Avenue Partner with Plastique Tiara
To celebrate Pride Month, Plastique Tiara has teamed up with both DKNY and Saks Fifth Avenue for two separate campaigns. With the help of Plastique Tiara, DKNY is promoting their Pride clothing line that reads "Ask Me About My Pronouns". Through the sales of their Pride apparel, DKNY will be donating a portion of proceeds to the Hetrick-Martin Institution whose mission is to empower LGBTQ+ youth in the New York City area.
Additionally; Global luxury retailer, Saks Fifth Avenue, is also activating Plastique Tiara. Through their partnership, Saks Fifth Avenue is leveraging their site as a platform for Plastique Tiara to perform a live stream makeup tutorial.
Asos Teams Up with Glaad and Patrick Starrr for Social Good
To support the LGBTQ+ community, fashion and cosmetic retailer Asos has teamed up with Glaad and makeup YouTuber, Patrick Starrr. Glaad is a media monitoring organization whose goal is to protest against defamatory coverage of LGBTQ+ people. Through the partnership, Asos is supporting the community by donating all proceeds to Glaad.
Adidas Activates Ali Krieger and Ashlyn Harris
Adidas activated the Women's soccer power couple of Ali Krieger and Ashlyn Harris to promote their Pride-themed line. Both Ali Krieger and Ashlyn Harris are two-time Olympic gold medalists and two-time FIFA Women's World Cup Winners. In addition to their various accolades, the couple also fittingly plays for the Orlando Pride making them the perfect influencers to activate for the Adidas Pride Month campaign.
Kay Jewelers Partners with Jonathan Bennett and Jaymes Vaughan
Kay Jewelers is teaming up with Jonathan Bennett, Jaymes Vaughan, and a variety of mid-tier influencers for their #EveryKiss campaign. Through the campaign, Kay is encouraging users to post images of them kissing their partner while using the hashtag. Additionally, Kay Jewelers is utilizing the UGC as content for their Instagram. Similar to Asos, Kay is also donating to Glaad throughout the course of the campaign.
Conclusion
In conclusion, brands such as; DKNY, Saks Fifth Avenue, Adidas, Asos, and Kay Jewelers have activated LGBTQ+ influencers for their Pride Month campaigns. Additionally, many of these brands are using the opportunity of Pride Month to promote acts of social good. Interested in learning more about LGBTQ+ influencers, influencer marketing strategy, and more from industry experts? Visit Captiv8.io for more info!