Highlighting 2017's Top Sponsored Instagram Posts
Influencer marketing was bigger than ever in 2017. But while it's easy to talk about the growth of creator-driven sponsored content at an abstract level, many marketers may wonder what kinds of posts and personalities were responsible for 2017's most popular content. Using the Captiv8 insights tool, we decided to examine some of the top-performing Instagram posts from the past year by taking a look at popular sponsored hashtags like #sponsored, #partner, and #ad. Here's a sampling of some of 2017's most popular posts from across a range of industries, creators and types of campaigns: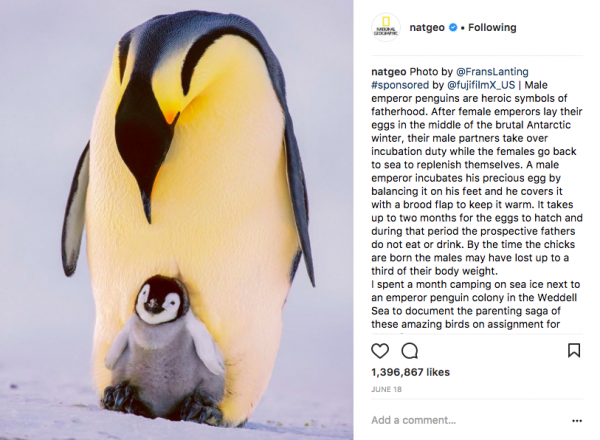 National Geographic with Frans Lating and Fujifilm
Adventure and nature publication National Geographic has won a devoted following for its depictions of incredible animals and stunning scenery around the world. That's why when the brand partners up with camera companies like Fujifilm and some of its award-winning photographers like Frans Lanting, the results are sure to be magical. In this case, National Geographic's post earned more than 1.3 million likes.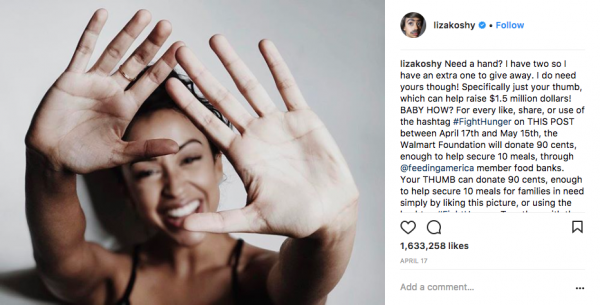 Liza Koshy with Walmart and Feeding America
Actress and YouTube personality Liza Koshy has built a strong following of more than 14 million Instagram followers thanks to a mix of comedy, beauty and fashion tips. This unique portrait-style image, posted with a plea to donate in support of the #fighthunger campaign with Walmart, ended up generating huge results, with more than 1.6 million likes.
Zach King with Target
Think your Instagram sponsored content has to be a still image to perform well? This hashtagged #ad video from social media "magician" and filmmaker Zach King suggests otherwise. King's eye-popping sponsored video with Target was a top performer for the retailer in 2017, earning more than 1.2 million likes and 7.9 million views.
Gal Gadot for ACE Comic Con
Wonder Woman star Gal Gadot won plenty of fans at the Hollywood box office earlier this summer with her smash hit film. It turns out that Gal's social media presence is another strong performer for brand partners. This portrait image of the super heroine earned her sponsor partner more than 2.2 million likes.
Kylie Jenner with Daniel Wellington
It's probably no surprise to hear that the Jenner sisters Kylie and Kendall are a dominant force on social media. In fact, the two sisters were collectively responsible for a huge portion of the year's most popular Instagram posts hashtagged with #ad in 2017. This portrait-style pic of Kylie for watch brand Daniel Wellington was one of the year's top performers, with more than 4.2 million likes.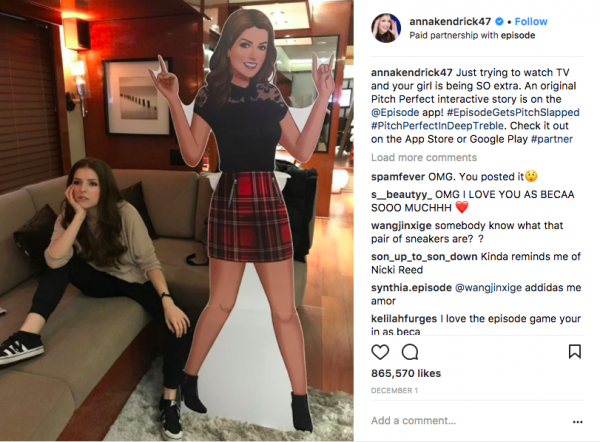 Anna Kendrick with the Episode App
Actress Anna Kendrick has more than 12 million followers on Instagram. Her huge audience and cheeky humor are two reasons why those in the entertainment sector often partner with this popular Pitch Perfect star on branded content. This humorous post using the #partner hashtag for the Episode mobile app earned more than 865,000 likes as a result.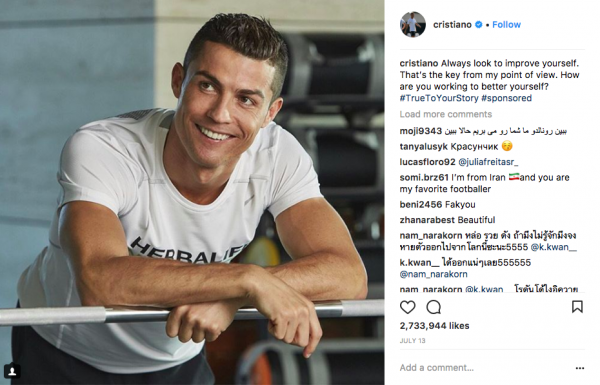 Cristiano Ronaldo for Herbalife
Soccer star Cristiano Ronaldo is a favorite for sports fans around the globe. And with 116 million followers on Instagram, he's a social media phenom as well. This Instagram sponsored post with Cristiano and Herbalife earned more than 2.7 million likes back in July 2017.
What will be the top-performing sponsored content in 2018? It's never too early to start thinking ahead. Reach out to the team at Captiv8 today to get the right tools and strategies to create the perfect creator-driven campaign for your next sponsored social effort.