HBO's New "Game of Thrones" Snapchat Lenses Target Super-fans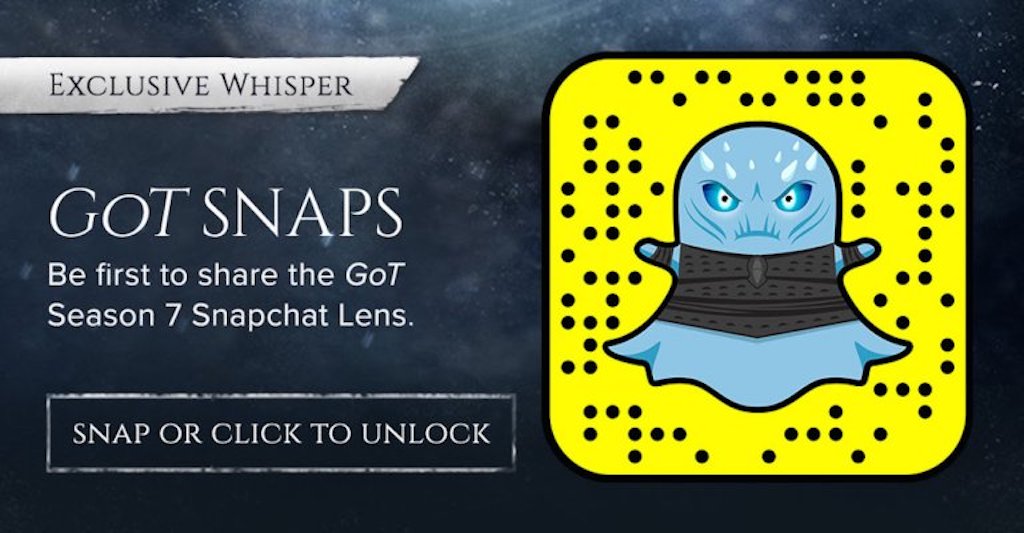 This weekend marks the return of HBO's eagerly-anticipated hit show, Game of Thrones. Not surprisingly, excitement for the seventh, and final, season of the show has been building on social media. The HBO marketing execs behind this blockbuster hit have faced a unique challenge in promoting this season.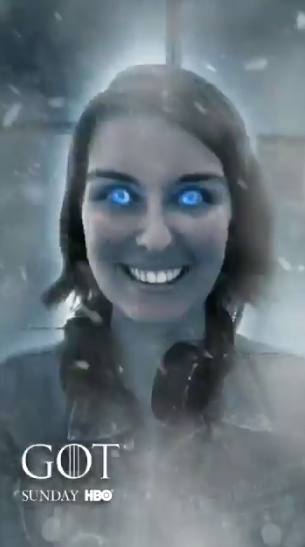 With so much media coverage and social media discussion already happening organically, the show's creators have been looking for ways to appeal to the show's "superfans" without giving away too many spoilers. Aside from the usual assortment of trailers, the HBO team has taken the novel approach of releasing two customized Snapchat Lenses. Here's how they work, plus some details about why HBO's approach was so different than the typical Snapchat-branded lenses campaign.
How the Game of Thrones Lenses Work
HBO released the branded lenses in the week leading up to the show's 7th season. Users who unlock the lenses can do so for only one hour thanks to an enforced time limit built into the campaign. There are two different lens options. One is a selfie-style snap that allows users to turn themselves into blue-eyed "wights," the reanimated corpses that form the army of the undead for the White Walkers. The second lens is a front-facing camera option that allows Snap users to throw a virtual "dragonglass" spear at a virtual White Walker enemy.
What's Unique About HBO's Snapchat Lens Approach?
Although lots of other marketers have sponsored branded lenses before, HBO used an unusual distribution approach to help build excitement for their campaign with the show's core fans. Most branded lenses are available to all Snap users simply by swiping through the various options. But HBO has initially limited access to the lenses to subscribers to its "Whispers of Westeros" email newsletter, ensuring that the show's most passionate fans would have first dibs.
What Are Fans Saying on Social?
Snapchat isn't the only social platform where Game of Thrones fans are sharing their excitement about the imminent launch of the new season. There's plenty of discussion happening on Instagram and Twitter too. We used Captiv8's insights tool to examine some of the top posts getting attention over the past month with the #gameofthrones hashtag, a topic that has more than 5 million unique posts on both Instagram and Twitter in the past month. Here's what we found:
Fans love cast member social media accounts – It's no surprise that Game of Thrones fans are closely watching the social media accounts of cast members hoping to get any hints about the upcoming season. One great example is actor Peter Dinklage, who plays Tyrion Lannister on the show. Peter's Instagram has one of the top Game of Thrones fan posts over the past month, collecting more than 74,000 likes and more than 300 comments.
Fan pages are another key content source – Aside from the cast members' social media accounts, lots of Game of Thrones viewers on social follow show pages like gameofthronesnotofficial. Images of candid moments from cast members like Kit Harrington, who dressed up as various show characters for a skit on Jimmy Kimmel Live! this week, have gotten lots of attention. The post about Kit received 102,000 likes and more than 600 comments.
What will happen in the 7th season of Game of Thrones? Nobody but the cast and crew behind this wildly-popular show knows for certain. But thanks to a savvy social media strategy appealing to super-fans by the HBO marketing team, we can be sure that plenty of viewers will be tuning in to find out this coming Sunday. Want to learn more about how other entertainment brands are using social media and influencer campaigns to drive tune-in and conversation? Contact the Captiv8 team today to learn more.