Identifying the Best Influencer Technology Solutions for Brand Marketers: Finding the Perfect Fit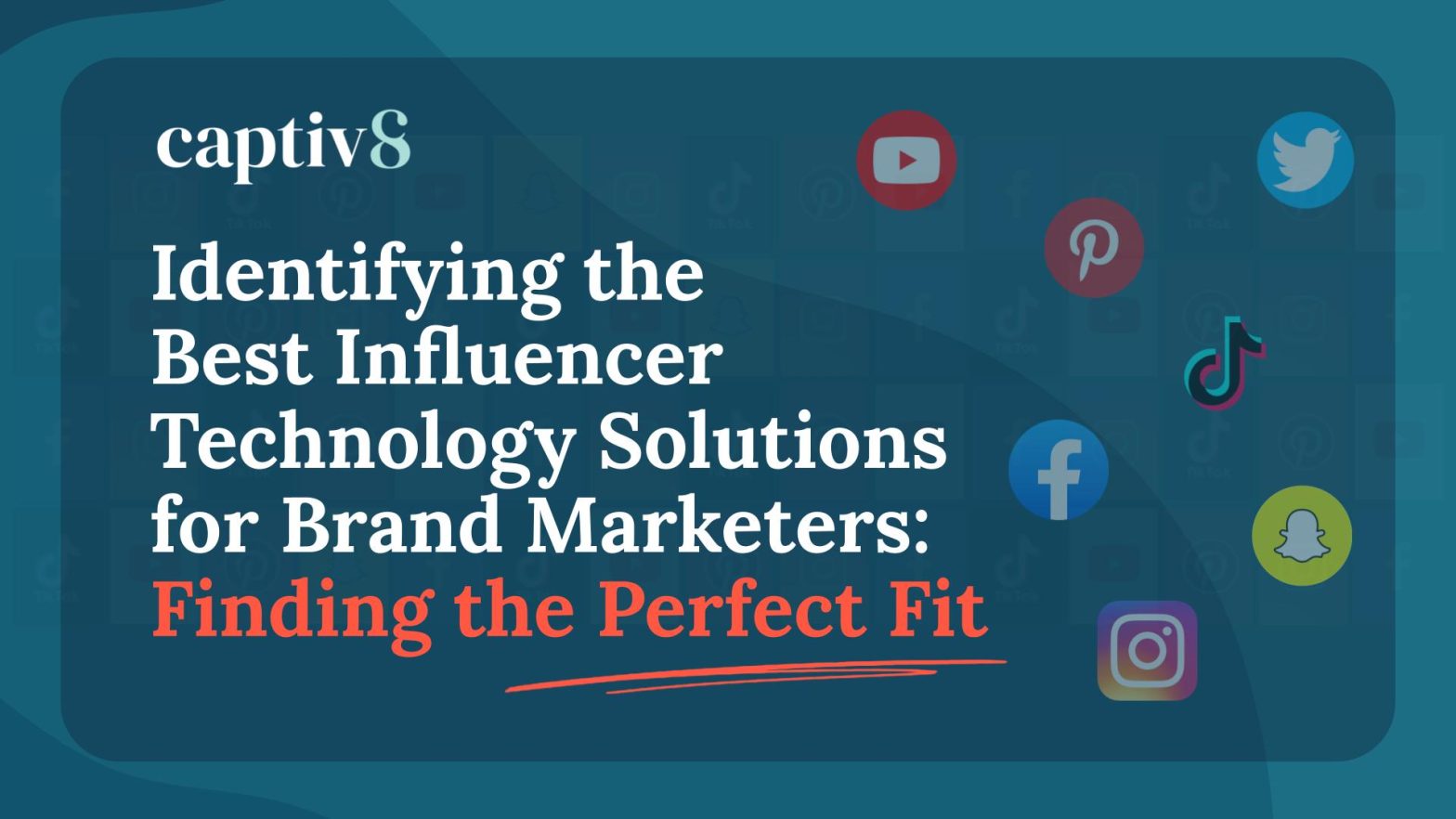 In order to stay on top of the ever-changing landscape that is influencer marketing, brand marketers must leverage an influencer technology solution that helps drive impactful campaigns. Find out what capabilities and attributes brand marketers should consider when searching for the best influencer marketing technology solutions for their needs.
Influencer Discovery and Selection:
The foundation of any successful influencer marketing campaign begins with finding the right influencers who align with your brand's goals and target audience. Brand marketers should look for an influencer technology solution that offers a robust influencer database, providing access to a wide array of influencers from various niches and demographics. Advanced search filters are a must when it comes to cutting time in the influencer discovery process, allowing you to narrow down your options based on specific criteria such as engagement rate, location, interests, niche of content, and much more. For example, an influencer marketing platform like Captiv8 offers a creator database of 15M creators and advanced search filters by content topic, gender, location, what brands they've worked with, ethnicity, interests, sexual orientation, marital status, whether or not they have pets and so much more.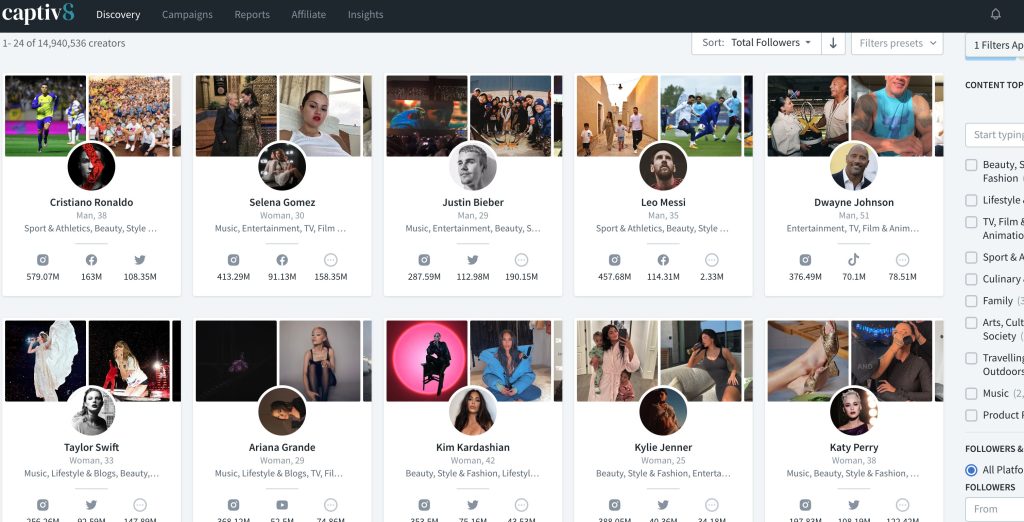 Additionally, a comprehensive understanding of an influencer's audience is crucial, so seek solutions that offer detailed audience insights to ensure optimal targeting.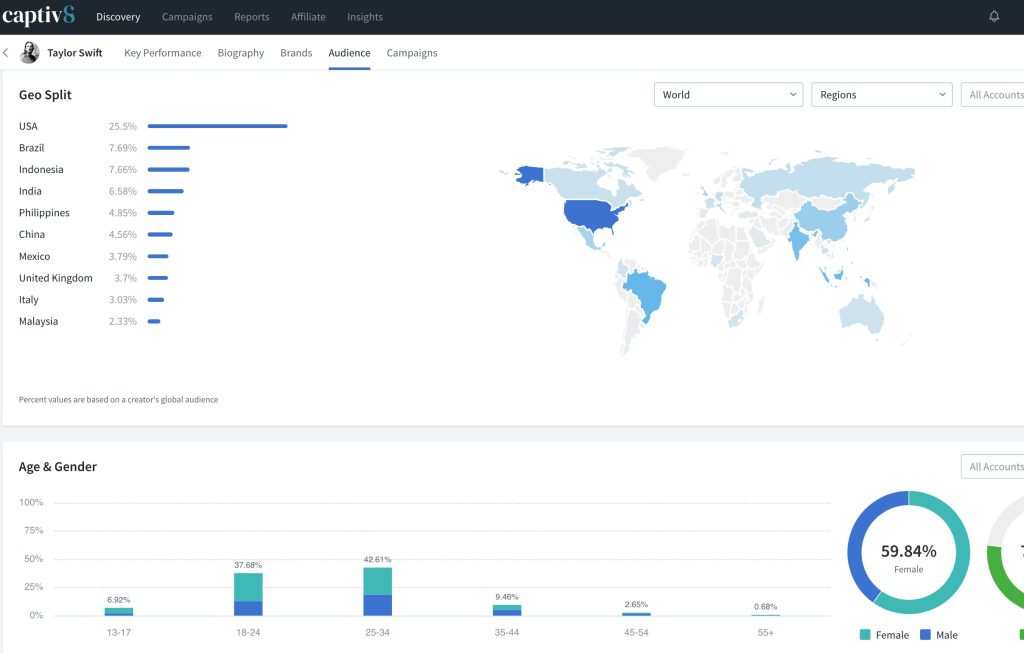 Performance Tracking and Analytics:
To measure the success and impact of influencer campaigns, brand marketers require real-time performance tracking and analytics. Look for influencer technology solutions like Captiv8 that provide detailed metrics, including reach, engagement, conversions, ROI, and real-time reporting. Through real-time reporting, you can monitor the effectiveness of your campaigns and make necessary pivots based on data-driven decisions. Customizable reporting features are also invaluable, enabling you to generate comprehensive reports with actionable insights that can be shared with your team and stakeholders.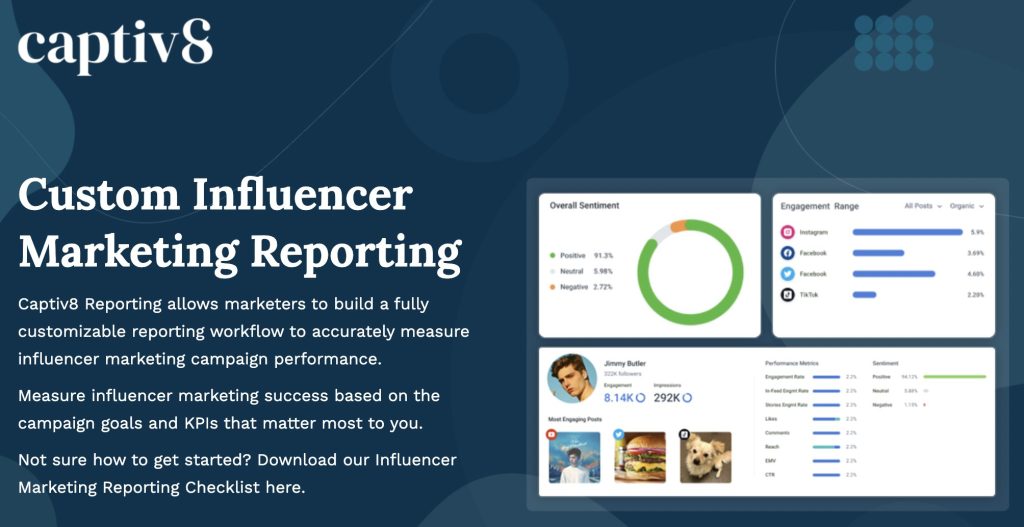 Relationship Management and Collaboration:
Effective communication and collaboration between brands and influencers are vital for seamless campaign execution. Look for influencer technology solutions that offer communication tools, such as direct messaging features or integrated email systems, to foster strong relationships. To learn more about key strategies for enhancing communication with creators, check out this upcoming webinar. Efficient contract and payment management features streamline the administrative aspects of influencer collaborations. Additionally, content approval workflows ensure that influencer-generated content aligns with your brand's values and guidelines.
Fraud Detection and Brand Safety:
In the ever-evolving digital landscape, one problem that brand marketers need to prioritize identifying is fraud detection and brand safety. Look for influencer technology solutions that employ advanced algorithms to identify fake followers, engagement manipulation, or fraudulent activity associated with influencers. Platforms with capabilities such as Captiv8's Engaged Audience Quality tool help you quickly identify how many fraudulent followers a creator might have. Robust content monitoring features help ensure brand safety and compliance with advertising guidelines and regulations. Reputation and sentiment analysis tools provide valuable insights into an influencer's credibility and alignment with your brand.

Integration and Scalability:
The next attribute brand marketers should analyze in order to determine the best influencer technology solutions is whether or not it maximizes efficiency. Consider influencer technology solutions that seamlessly integrate with your existing marketing stack. Integration capabilities with CRM or analytics tools allow for streamlined workflows and data sharing. Moreover, scalability and flexibility are essential, as your influencer marketing efforts may expand over time. Ensure that the technology solution can accommodate your brand's growing influencer marketing needs, whether you plan to work with a few influencers or scale up to manage large-scale campaigns.
Conclusion:
In the ever-changing landscape that is influencer marketing, brand marketers need the right technology solutions to optimize their campaigns and achieve impactful results. By prioritizing attributes such as influencer discovery and selection, performance tracking and analytics, relationship management and collaboration, fraud detection, and brand safety, as well as integration and scalability, brand marketers can identify the best influencer technology solutions that align with their unique goals and requirements.
As you work to identify the perfect influencer technology solution for your needs, remember that finding the right fit is crucial for driving successful influencer marketing campaigns. When done correctly, an influencer marketing solution can provide a transformative impact on your brand's influencer marketing strategy moving forward. With the right influencer tools, you'll be able to streamline your influencer collaborations, effectively measure campaign performance, and make data-driven decisions in real time.
In today's digital age, where consumers crave authentic connections and meaningful brand experiences, influencer marketing has emerged as a powerful tool for brand marketers. By leveraging influencer technology solutions, you can unlock the full potential of your influencer partnerships and elevate your brand's visibility, engagement, and ultimately, conversions.
So, take the time to research and explore the top influencer technology solutions available in the market. Consider your specific needs, budget, and goals as a brand marketer. Look for platforms that align with your brand's values and provide a user-friendly interface, allowing for seamless navigation and campaign management.
In conclusion, if you're interested in learning more about what Captiv8 offers in terms of influencer discovery and selection, performance tracking and analytics, relationship management and collaboration, fraud detection, and brand safety, as well as integration and scalability, reach out to us today!
About Captiv8
Captiv8 is a full-service influencer marketing solution that redefines end-to-end, inspiring you to think bigger, enabling you to plan smarter, and empowering you to execute better. Through our intuitive workflow, brands can uncover actionable insights on trends, discover and vet influencers, seamlessly activate campaigns at scale, amplify branded content across the digital ecosystem, and prove business impact through our measurement dashboard. Our platform gives you the tools you need to build relationships and effective content, while our teams lend experiences and strategic services to steer you clear of common influencer marketing pitfalls.