Harnessing the Power of TikTok's New Social Commerce Features to Boost Sales through Influencer Content
In 2021, Insider Intelligence projected US social commerce sales to rise by 35.8% to $36.62 billion. This was before one of the world's most popular social platforms, TikTok, expanded its social shopping capabilities through its partnership with Shopify. Through updates like this, it's now becoming more and more convenient for users to purchase items directly from the creators recommending them on the feeds they're already spending so much time on. Find out how you can harness the power of TikTok to boost sales through influencer content.
As one of the first companies to integrate TikTok's Creator Marketplace API, and through our own advanced integration with Shopify, Captiv8 clients will now be able to test out the latest TikTok shoppable content features including:
Shopping Tabs: Shopify merchants with a TikTok for Business account will be able to add a new shopping tab to their TikTok profiles and sync their product catalogs to create mini-storefronts on their profile helping to convert profile visits to sales.
Product Links: These links can be used to tag one or multiple products within TikTok videos, and will appear natively where users are accustomed to seeing links to items such as effects. This way, TikTok users will now be able to click the tagged product to be directed toward the merchants storefront for checkout.
In addition to these newest TikTok updates, Captiv8 clients with Shopify storefronts will also be able to easily access and keep track of automated updates to inventory changes, product gifting for affiliates, influencer payment, and budget tracking and advanced, customizable reporting capabilities to help track real-time performance for every type of content post. Metrics captured include:
Organic post/reach impressions
Sentiment analysis
Earned media value
Likes, comments, views, shares, saves, etc
Integrated paid and organic reporting
Organic engaged audience demographics and geographics
Pixel-based conversations (CTR, Sales)
Shopify commissions and engagements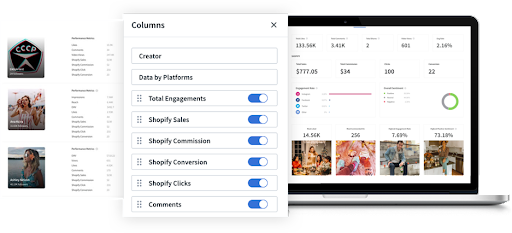 Conclusion
Whether you're looking to create shoppable content for TikTok, Instagram, or Facebook, social commerce is here to stay and only growing in its capabilities, ease of use, and overall effectiveness in driving sales. Brands are looking for ways to break through and make an impact on TikTok in meaningful ways. By strategically partnering with platforms with advanced partnerships, like Captiv8, brands will be able to more effectively measure sales and revenue tied directly to influencer marketing efforts.
Interested in learning how you can start more efficiently leveraging social commerce and TikTok's latest features? Visit Captiv8.io for more info!