Influencer Marketing News: Captiv8 Speaks to the Future of Social Talent at the 2021 Influencer Marketing Show with Stef Michalak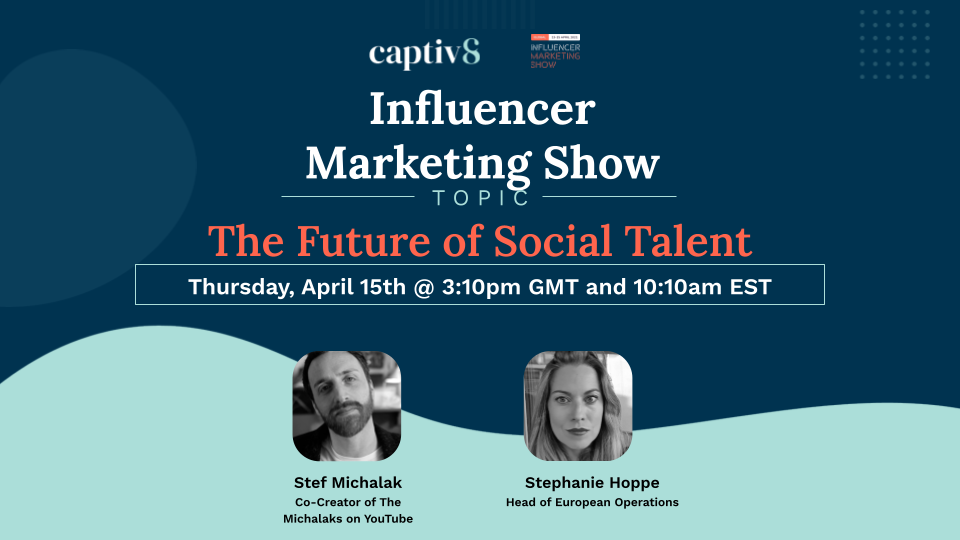 This week in influencer marketing news, tune in to the Influencer Marketing Show (IMS) from April 13th to the 15th. Captiv8's Head of European Operations, Stephanie Hoppe, will be hosting a fireside chat with popular UK-based vlogger, Stef Michalak. Stef is best known for his family YouTube vlogs and his podcast! Having worked with prestigious brands including LandRover, Nestle, and EDF Energy we are eager to chat about the Future of Social Talent. Although the event spans three days, Stephanie's conversation will take place on Thursday, April 15th, at 3:10 PM GMT/10:10 AM EST. You can purchase your tickets here directly on the IMS website!
Influencer Marketing Topics Discussed:
– How creators such as Stef Michalak have pivoted their content in the last year and where does their content go from here?
– How to stay relevant in a highly saturated market.
– What leads to a successful collaboration between brands and creators?
– The keys to building an engaged community or audience.
– Thoughts directly from a creator on the long-term partnership between brands and creators.
We'll be hosting a live Q&A following Stephanie's fireside chat, so come prepared with questions! Interested in learning more about influencer marketing news from industry experts? Visit Captiv8.io for more info!