Chrissy Teigen and More Creators Who Have Quit Social Media For Mental Health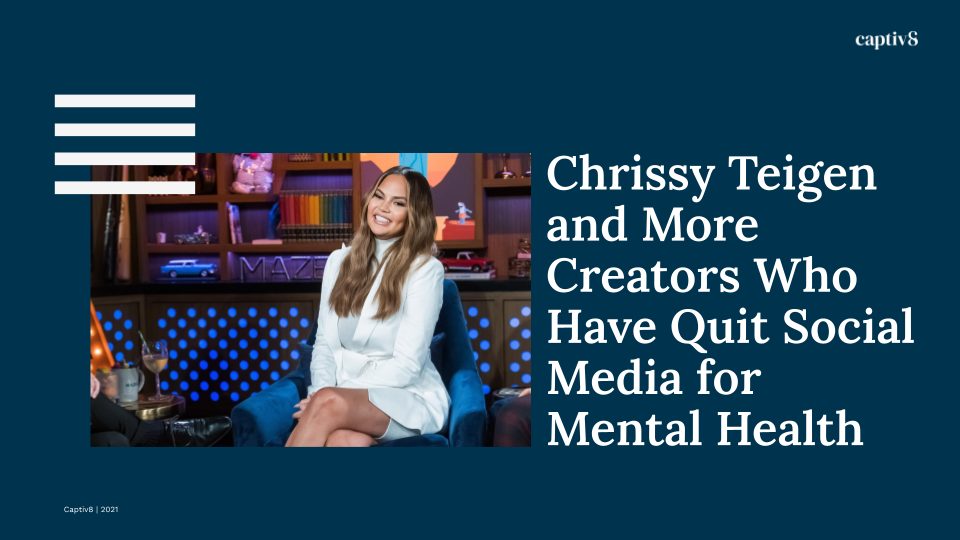 Social media receives a lot of criticism for the toll it can take on an individual's mental well-being. Popular creators are no different. In 2020, the number of posts that mention "mental health" grew by 80.53% from influencers across all social channels (Data Source: Captiv8). Many of social media's most popular influencers have temporarily taken a hiatus or even quit using social media platforms altogether due to the bullying, internet trolls, and abuse they've received. Most recently, Chrissy Teigen announced her decision to leave Twitter.
Chrissy Teigen
With over 13.7M followers on Twitter, and over 48M total followers across all social channels, Teigen's announcement made waves across social media. After all, the self-proclaimed "Mayor of Twitter" quitting the platform was certain to grab attention.
In a thread of tweets, Teigen would go on to elaborate on her decision for leaving the platform.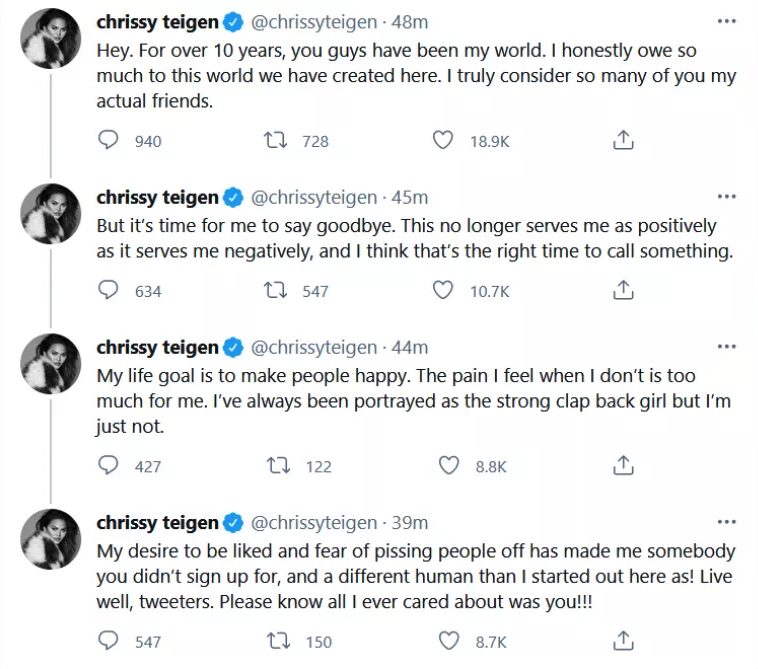 However, the conversation surrounding Teigen's decision to leave Twitter spilled onto other platforms. Through the use of Captiv8's comprehensive insights, we determined that in the past week, #chrissyteigen received over 2.29M engagements on Instagram! Additionally, Teigen took to Instagram to address her decision for followers who hadn't yet seen her tweets prior to the deactivation of her account.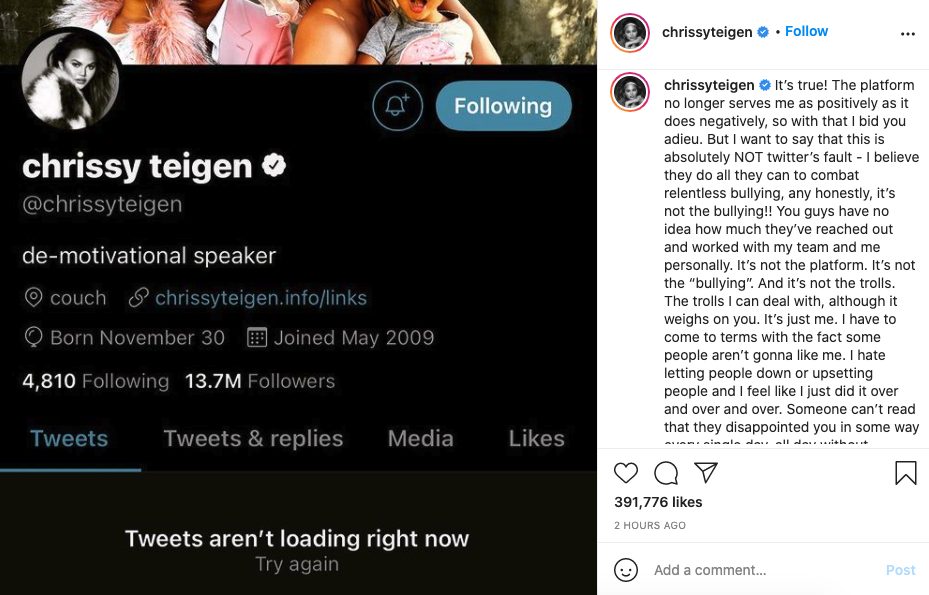 Addison Rae
Another popular creator who has previously quit social media for her mental well-being is Addison Rae. The TikTok superstar has amassed over 5 billion likes on her videos and 124M total followers across all social channels.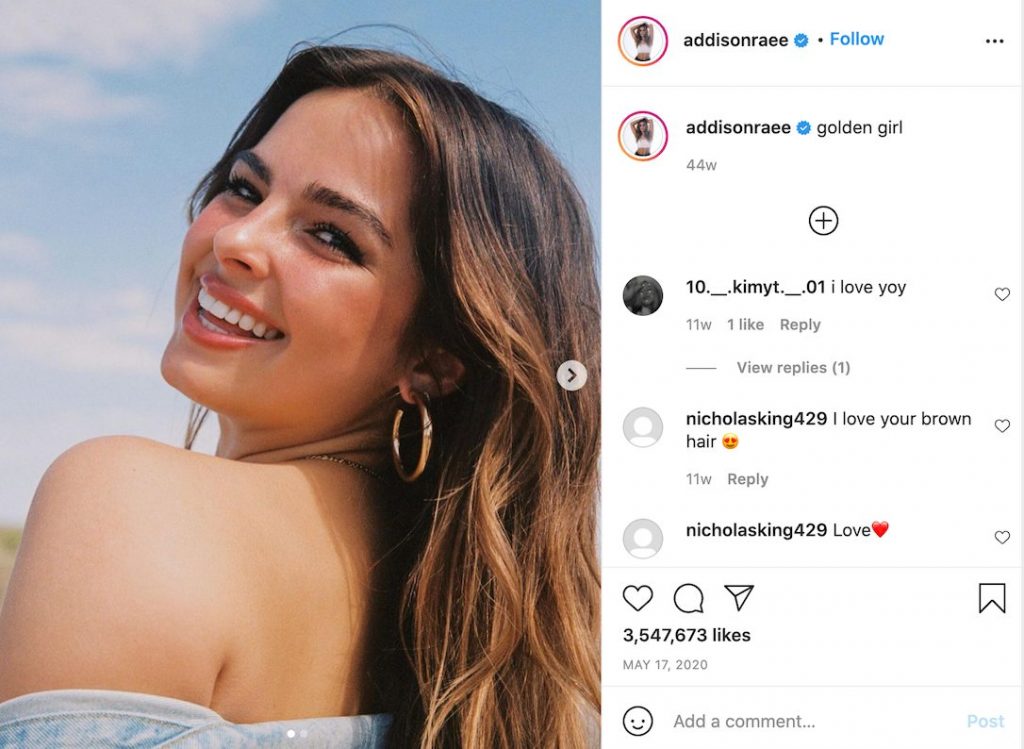 However, she opened up about some of the difficulties she has had to cope with on her social channels. Addison told Glamour U.K. "a lot of it has to do with body image, it's a really hard thing to deal with when you're a girl, especially going through your teens." Additionally, she has shared that "on social media… a lot of things can get to your head. It's important to have a mental break." Although, following a brief hiatus, Addison Rae has returned to creating captivating content for her audience.
Lizzo
In addition to Chrissy Teigen and Addison Rae, singer-songwriter Lizzo has also taken time away from social media for her mental health. On January 5th, 2020 Lizzo tweeted "Yeah I can't do this Twitter sh– no more.. too many trolls.. I'll be back when I feel like it." So far, the hip-hop artist still does not "feel like it." Lizzo's Twitter account is still active. However, tweets are released by her management team. Lizzo was well-known on Twitter for spreading motivational thoughts and body image positivity. Unfortunately, this made her a target for trolls and harassment. This would eventually lead to her decision to leave the platform.
Conclusion
In conclusion, Chrissy Teigen joins a long list of popular celebrities and creators who have chosen to stop using social media for their mental health. Whether Teigen will eventually return to Twitter is yet to be seen. In addition to Teigen, Addison Rae, and Lizzo, there have been numerous popular figures who were not mentioned that have received vast amounts of social media abuse. If you're interested in learning more about social media for mental health, influencer marketing strategy, and more from industry experts, visit Captiv8.io for more info!