The discipline of influencer marketing may have started as a novelty to some advertisers but, these days, many brands are using it to achieve a variety of increasingly sophisticated business goals. It's not just that marketers are getting better at tracking and measuring the impact of influencer campaigns, they're also developing new ways to match creator content with different stages of the purchase funnel. As eMarketer pointed out in an article on influencer content, 75% of marketing professionals believe the discipline is effective at achieving goals like generating sales and building loyalty. In fact, as a recent interview with the marketing team behind Nissan's social media recently illustrated, brands are finding new, creative ways to pair influencer efforts with each stage of this funnel. Could your brand or business do the same? Here are some suggestions.
Building awareness
It's probably no surprise by now that influencer marketing is an excellent tool for building brand awareness. Nevertheless, the tactics and approaches that marketers are using for their awareness-building influencer efforts are always evolving. One example of this is the changing nature of product placements in influencer content. Whereas simply mentioning or showing a product in a video might have been effective in the past, more brands like those in the beauty category are turning to new techniques like "unboxing" content to make a bigger impact. Meanwhile, other awareness-building tactics like advocacy programs, social takeovers, and how-to content offer lots of other options for those looking to move beyond simple sponsored posts.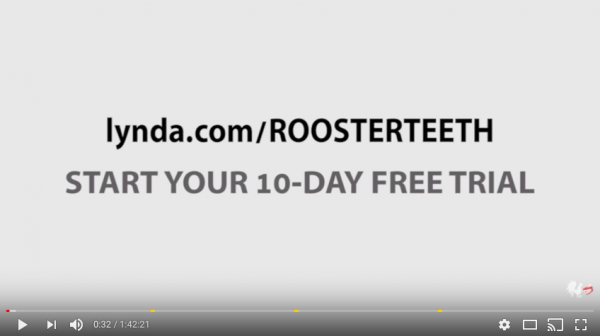 Encouraging consideration
Once your potential customers know about your brand or product, the next challenge is, of course, convincing them that they should consider buying it. Again, creator-driven campaigns are increasingly being used to help tackle this key business goal. Perhaps the most popular method of matching consideration with influencer content is through product reviews. The team at Captiv8 talked about the opportunities and challenges with product review campaigns in a post earlier this year. Beyond product review videos, another good option is using creators to distribute free-trial offers. This approach was used successfully by online learning portal Lynda.com (now part of LinkedIn), which offered 10-day free site trials using YouTube creators like Rooster Teeth (see image above).
Generating sales
Getting customers to buy your product is the "holy grail" of any marketing campaign. Yet many marketers still don't believe that influencer content can be used to generate purchases. As a growing collection of social creator-driven tools and techniques indicate, that's no longer the case. The easiest place to start is by distributing promotional codes, which allow you to match purchases to the impact of specific creators. Another method is by directly linking consumers to your purchase page from an influencer's social account. While this was more complicated in the past, social platforms like Snapchat already allow brands to integrate links, and Instagram is experimenting with link-sharing in Stories for businesses that have more than 10,000 followers.
Influencer marketing is evolving rapidly. No longer is the discipline just an "experiment" or a "test." Instead, it's quickly evolving from a method to build buzz into a powerful tool for marketers to drive specific business results. Whether your brand is looking to encourage consideration or generate sales, there's a growing arsenal of creator-driven content strategies that help you meet your objectives.
What business goals do you want your influencer campaign to accomplish? Reach out to the experts at Captiv8 today for help.