In the last year, live video has matured from a novelty into an increasingly important social feature. Nearly every social platform, including Facebook, Instagram, YouTube and Twitter offer some form of live video broadcasting, and as we have seen from past live video campaigns, this form of content can be highly compelling for audiences. Now that live video is widely available, it's also a great tool to use in influencer campaigns. Not only does live video content get priority in the algorithms that decide what content consumers see on Facebook and Instagram, it's also great way to take advantage of the creative know-how and engaged audiences of creators. Here are some ideas of how your brand can add live video into your next influencer campaign: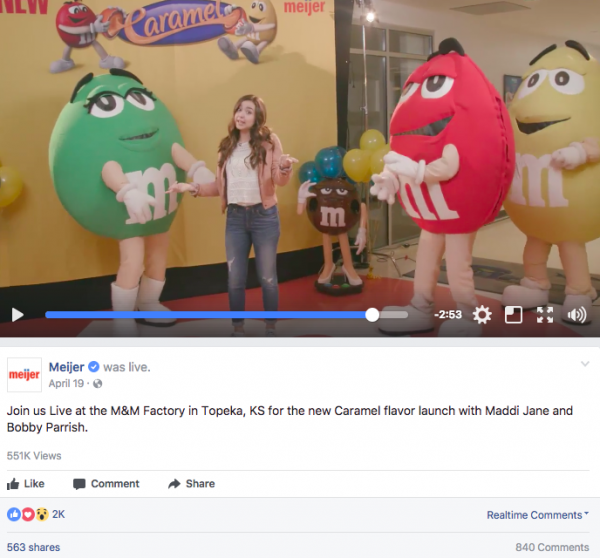 Create a behind-the-scenes tour: it's a well-known fact that many social media fans follow creators and brands in order to obtain behind-the-scenes access. This doesn't always have to mean VIP velvet rope treatment either: for brands with passionate fans, access to lesser-known knowledge or insider previews of new products can make them feel more special and help encourage them to act as advocates on your behalf. It's exactly the strategy employed by M&M's and Meijer Grocery who partnered with two creators during the launch of its new candy flavor last year, and it's a similar approach used by Dunkin Donuts when it gave fans a sneak peek of its bakery test kitchen.
Release exclusive items: One of the benefits of e-commerce retail is that nearly every product is available to consumers no matter their location. But for brands that are positioned as "luxury" brands, or hoping to build a sense of exclusivity, this also presents a challenge: how do you make a new product launch or limited item feel special? Live video presents a potential opportunity. As we've seen with the release of limited-edition makeup products like Kylie Jenner's Cosmetics line, live video is increasingly being used to announce limited-time "flash sales" that help sell product and build buzz with key consumer audiences. These type of live video executions mimic the QVC shopping channel of old: marketers can turn their product launch into an event, while also leveraging the star power of a creator who can draw a big audience to their broadcast.
Host a Q&A session with an expert: Another big benefit of partnering with creators is expertise. Many of today's top personalities have built their audiences by building a two-way dialogue with their followings as they offer advice, tutorials, entertainment, and tips. Live video allows creators and their marketing partners to take this two-way dialogue to the next level. Consider the example of Sephora, who produced a live video question and answer session with Jen Atkin of Ouai Haircare and Christophe Robin Paris, to answer viewers' most pressing beauty questions. The video has earned more than 86,000 views since it was released.
Live video is quickly moving from a niche product into the mainstream. This powerful new broadcasting tool has the potential to become a powerful new engagement tool in your influencer marketing arsenal. Are you ready to give it a try? Reach out to the experts at Captiv8 today to figure out how to get started.