International Women's Day 2023: 8 Activists Leading Change to Follow on Social Media Today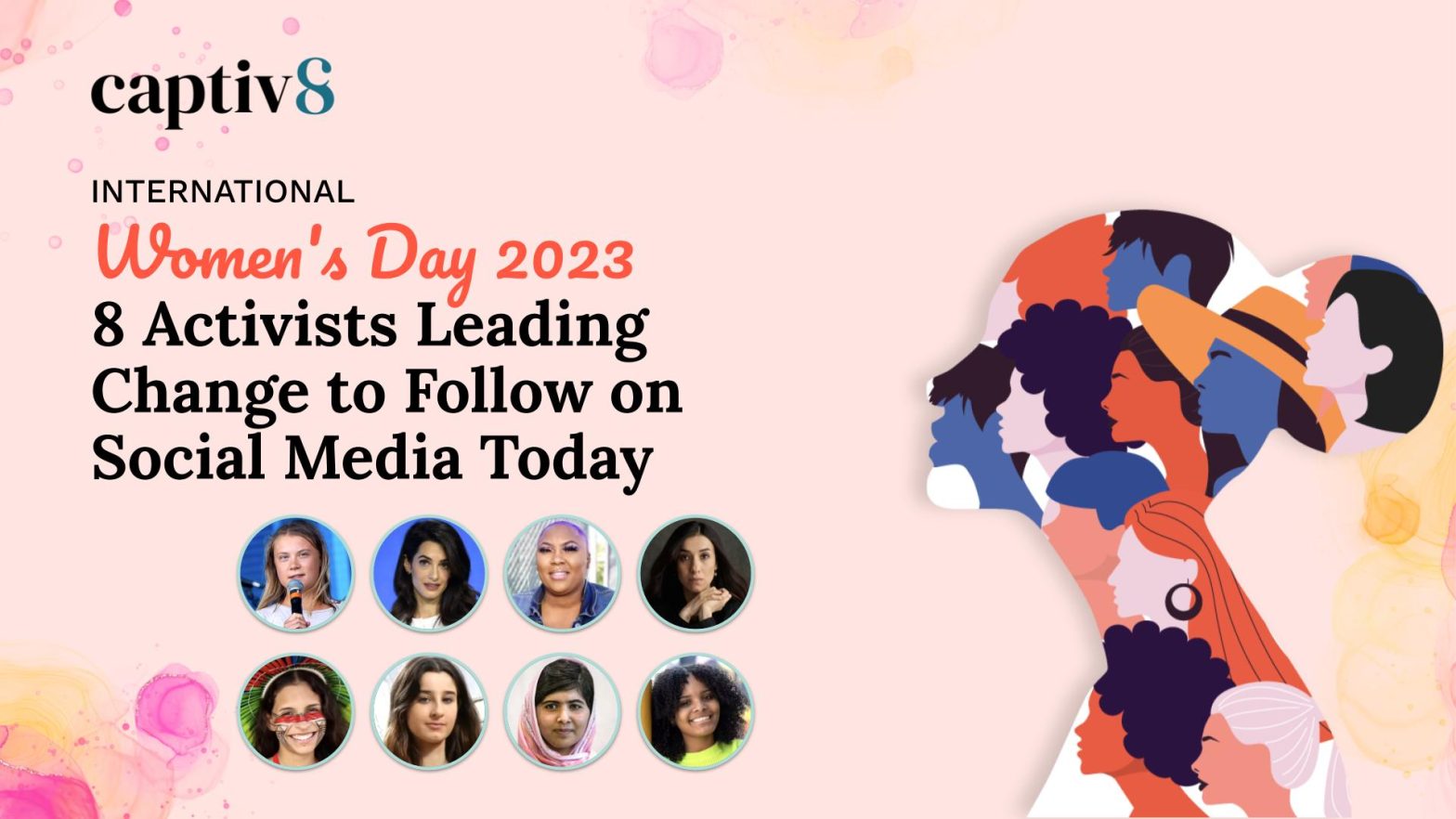 In honor of International Women's Day (IWD) and Women's History Month 2023, we wanted to place the spotlight on female activists who are driving change that you should follow on social media today. A key theme of IWD 2023 is the fight for gender equity in all aspects of life. IWD's 2023 key campaign is #EmbraceEquity as they attempt to get the world to discuss why equal opportunities are not enough to truly build equity. With all people starting from different backgrounds, true inclusion and belonging require equitable action. Through the use of Captiv8's comprehensive insights, we found that the hashtag #EmbraceEquity has generated over 10M engagements in the past month with a peak of 3M engagements on March 3rd! This data highlights the campaign's success in raising awareness and starting conversations about building true equity.

With this emphasis on equity, here are eight women that you can follow today on social media that are continuing to fight to build an equitable landscape for all:
Mari Copeny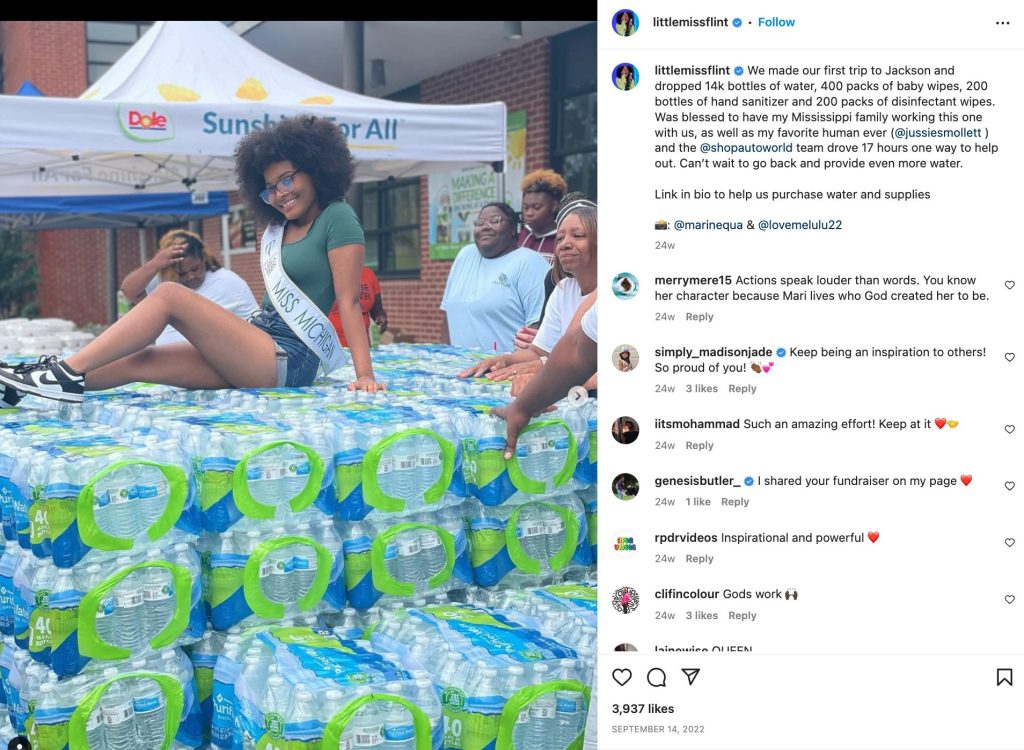 Social Breakdown
Instagram – 157K
Twitter – 146.3K
Facebook – 3.8K
Mari Copeny, aka Little Miss Flint, is a 15-year-old activist from Flint Michigan. Copeny has been a community philanthropist and environmentalist since the age of eight. Her mission began as a result of the Flint Michigan Water crisis that began in 2014, Copeny shares that there are hundreds of communities across the United States that suffer from toxic public water. With the goal of providing clean water for all, Little Miss Flint has built her platform upon aiding all with the opportunity to receive clean water.
Shirley Raines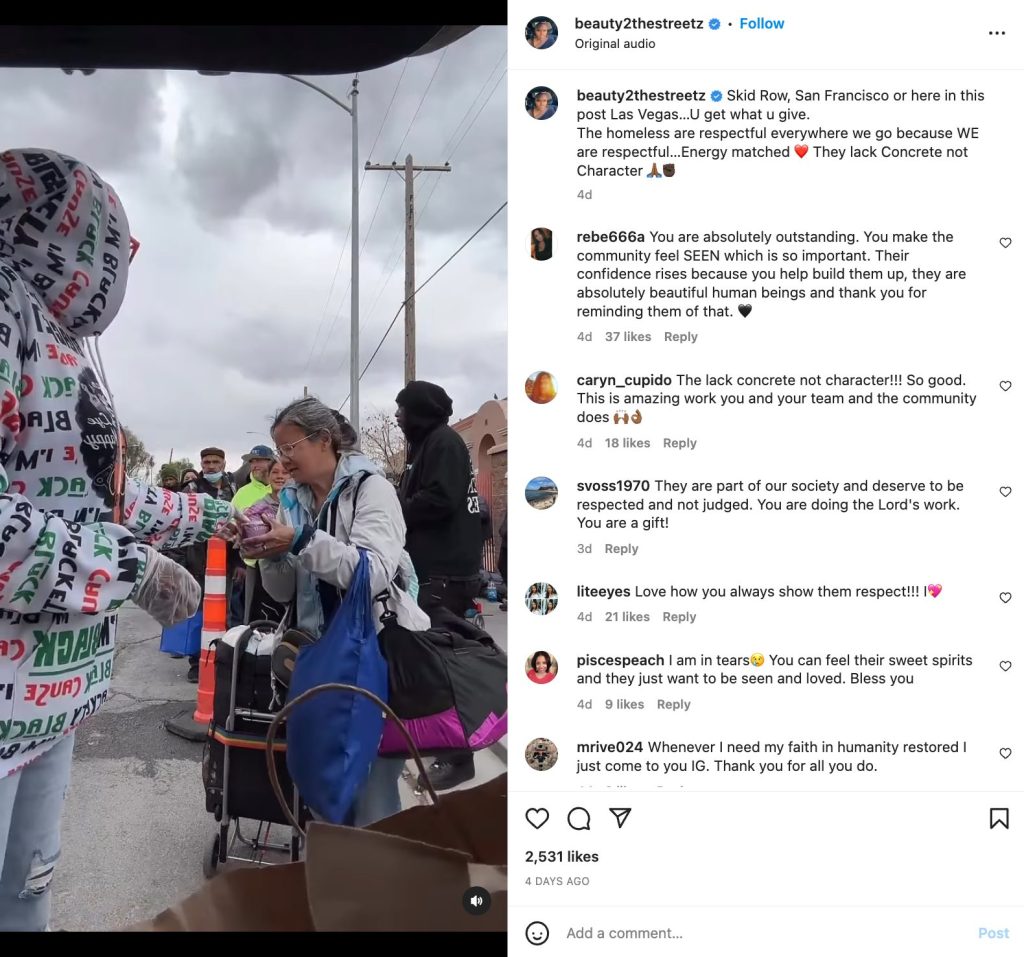 Social Breakdown
Instagram – 343K
Twitter – 104.3K
Facebook – 6.8K
Shirley Raines is the founder of the non-profit, Beauty 2 the Streetz, and was CNN's Hero of the Year in 2021. Beauty 2 the Streetz's mission is to provide hair and makeup services, food, clothing, hygiene, and other essentials to homeless people. Raines' work began in LA's Skid Row and has grown to provide support for many more communities across the country. Through Raines' social channels, you can see first-hand the work that Beauty 2 the Streetz does on a daily basis and the impact it is having on communities.
Malala Yousafzai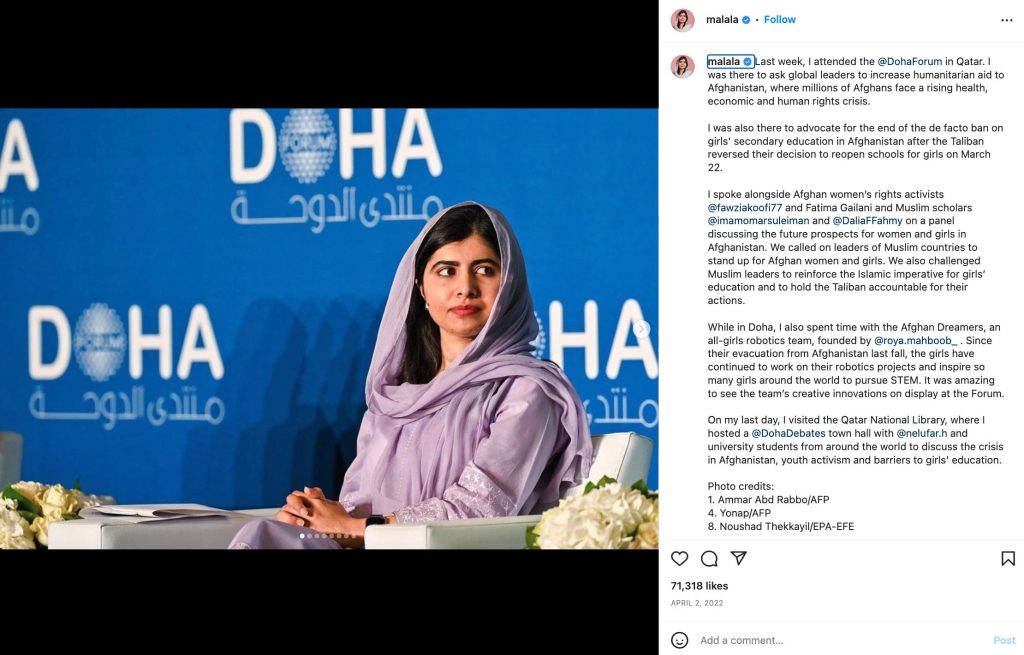 Social Breakdown
Instagram – 2.3M
Twitter – 2M
Facebook – 212K
Malala Yousafzai is a Pakistani education activist and the recipient of the 2014 Nobel Peace Prize for her work in aiding every child to receive an education. Yousafzai's platform began to rise in 2012 when she was shot by the Taliban in her native country of Pakistan for speaking out against the prohibition of education for girls. Since then, Malala has gone on to become an international symbol of the fight for equitable educational opportunities for girls. On her social channels, Yousafzai posts a mixture of content between raising awareness for public issues, takeaways and insights into events that she attends, as well as a glimpse into her personal life.
Greta Thunberg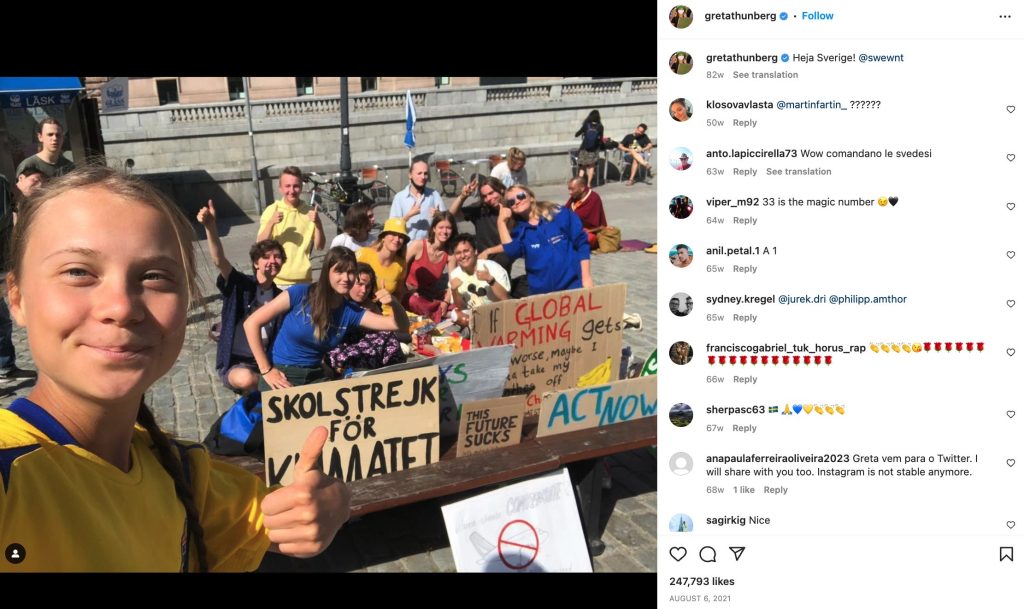 Social Breakdown
Instagram – 14.8M
Twitter – 5.8M
Facebook – 3.5M
Greta Thunberg is a Swedish environmental activist who rose to fame in 2018. Thunberg is famously known for her movement "School Strike for Climate" as she protested outside the Swedish Parliament in 2018, urging the government to meet carbon emissions targets. In doing so, Thunberg inspired thousands of young individuals across the globe to participate in their own protests, highlighting how the actions of a lone individual can impact the world.
Nadia Murad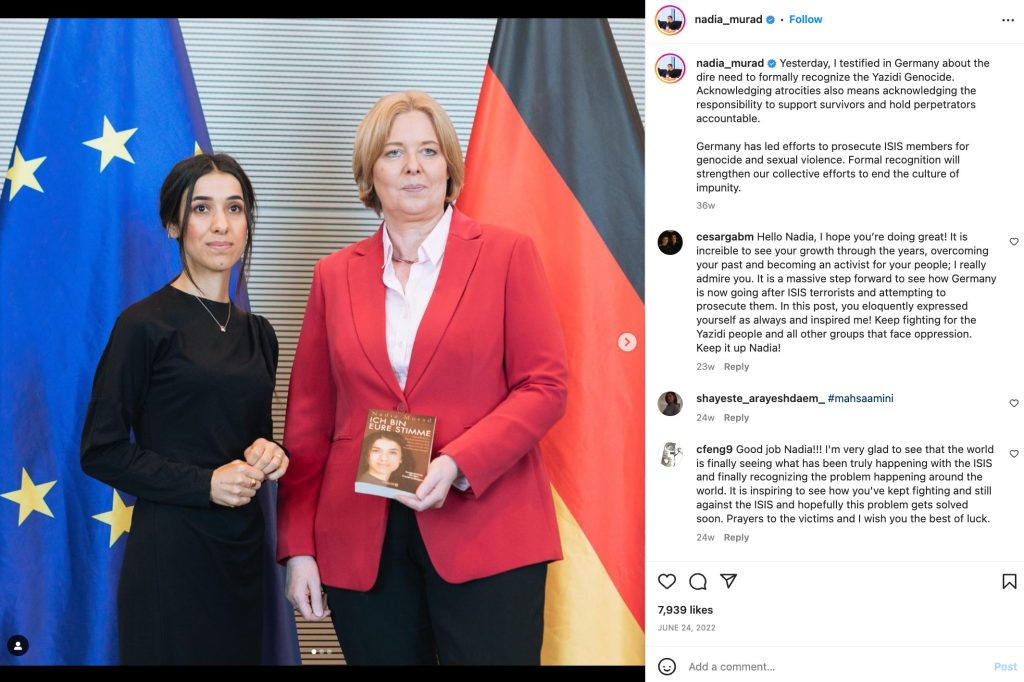 Social Breakdown
Instagram – 347K
Twitter – 202K
Facebook – 191K
Nadia Murad is an advocate for gender equality and survivors of sexual violence. Murad was a co-recipient of the 2018 Nobel Peace Prize for her work against human trafficking, and sexual violence, as well as her work to bring ISIS to justice. On Murad's social channels, you can stay up to date with her work as an activist as she attends and speaks at global conferences, shares thoughtful insight into current and past events, as well as glimpses into her personal life.
Amal Clooney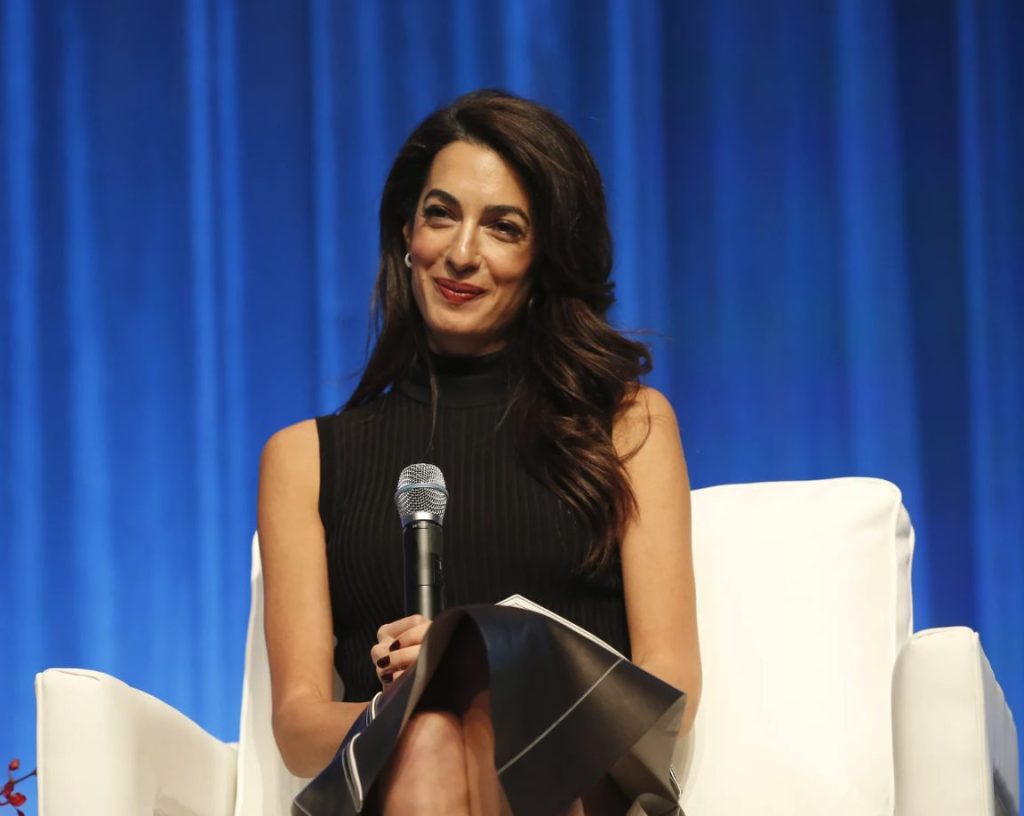 Social Breakdown
Facebook – 82K
Amal Clooney is world-renowned for her work in public international law, international criminal law, and human rights. She has played a role in many landmark human rights cases, including the world's first trial in which an ISIS member was convicted of committing genocide against Yazidis. Clooney has become one of the world's most influential human rights lawyers as she continues to defend marginalized groups, individuals, journalists, and many more on an international scale.
Alice Pataxó
Social Breakdown
Instagram – 174K
Twitter – 119.5K
Facebook – 6.6K
TikTok– 103.5K
Alice Pataxó is a 21-year-old indigenous climate activist from Brazil's Amazon basin. Pataxó is well-known for her work to denounce the actions that Brazilian President, Jair Bolsonaro has taken against the indigenous people of Brazil's Amazon basin. Pataxó has been highlighted by Malala Yousafzai as "one of the great women around the world who are sharing their voices and experiences to demand urgent climate action". Pataxó is a skilled content creator who is active on social media to raise awareness for social causes.
Chanel Contos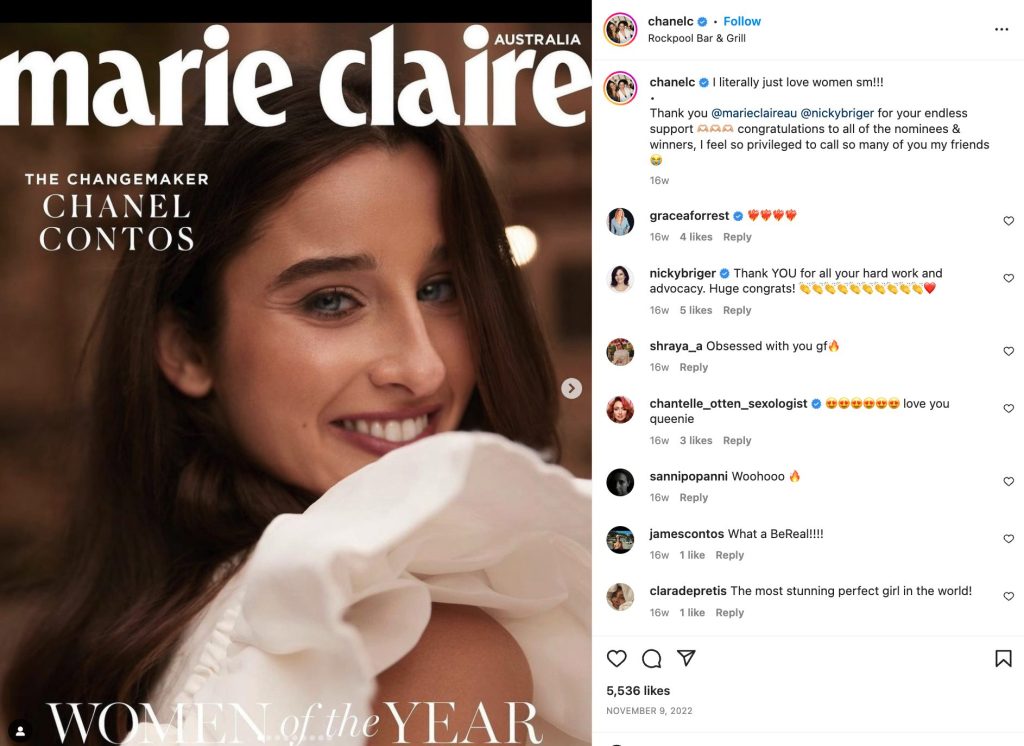 Social Breakdown
Instagram – 30.4K
Twitter – 672
Chanel Contos is an Australian sexual consent activist and founder of Teach Us Consent. Through Teach Us Consent, Contos is advocating for consent education to be taught earlier and more holistically within the education system. For her work, Contos found herself among BBC's top 100 most influential and inspiring women of 2022. Through her social channels, you can stay up-to-date with Teach Us Consent's progress, social issues, as well as Contos' personal life.
Conclusion
In conclusion, social media can absolutely be a platform for social good and these eight women highlighted are the embodiment of that. Through their extended reach on social media, these women are leading change and making a difference not only in their communities but in the world. You can follow each of these incredible women on social media to stay up to date with social causes along with their acts of service. Interested in learning more? Reach out to us today!
About Captiv8
Captiv8 is a full-service influencer marketing solution that redefines end-to-end, inspiring you to think bigger, enabling you to plan smarter, and empowering you to execute better. Through our intuitive workflow, brands can uncover actionable insights on trends, discover and vet influencers, seamlessly activate campaigns at scale, amplify branded content across the digital ecosystem, and prove business impact through our measurement dashboard. Our platform gives you the tools you need to build relationships and effective content, while our teams lend experiences and strategic services to steer you clear of common influencer marketing pitfalls.