Captiv8 Makes Reporting on Influencer Marketing Success a Customizable Experience for Everyone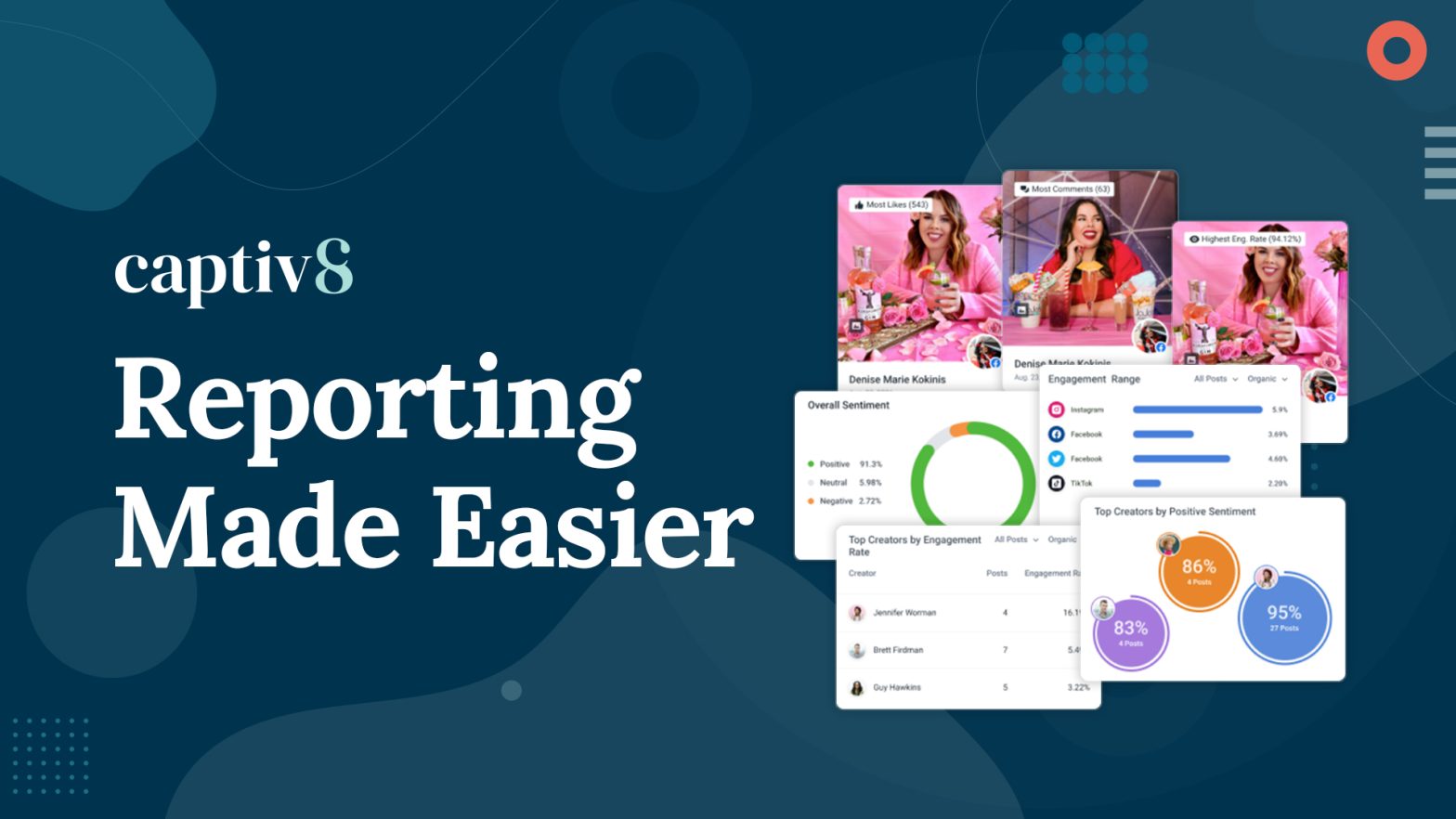 This latest platform update empowers marketers with the exact information they need to best measure ROI for their business
San Francisco – February 1, 2022 – Today, leading influencer marketing company, Captiv8 announces its latest capability aimed at making the advanced data science which powers its platform more digestible, and specifically tailored, to all, through customizable reporting.
Influencer marketing success and what it looks like not only varies between companies and brands, but by campaign as well. With each new creator activation, comes a new set of goals and KPIs marketers are looking to achieve. Now, through customizable reporting, Captiv8 is looking to give marketers the control to personalize exactly what their campaign reports look like, from branding guidelines to the types of metrics included. This allows for easier planning, budgeting and decision-making as company leaders are able to clearly see, in terms that matter most to them, the success and return on their influencer marketing strategies.
"Influencer marketing as an industry is beyond its '101' introductory phase. As we enter a new, more sophisticated era, it no longer makes sense for brands to rely on a one-size-fits-all approach to measuring campaign success," said Krishna Subramanian, CEO, Captiv8. "In order for brands to build on what works best for them, and create innovative content that best breaks through to target audiences, they have to be armed with the data that matters most to them."
Influencer marketers are now able to instantly visualize success for top KPIs on an organizational and campaign level through the following, industry-first, features:
Custom Report Builder: Captiv8's drag-and-drop report builder lets marketers choose from widgets including top established KPIs, engagement rate, sentiment, top creators by sentiment, audience metrics, top posts, affiliate integrations, and word clouds, among others.

Automated Report Templates: Marketers are now able to save and format reports from standard or custom templates for specific formats like videos, posts, or stories, individual platforms, or different brand campaign objectives.

Custom Metric Calculator: For brands and agencies that have established their own custom ways to measure formula-based data points such as earned media value and engagement rate, Captiv8 now allows users to input their own custom formulas for these metrics.

Direct Campaign Goals Comparison: Marketers can now enter campaign goals and automatically see real-time performance comparisons from the moment the campaign is live. These comparisons will also track how each individual creator and post is pacing towards reaching the entire campaign goal.
Those interested in learning more can visit Captiv8's website.
# # #
About Captiv8:
Captiv8 is a full service influencer marketing solution that redefines end-to-end, inspiring you to think bigger, enabling you to plan smarter and empowering you to execute better. Through our intuitive workflow, brands can uncover actionable insights on trends, discover and vet influencers, seamlessly activate campaigns at scale, amplify branded content across the digital ecosystem, and prove business impact through our measurement dashboard. Our platform gives you the tools you need to build relationships and effective content, while our teams lend experiences and strategic services to steer you clear of common influencer marketing pitfalls.