Captiv8's Latest Content Boosting Suite is Industry First to Offer A/B Testing Across Top Platforms Guaranteeing Increased Performance on Influencer Marketing Campaigns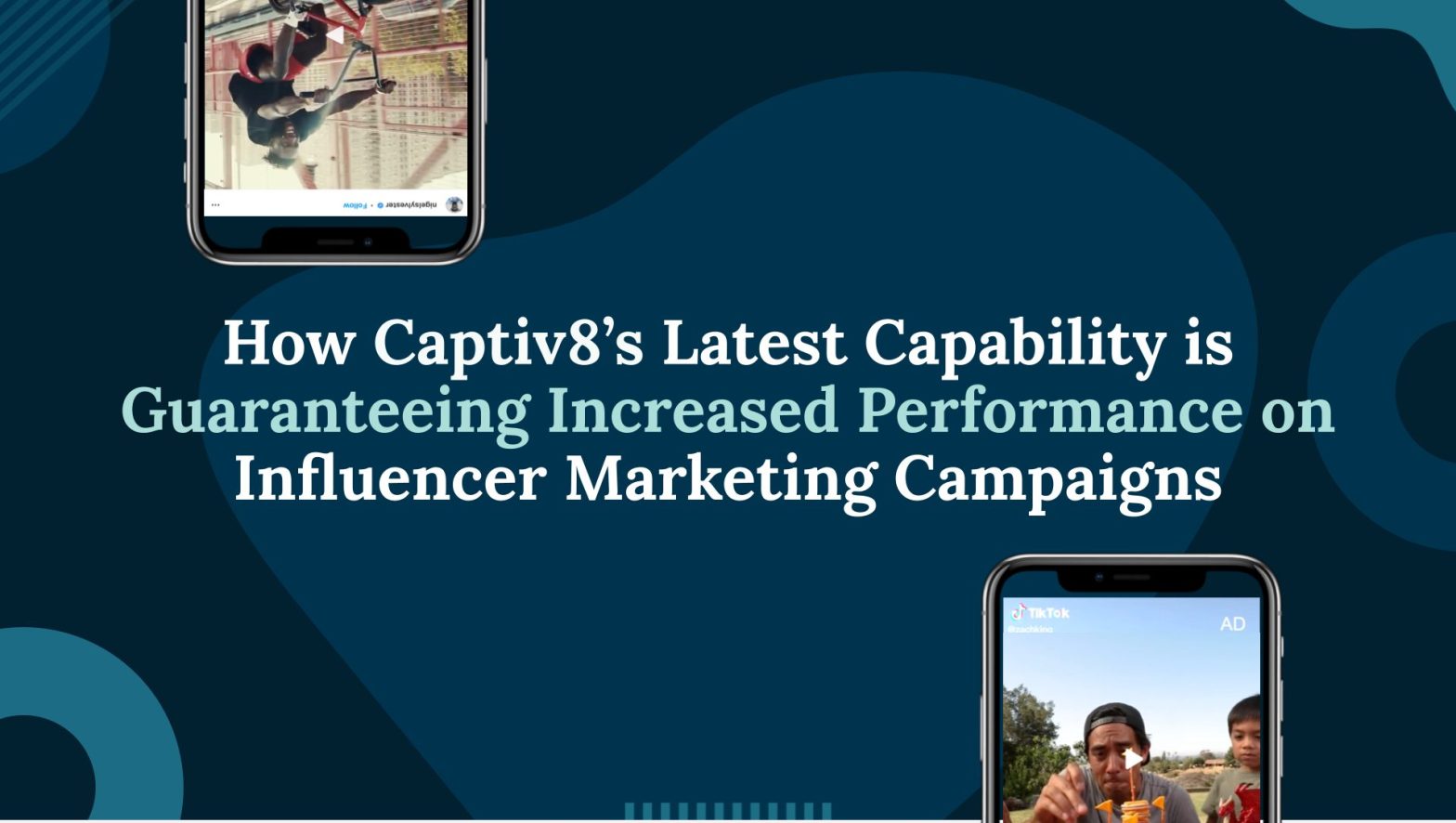 San Francisco, CA – November 5, 2021 – Today, Captiv8 announces that its Content Boosting Suite is the industry's first influencer marketing platform to include A/B testing for creators, audiences, and content on Instagram, Facebook, and TikTok. Now, Brands and agencies can test and identify new ways to increase reach, awareness, and engagements across creator campaigns on all three platforms. This recent release accelerates Captiv8's SaaS platform as the only complete end-to-end unified workflow for influencer marketing campaigns.
When utilizing the new A/B testing features, marketers are able to:
Test New Audiences: For brands that are promoting new products or are looking to expand their target audience, the Captiv8 Content Boosting Suite allows them to target existing saved audiences from Facebook Ads Manager or create custom targeting to see how different people across platforms react to influencer's branded content. Captiv8 recommends boosting top performing organic influencer posts and using the A/B audience test option when you want to broaden and identify opportunities for more reach, awareness, and/or engagements of the post.
Identify Winning Creators: Not all influencers are right for certain campaigns. See how different creators and their posts perform against the same audience to determine which creators make the most sense to continue working with for future campaigns. Based on the results of the A/B creator test, Brands can not only maximize the value of each creator's likeness, but also plan strategically for new campaigns. Captiv8 recommends building out a strong influencer relationship program with the winning creators to drive the most authentic stories about your products and/or services.

Nail Down Content Messaging that Resonates: On Facebook and Instagram, brands can boost branded content that never appears in its profile. These dark posts are available on Facebook Ads Manager as optional ways to drive reach and engagements to content without publishing it directly to all followers. In addition, brands are able to test different variables in the post itself to nail down the copy that resonates best with your audience. Today, Captiv8's Content Boosting Suite is the first to give marketers this workflow from Facebook Ads Manager and enable them to do this at scale within a single platform.
"Captiv8's platform continues to redefine the true meaning of an end-to-end solution within the influencer marketing industry," said Krishna Subramanian, CEO and Co-Founder, Captiv8. "We are always continuing to identify new white spaces within the market and offer solutions that proactively solve for current and future client needs in a data-backed, and authentic, way." 
Captiv8's Content Boosting Suite is also the first TikTok Creator Marketing Partner solution to support TikTok Spark Ads, and this latest product launch follows Captiv8's earlier announcement of being one of the first influencer platforms to integrate the new TikTok Creator Marketplace API.
Those interested in more information about Captiv8's Content Boosting Suite and additional features can visit here.
# # #
About Captiv8:
Captiv8 is a full service influencer marketing solution that redefines end-to-end, inspiring you to think bigger, enabling you to plan smarter and empowering you to execute better. Through our intuitive workflow, brands can uncover actionable insights on trends, discover and vet influencers, seamlessly activate campaigns at scale, amplify branded content across the digital ecosystem, and prove business impact through our measurement dashboard. Our platform gives you the tools you need to build relationships and effective content, while our teams lend experiences and strategic services to steer you clear of common influencer marketing pitfalls.