Social Media Analysis: Skims Influencer Marketing Success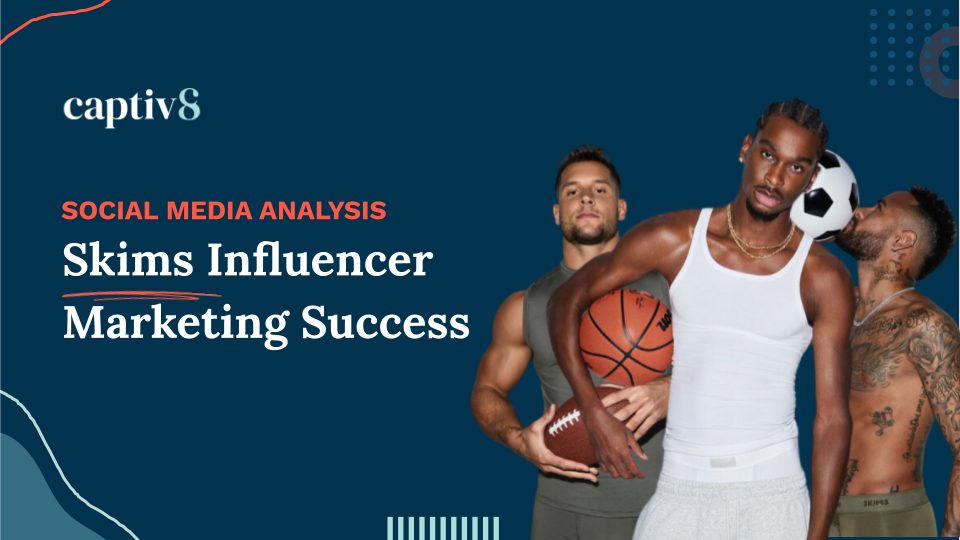 Skims has emerged as a true trailblazer in the fashion industry, truly harnessing the power of influencer marketing. Founded by Kim Kardashian, the brand's journey is marked by strategic collaborations, transformative campaigns, and a dedication to inclusivity. From its game-changing partnership with the NBA to its groundbreaking entrance into menswear, Skims has demonstrated a pivotal understanding of the modern fashion landscape.
Through a comprehensive data analysis, we'll uncover the remarkable shifts in audience engagement and contributor demographics, spotlighting how Skims' strategic approach has not only garnered attention but has also fostered a diverse and engaged community. Join us as we unravel the strategies behind Skims' success, celebrating its commitment to redefining fashion and embracing diversity, all while pushing the boundaries of what a fashion brand can achieve.
Skims Menswear Line Spurs Remarkable Shift in Audience Engagement
Skims' expansion into men's apparel is a logical progression, considering the substantial market potential. According to Circana's consumer tracking data, the men's underwear market is valued at a staggering $5.7 billion, with sales witnessing a 2% growth over the past year. While Skims has predominantly focused on women's clothing, including bras and underwear, their decision to enter the men's market marks a significant milestone for the brand.
To support this exciting venture, Skims enlisted the power influencer marketing, tapping into three high-profile athletes to serve as the faces of the collection: San Francisco 49ers player Nick Bosa, Brazilian soccer superstar Neymar Jr., and NBA player Shai Gilgeous-Alexander. Their involvement not only adds credibility to the brand's entrance into menswear but also helps tap into the expansive fan bases of these sports icons.
Skims' entrance into menswear has not only garnered attention from industry experts but has also sparked significant interest among consumers. Our comprehensive social media analysis reveals a notable shift in audience engagement since the announcement of Skims' menswear line on October 23, 2023. Before this expansion, women represented the majority of hashtag contributors at 84.02%, while men accounted for just 15.98%. However, in the days following the announcement, there has been a remarkable transformation. Men now constitute an impressive 32.4% of #Skims mentions, signifying a substantial diversification in the brand's consumer base. This shift underscores Skims' ability to resonate with a broader demographic, reaffirming their dedication to inclusivity and innovation.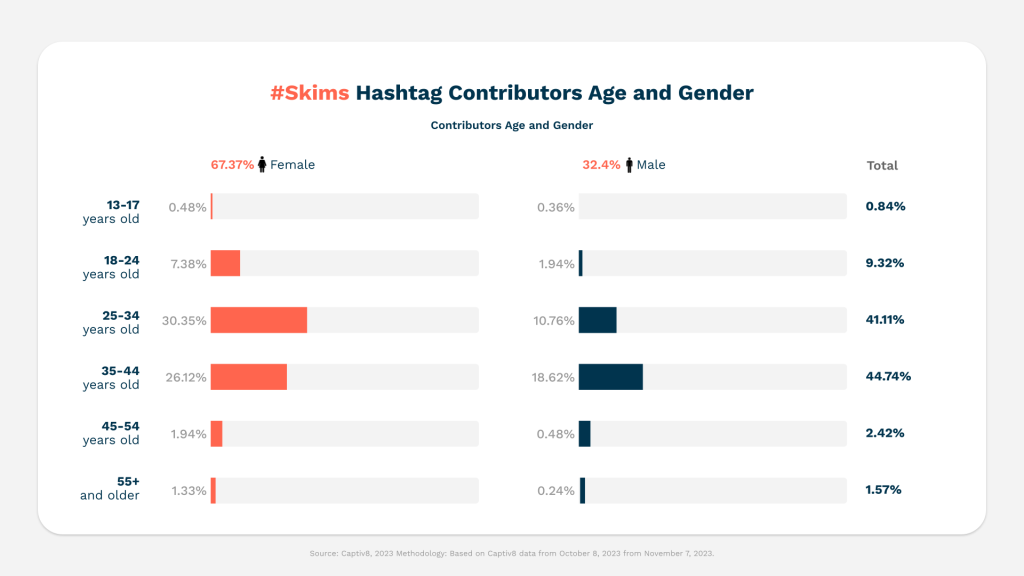 NBA, WNBA and USA Basketball Partnerships: Elevating Skims Influence and Reach
Skims' strategic partnership with the NBA, WNBA, and USA Basketball signifies a monumental achievement for the brand, strategically aligning with one of the most influential sports leagues globally. This collaboration not only designates Skims as the official underwear partner for these basketball leagues but also unlocks access to a vast and diverse fan base. By aligning with the NBA, Skims gains exposure to a roster of high-profile athletes who serve as formidable influencers.
On October 30, the day of the partnership announcement, we witnessed an extraordinary surge in engagement and contributors for the #Skims hashtag. This spike marked an all-time high in engagement for the brand within the last 30 days. This heightened engagement not only reflects the brand's strategic use of influencer marketing but also demonstrates the profound impact of aligning with a sports league as culturally significant as the NBA.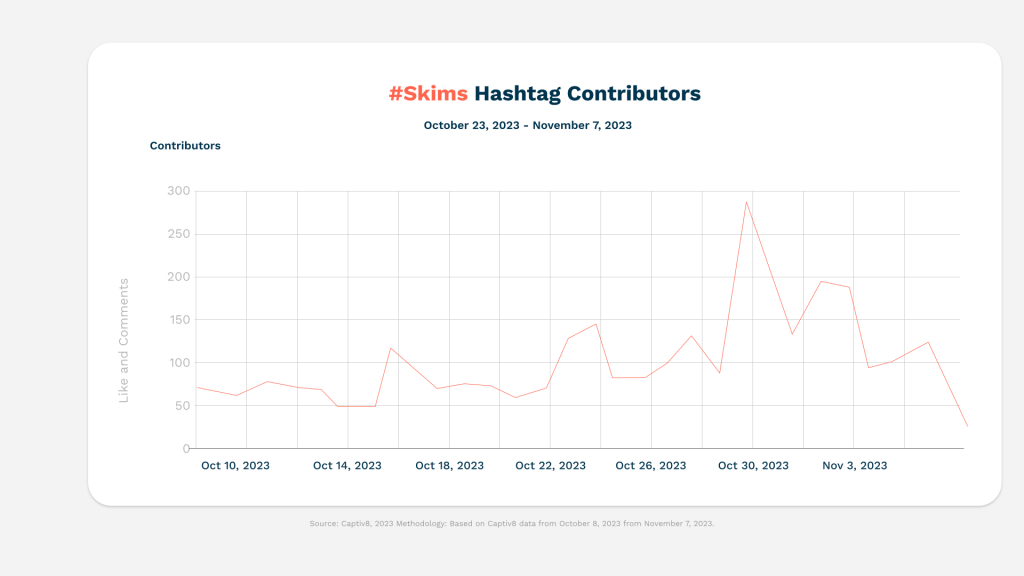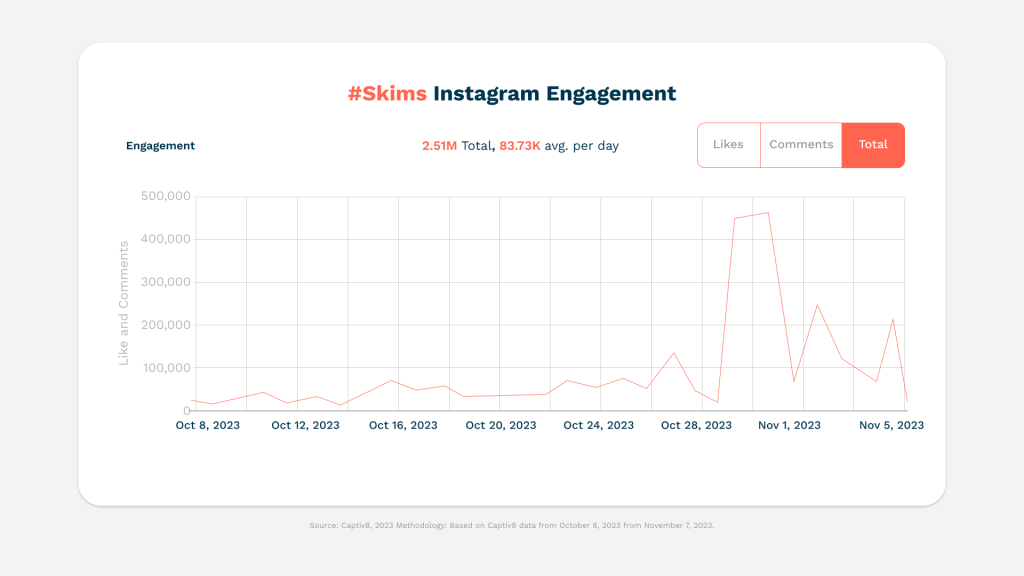 Skims Commitment to Diversity Shines Through Data
Skims' commitment to inclusivity is not only evident in their product offerings but also in the customer base talking about them on social media.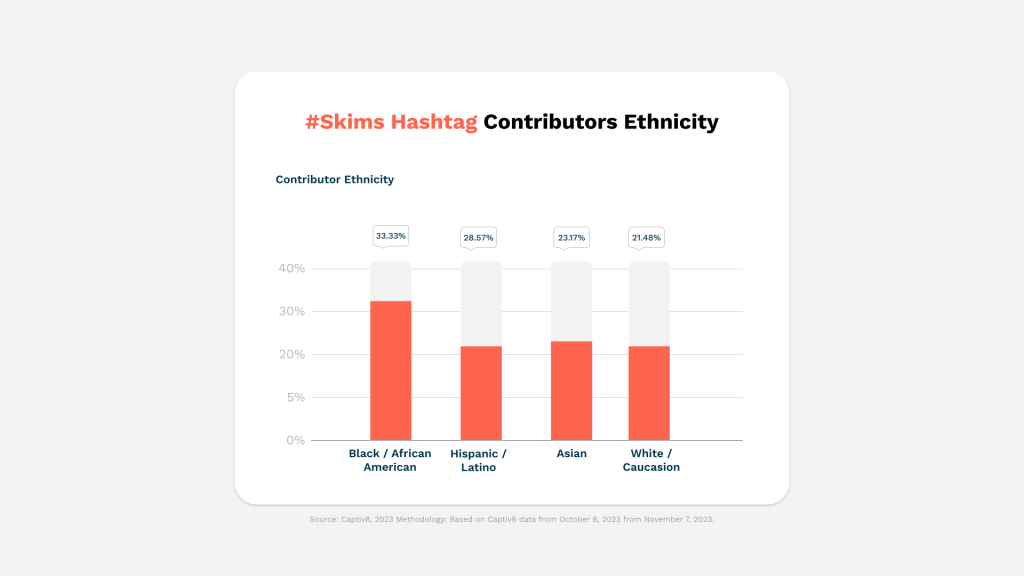 These statistics reflect a brand that celebrates diversity and actively seeks to include individuals from various ethnic backgrounds. By doing so, Skims not only addresses the need for inclusive shapewear but also empowers people of all races and ethnicities to feel seen and represented in the world of fashion.
Skims Influencer Marketing Success
Skims' success story serves as a testament to the transformative potential of influencer marketing. In today's dynamic marketing landscape, the value of influencer marketing platforms cannot be overstated. Platforms like Captiv8 provide invaluable resources for brands seeking to connect with their target audience through influential figures. By leveraging these platforms, brands gain access to a curated network of creators with the potential to amplify their message and reach a wider audience. This strategic approach not only maximizes brand exposure but also fosters authentic connections with consumers. Interested in learning more? Take a platform tour today!