5 Tips to Starting an Effective Affiliate Marketing Campaign
The creator economy, valued at $250 billion is set to jump to $480 billion by 2027. Affiliate marketing has become a powerhouse in the world of digital marketing, with a staggering $8.2 billion spent in the United States alone in 2023. This thriving industry has solidified its position as a vital customer acquisition channel. If you're wondering how to start an affiliate marketing program, you're in the right place. In this post, we'll share five crucial tips to help you kickstart your affiliate marketing journey and maximize success.
1. In Order to Reach Your Target Audience, Study Your Target Audience
Wondering how to start an affiliate marketing program? The foundation of any successful affiliate marketing campaign is a deep understanding of your target audience. According to a study by Pew Research Center, women aged 18 to 29 stand out as a key demographic for influencer marketing, with a substantial 50% reporting a tendency to purchase products promoted by influencers. On the other hand, men aged 50+ have the lowest inclination, with only 15% reporting such purchasing behavior. Understanding these distinct patterns is key in tailoring your affiliate marketing approach to effectively engage and resonate with your desired audience. Take the time to conduct thorough market research and identify the demographics, interests, and pain points of your potential customers. This information will guide you in selecting the right affiliates who can effectively reach and resonate with your audience.
Affiliate marketing is a powerful tool to both attract new customers and re-engage current ones. In fact, 83% of marketers reported using affiliate marketing to increase brand awareness while 79% reported using affiliate marketing to engage existing customers. These numbers show how valuable a well-planned affiliate campaign can be, helping businesses in various ways.
To succeed in affiliate marketing, it's crucial to know your audience. This means doing thorough market research to learn about your potential customer's age, interests, and what challenges they face. This information will guide you in choosing affiliates who can connect with and truly understand your audience. When your affiliates align with your audience's preferences and needs, it sets the stage for a successful campaign that resonates and delivers real results for your brand.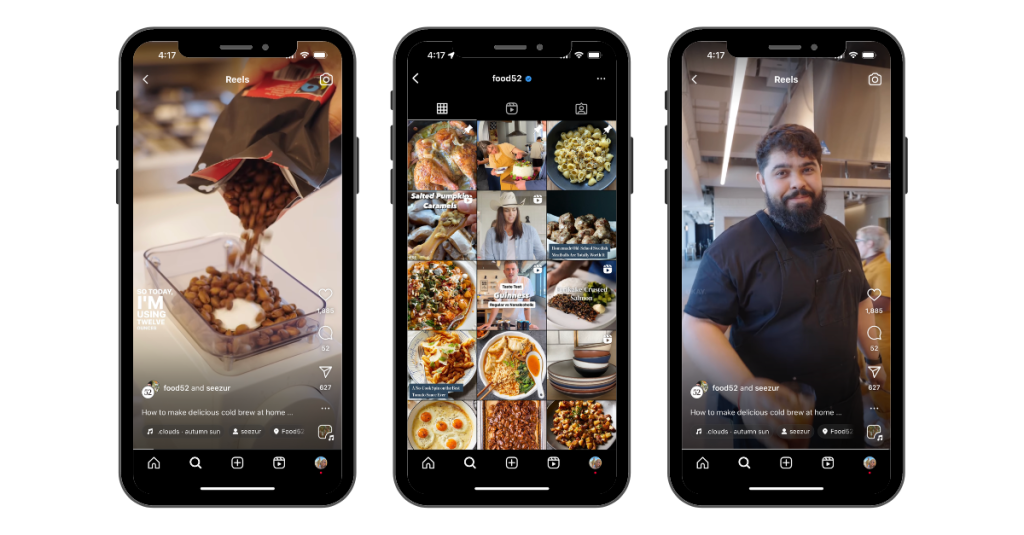 2. Choose the Right Affiliates
Selecting the right affiliates is paramount to the success of your campaign. Look for partners who have a genuine connection with your brand and share your values. Additionally, consider their reach and influence within your target market. A smaller, highly engaged audience may be more valuable than a larger, less engaged one.

Captiv8's 2023 Affiliate Influencer Marketing Benchmark Report found that creators with 100-200K followers are driving 5.6x the sales of creators with 200-500K followers. This illuminating data underscores the significance of prioritizing engagement and authenticity over follower count when choosing affiliates. It highlights the potential for more impactful and profitable partnerships with influencers who have a dedicated, actively engaged audience.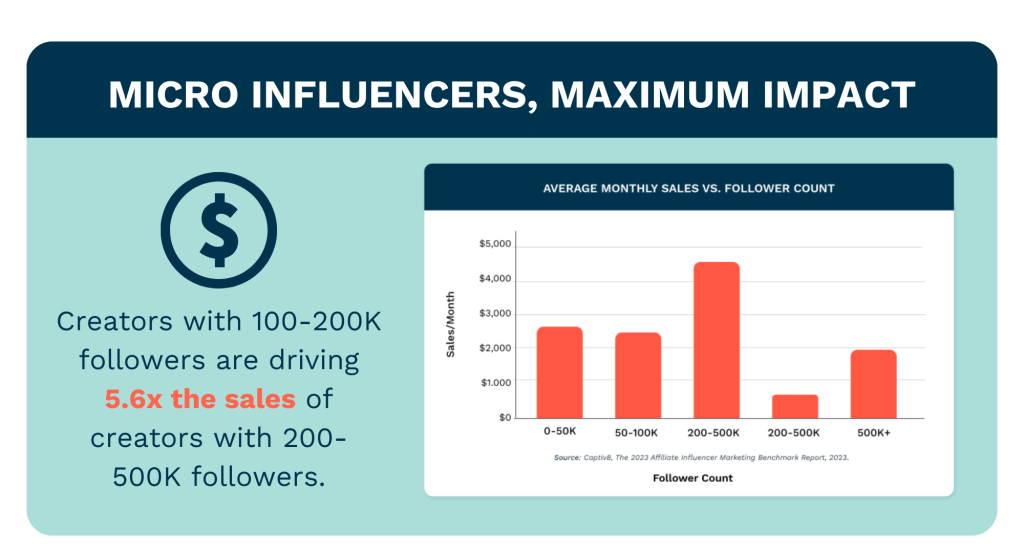 3. Provide Valuable Resources
To empower your affiliates and boost their effectiveness, equip them with the resources they need. This could include exclusive promotions or other materials that can enhance their marketing efforts. In 2022, 51% of affiliate marketers earned their commissions through coupons, cashback, loyalty programs, and vouchers. The more support you provide, the more motivated and engaged your affiliates will be.
4. Track, Analyze, and Optimize
The key to a successful affiliate marketing campaign lies in data-driven decisions. Utilize tracking tools and analytics platforms to monitor the performance of your affiliates. Keep an eye on key metrics such as click-through rates, conversion rates, and revenue generated. Use this data to identify top-performing affiliates and optimize your strategy for even better results.

One noteworthy trend that emerged from our extensive research is the prevalence of video content in affiliate marketing. In fact, videos accounted for nearly half of all posts analyzed. Short-form video content, in particular, has proven to be an incredibly effective medium for affiliate creators to connect with their audience. This format allows for engaging and authentic interactions through popular trends like Get Ready with Me (GRWM), Outfit of the Day (OOTD), ASMR, and stop motion, among others. For a detailed look at affiliate performance benchmarks and industry trends, check out Captiv8's 2023 Affiliate Influencer Marketing Benchmark Report.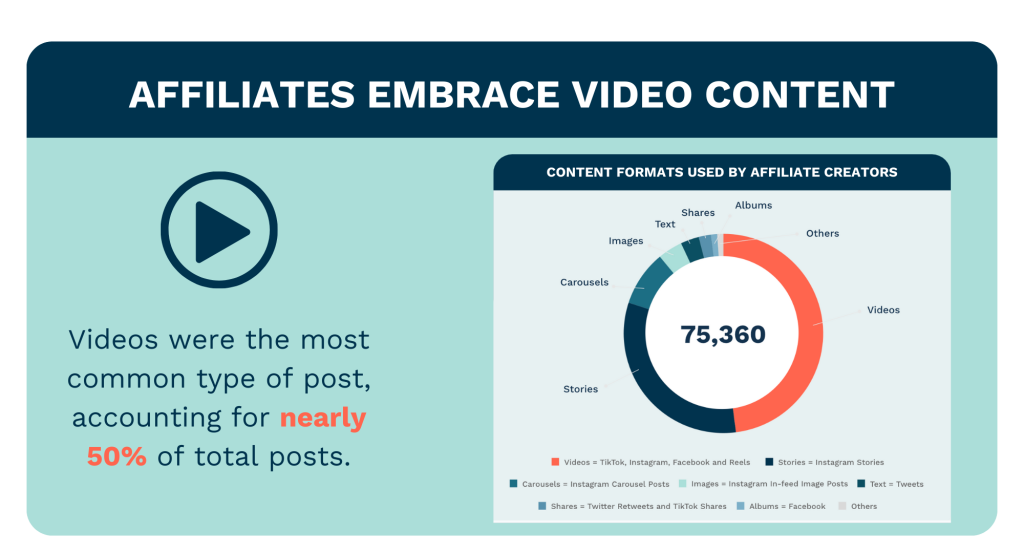 5. Foster Communication and Relationships
Open and transparent communication with your affiliates is essential. Regularly check in with them, provide feedback, and address any concerns they may have. Building strong relationships with your affiliates creates a collaborative environment where everyone is aligned towards a common goal – driving sales and generating revenue. Here are some additional strategies to connect with and maintain communication with your affiliates:
Set Clear Expectations: Define roles and goals upfront for a strong foundation.
Provide Resources: Equip affiliates with necessary tools and content.
Incentivize Performance: Offer bonuses and rewards for top performers.
Host Informative Sessions: Conduct webinars for updates and Q&A sessions.
Seek Feedback: Actively listen and incorporate suggestions for improvement.
Celebrate Success: Recognize achievements, big or small.
Offer Ongoing Training: Provide opportunities for skill development.
Share Performance Insights: Keep affiliates informed with data-driven feedback.
Conclusion
Launching a successful affiliate marketing campaign requires careful planning, strategic partnerships, and a data-driven approach. By understanding your audience, choosing the right affiliates, providing valuable resources, tracking performance, and fostering strong relationships, you'll be well on your way to harnessing the power of affiliate marketing.
About Captiv8
Captiv8's Creator Affiliate Marketing Suite has revolutionized e-commerce through influencer collaboration. With millions of vetted creators, we enable precision in affiliate recruitment and activation, leveraging predictive analytics and historical performance data. Seamlessly integrating with platforms like Shopify and WooCommerce, we simplify workflows and enhance shoppable content creation. Our platform also empowers you to track referrals, manage discount codes, and amplify campaigns across major social networks. With real-time performance metrics, fraud detection, and comprehensive data integration, Captiv8 empowers businesses to make data-driven decisions and maximize ROI in their influencer marketing endeavors. Whether you're ready to start an affiliate marketing program or interested in learning more, Captiv8 is here to help. Take a platform tour today!