Social Media Analysis: The Golden Bachelor's Impact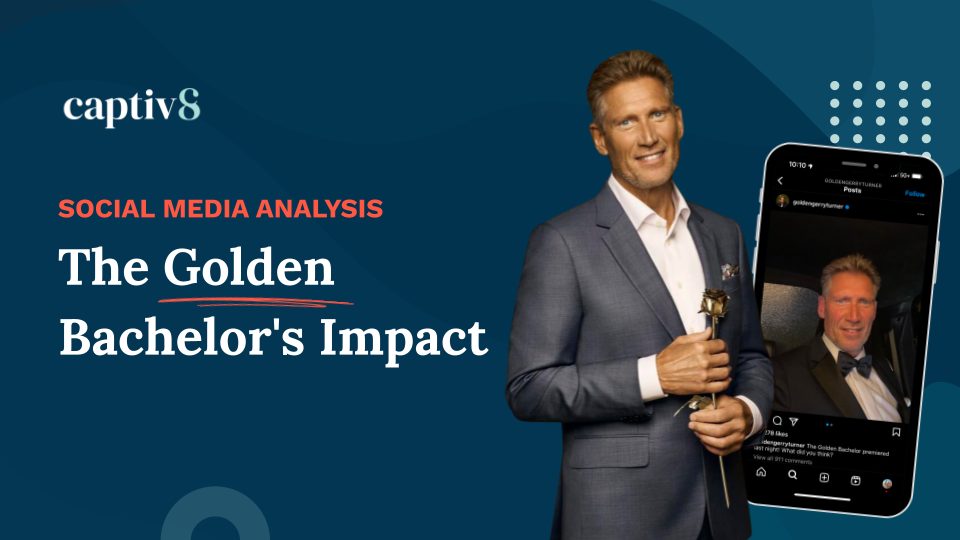 In the world of reality dating shows, few have achieved the level of success as ABC's "Bachelor" franchise. However, a new spinoff has emerged, targeting a demographic often overlooked by mainstream television. Enter Gerry Turner, the first-ever Golden Bachelor. At 72 years old, Gerry, a retired restaurateur, father, and grandfather, is on a quest to find love after the passing of his wife, Toni, in 2017. The show sets itself apart by focusing on women over 60, reflecting a shift in both casting and audience engagement. Through a comprehensive social listening analysis with the Captiv8 platform, we've uncovered insights into how the Golden Bachelor is successfully capturing the hearts of new demographics.
The Golden Bachelor Age Demographic Analysis
The heart of the Golden Bachelor's success lies in its ability to resonate with a different demographic. A stark contrast is evident when we examine the Instagram audience demographics of the previous Bachelor, Zach Shallcross, and the Golden Bachelor, Gerry Turner. While Shallcross has a significant 52.08% following from the 35-44 age range, Gerry Turner's Instagram audience paints a different picture. Only 25.57% of his followers fall within this age bracket. Instead, Gerry's appeal is more evenly distributed, including 28.57% from the ages 45-54, and 21.43% over the age of 55. This shift signals a deliberate move by ABC to diversify its viewer base and cater to a wider range of ages.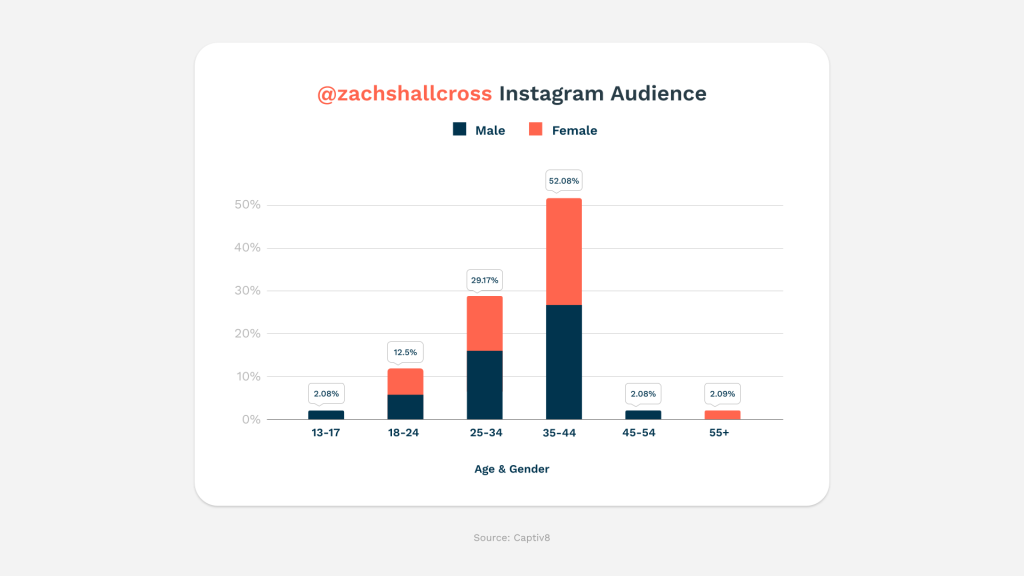 Gerry Turner's Instagram presence is predominantly female-oriented, with an overwhelming 92.86% of his followers being women. This notable gender breakdown is a testament to the show's viewership. Gerry joined Instagram shortly after being announced as the Golden Bachelor, with his first post on July 17, 2023. This timing likely plays a significant role in the skewed gender distribution, reflecting the show's demographic and audience appeal.
#GoldenBachelor Viewer Engagement
When we delve deeper into the social media landscape, examining the contributors for hashtags such as #BachelorNation and #GoldenBachelor, we observe a similar split. The #GoldenBachelor is seeing a higher male contribution, accounting for 38% of contributors compared to 26% for #BachelorNation. This significant male engagement suggests that Gerry Turner's journey resonates not only with women but also with a substantial male audience, highlighting a broader appeal. The age distribution of contributors aligns closely with Gerry's Instagram breakdown, with a higher representation of individuals from older age groups.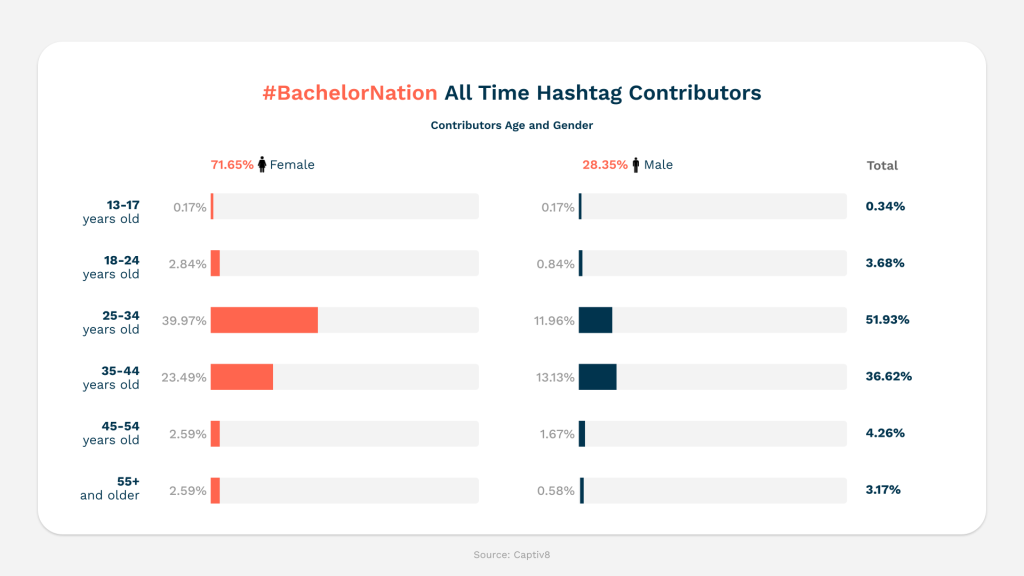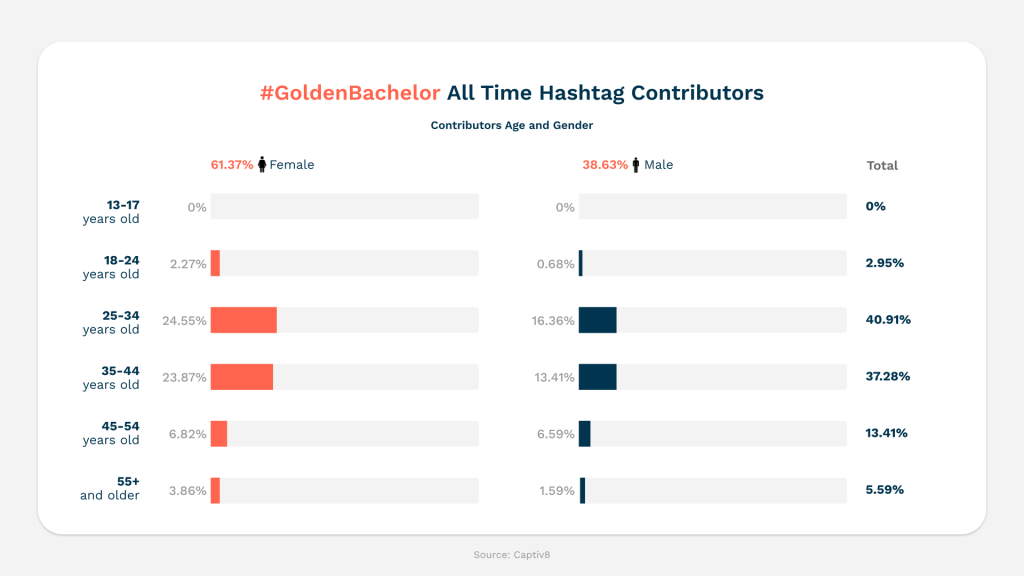 The engagement levels for the hashtag #GoldenBachelor have seen remarkable spikes, coinciding with the release of each episode. Even though Episode 2 had a slightly lower viewership compared to Episode 1 (4.36 million vs 4.277 million), the episode drove more engagement. This indicates a growing interest and investment in Gerry's journey.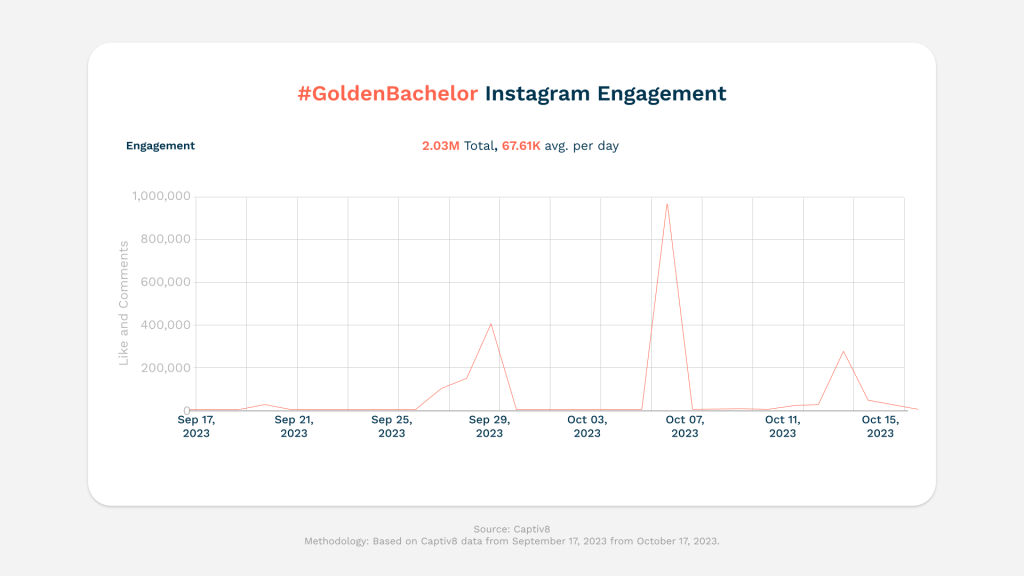 The Golden Bachelor's success can be attributed to its refreshing departure from the conventional narrative of youth-centric romance. By showcasing the experiences and aspirations of older adults, the show has tapped into a relatable vein of storytelling. Viewers are witnessing a journey of rediscovery while also gaining valuable insights into love, loss, and the pursuit of happiness in later stages of life. This shift in narrative resonates deeply with audiences who may not have found related experiences in previous dating shows.
Redefining Romance and Challenging Ageist Stereotypes
One of the most significant achievements of the Golden Bachelor is its celebration of mature love and relationships. By featuring women aged 60 and above, the show challenges ageist stereotypes and encourages a more inclusive understanding of romance. This representation is vital in a media landscape often fixated on youth, opening up conversations about love and personal growth.
In the realm of influencer marketing, it's essential to challenge the assumption that the ideal creator for your target demographic must fall into it. Brands often fall into this trap, believing that creators must mirror their intended audience. Captiv8's toolset offers a transformative solution, revealing nuanced insights between desired audience personas and creator personas. The Captiv8 platform can uncover surprising dynamics, such as Gerry Turner effectively resonating with female Millennials and Gen Xers. This revelation underscores the importance of looking beyond conventional choices when selecting the perfect creator for your campaign. With Captiv8's tools, you may discover a creator pool ideally suited for your campaign that you hadn't even considered.
About Captiv8
Captiv8 is a full-service influencer marketing solution that redefines end-to-end, inspiring you to think bigger, plan smarter, and execute better. Through our intuitive workflow, brands can uncover actionable insights on trends, discover influencers, seamlessly activate campaigns at scale, amplify branded content across the digital ecosystem, and prove business impact through our measurement dashboard. Our platform gives you the tools you need to build relationships and effective content, while our teams lend experiences and strategic services to steer you clear of common influencer marketing pitfalls. Interested in learning more? Take a platform tour today!