Lionel Messi Breaks Social Media World Record
On December 18th, 2022, Lionel Messi achieved the greatest victory of his career at the 2022 World Cup Final. After finally winning the trophy that had long eluded him, Messi has now accomplished just about every major achievement a soccer player could dream of. With this success, Lionel Messi also claimed an unexpected record, this time on social media. In the past, Instagram had widely been dominated by his long-time rival, Cristiano Ronaldo. In fact, Ronaldo is the most-followed person on Instagram and was previously the record-holder of the most-liked Instagram image by a sportsperson. Here's everything you need to know about Messi's latest accomplishment.
The Most-Liked Images on Instagram
Ronaldo previously held the record for the most-liked image by a sportsperson on Instagram. The image actually featured Messi, as the two long-time rivals partnered up with Louis Vuitton for a sponsored post in anticipation of the World Cup. Both athletes posted the image to their Instagram accounts, however, Ronaldo's post received more likes as his image garnered 42.1M likes to Messi's 32.5M.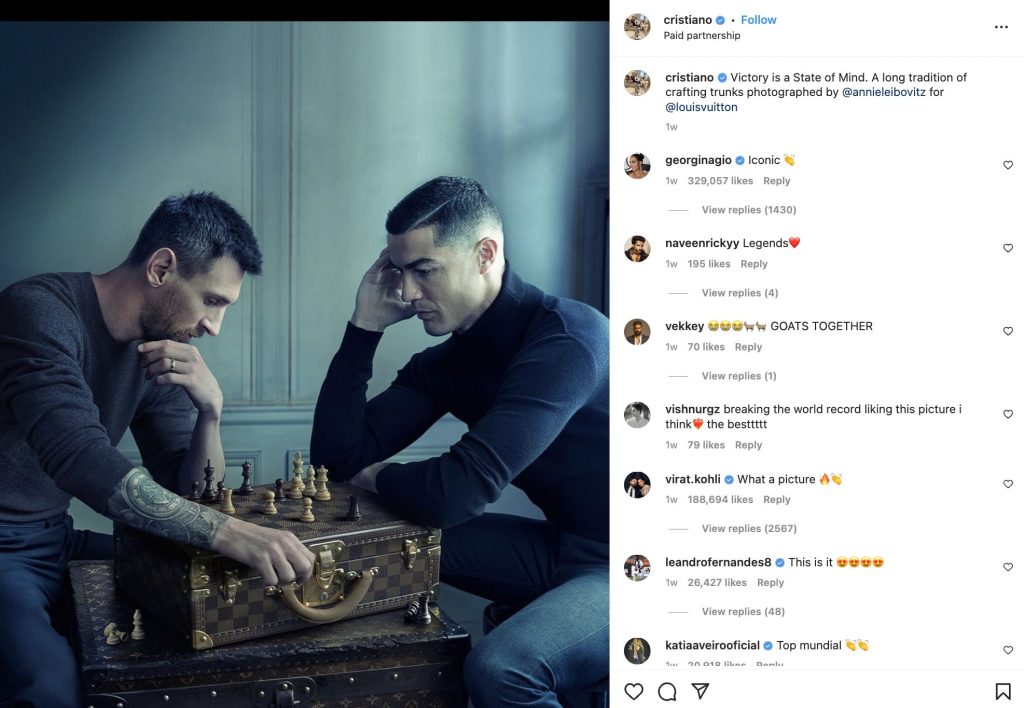 Although Ronaldo is the most-followed person on Instagram, he did not hold the record for the most-liked image on Instagram going into the World Cup. On January 4th, 2019, a true Instagram phenomenon occurred. An image of a brown egg posted by "world_record_egg" broke the internet by amassing 30M likes in just 10 days as Instagram users around the world rallied behind it. The world record egg currently has 57M likes and held the record of the most-liked Instagram image for nearly four years. However, as Messi celebrated his World Cup victory, the world waited in anticipation of his inevitable celebratory Instagram post.
With over 69M likes and counting, Messi's triumphant World Cup image is now the most-liked Instagram post of all time by a considerable margin.
The Most Liked Post on Social Media
However, Messi's Instagram triumph transcends just that platform. In fact, Messi's image is now the most-liked post ever across all social media platforms, superseding Bella Poarch's M to the B TikTok video. Published on August 10th, 2020, Bella Poarch's lip-sync video of Millie B's "M to the B" has earned 60.3M likes to date while Messi's image quickly surpassed it and even continues to grow. Given TikTok's incredible reach and usage percentages, Messi has truly accomplished another incredible feat.
Messi's Instagram Follower Growth During the World Cup
During the start of the 2022 FIFA World Cup, Lionel Messi had 377M Instagram followers. Throughout the month-long tournament, Messi's follower count has grown by about 7% to 404M! After analyzing his week-by-week follower growth through the use of Captiv8's comprehensive insights, we found the following: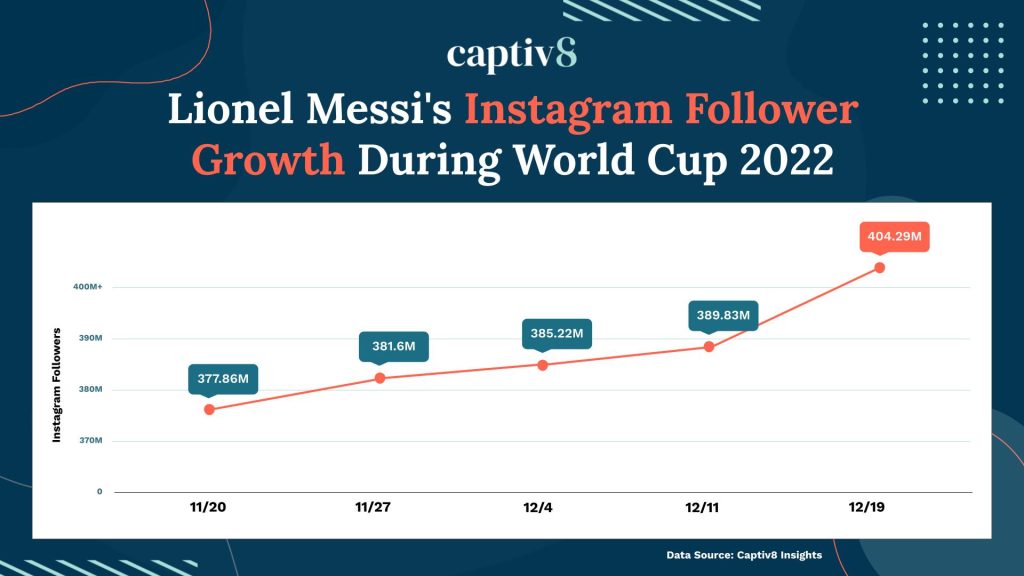 Conclusion
In conclusion, Lionel Messi is now the owner of the record for the most-liked social media post over the world record egg, Bella Poarch, and Cristiano Ronaldo. Interested in learning more about how you can utilize Captiv8 insights to make data-driven decisions? Reach out to us today!
About Captiv8
Captiv8 is a full-service influencer marketing solution that redefines end-to-end, inspiring you to think bigger, enabling you to plan smarter, and empowering you to execute better. Through our intuitive workflow, brands can uncover actionable insights on trends, discover and vet influencers, seamlessly activate campaigns at scale, amplify branded content across the digital ecosystem, and prove business impact through our measurement dashboard. Our platform gives you the tools you need to build relationships and effective content, while our teams lend experiences and strategic services to steer you clear of common influencer marketing pitfalls.