The Social Media Mentions of Each NFL Team Before the 2022 Season Kicks Off
With the 2022 NFL season around the corner, football fans have been eagerly watching preseason games, conducting fantasy football drafts, and hoping for a great season from their teams. With all of the excitement surrounding the most watched sport in the United States comes a ton of social media engagement! We analyzed the social media mentions of all 32 NFL teams between August 1st, and September 1st, 2022 in order to determine who were the most talked about teams heading into the new season.
The Top 5 Most Mentioned NFL Teams
To no surprise, the Detroit Lions were one of the most mentioned teams of the offseason after being featured on this season of HBO's Hard Knocks. With new quarterbacks for the San Francisco 49ers and Pittsburgh Steelers, the two storied franchises also found themselves amongst the most mentioned NFL teams. The rest of the top five is rounded out by the Philadelphia Eagles, and the most mentioned team, the Minnesota Vikings. This is likely due to the two teams partaking in a trade for 2020 first-round pick, Jalen Reagor.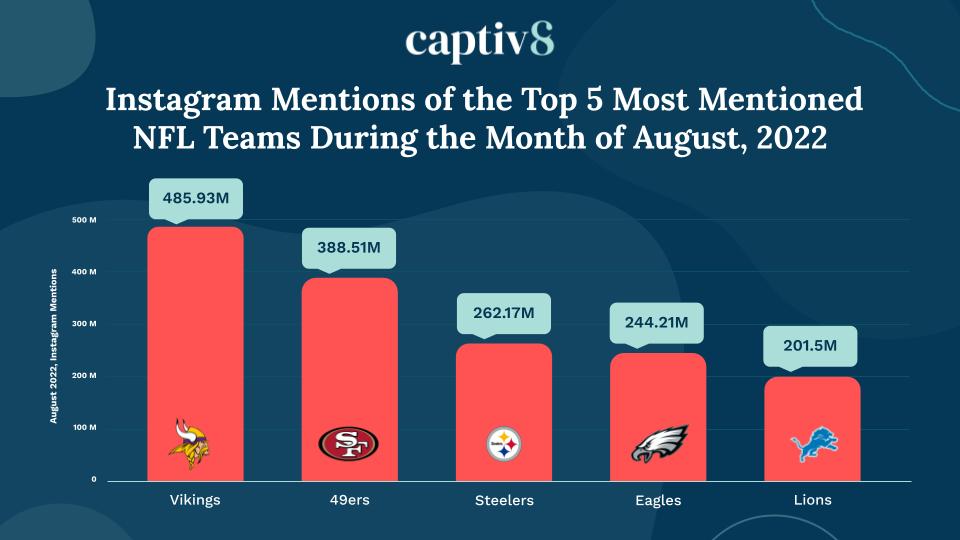 Social Media Mentions of All 32 NFL Teams
The Minnesota Vikings, San Francisco 49ers, Pittsburgh Steelers, Philadelphia Eagles, and Detroit Lions composed the top 5 most mentioned NFL teams during the month of August 2022. Find out how the rest of the NFL stacked up.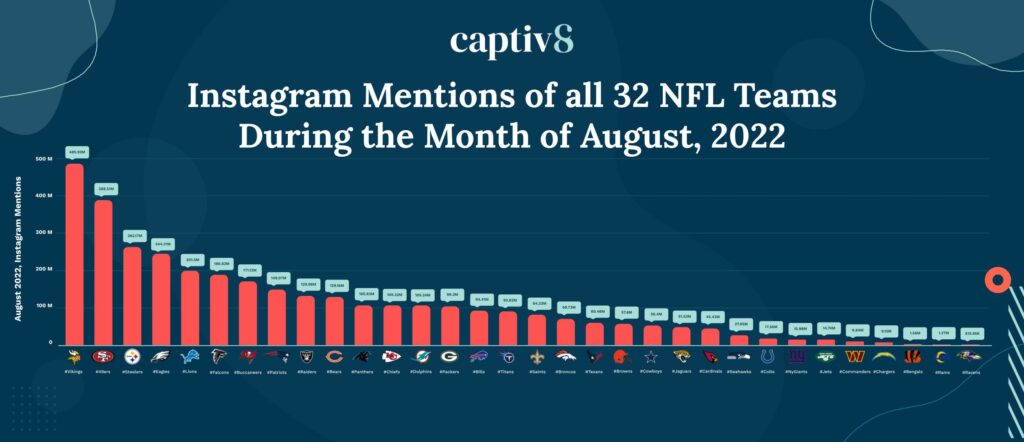 Conclusion
In conclusion, the NFL's 32 teams combined for 3.5 billion Instagram mentions in the month leading up to the 2022 NFL season! After analyzing the data, we found that the Minnesota Vikings were the most mentioned team on Instagram. Interested in learning more about Captiv8's insights and social listening capabilities? Reach out to us today!
About Captiv8
Captiv8 is a full-service influencer marketing solution that redefines end-to-end, inspiring you to think bigger, enabling you to plan smarter, and empowering you to execute better. Through our intuitive workflow, brands can uncover actionable insights on trends, discover and vet influencers, seamlessly activate campaigns at scale, amplify branded content across the digital ecosystem, and prove business impact through our measurement dashboard. Our platform gives you the tools you need to build relationships and effective content, while our teams lend experiences and strategic services to steer you clear of common influencer marketing pitfalls.