Who Has the Most Followers on TikTok? Meet the Most Followed Creator on TikTok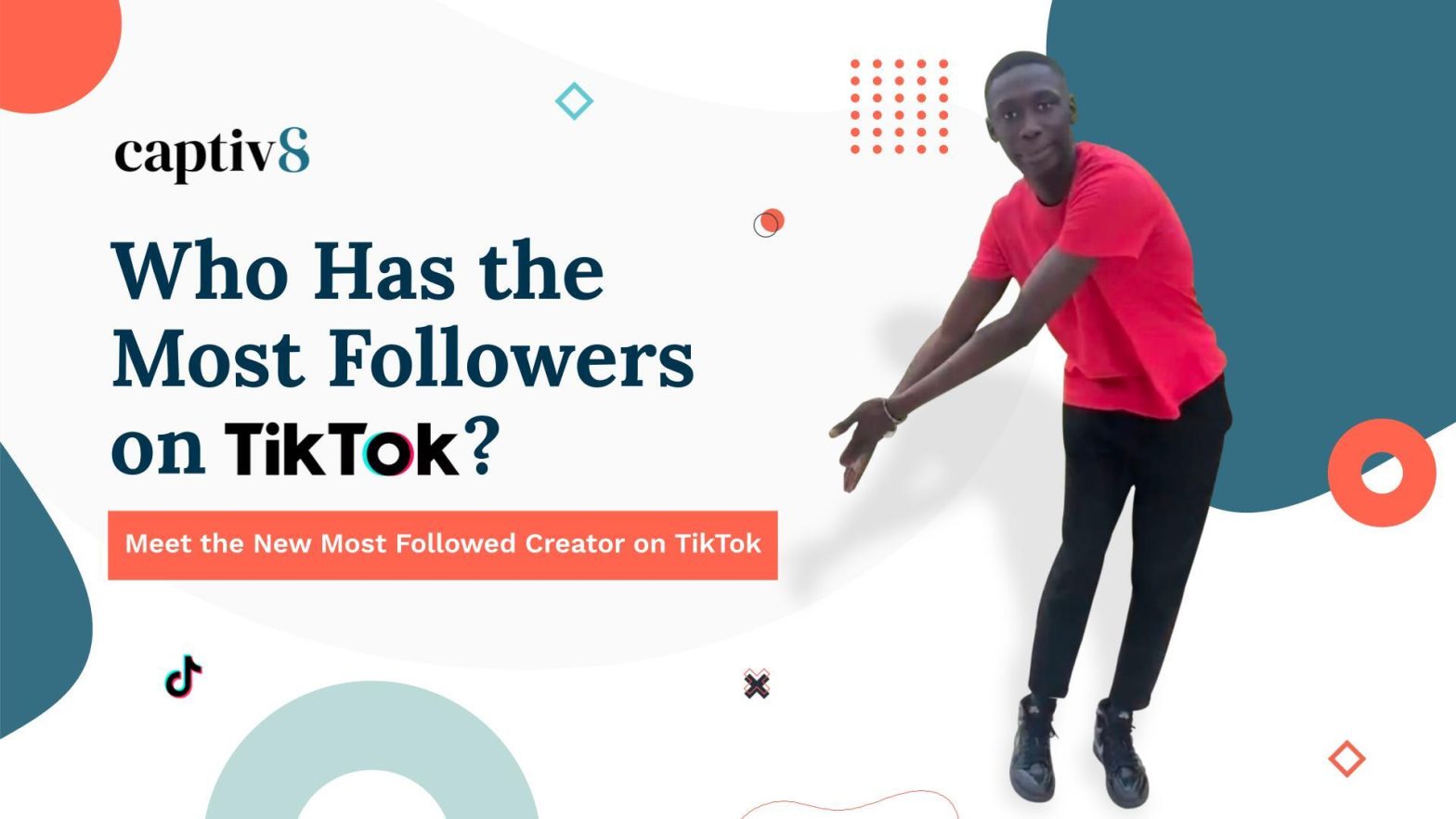 Ever wonder who has the most followers on TikTok? Well, as of June 23rd, Khabane "Khaby" Lame became the world's most followed creator on TikTok, surpassing Charli D'Amelio. Although born in Senegal, Lame resides in Italy, and as a result, many of his earliest TikToks were captioned in Italian or used Italian subtitles. Since then, Lame has become known for his silent reaction videos that he describes as a "global language," helping him engage with a large international audience.
Claim to Fame
In a similar fashion to D'Amelio, Lame used viral videos and trends to his advantage. Although D'Amelio capitalized on viral sounds and dances to grow her following, Lame rose to fame through his reactions to other viral TikToks. Without saying a word, Lame would pricelessly duet and react to over-elaborate videos. To cap it off, Lame would strike his famous pose as he points to how simple the task or result was and then follow it up with a roll of the eyes, shake of the head, or a shrug as seen below.
Khaby Lame & Charli D'Amelio Audience Analysis
Through the use of Captiv8's comprehensive insights, we were able to identify audience demographics, interests, and the brand affinity of TikTok's two biggest stars!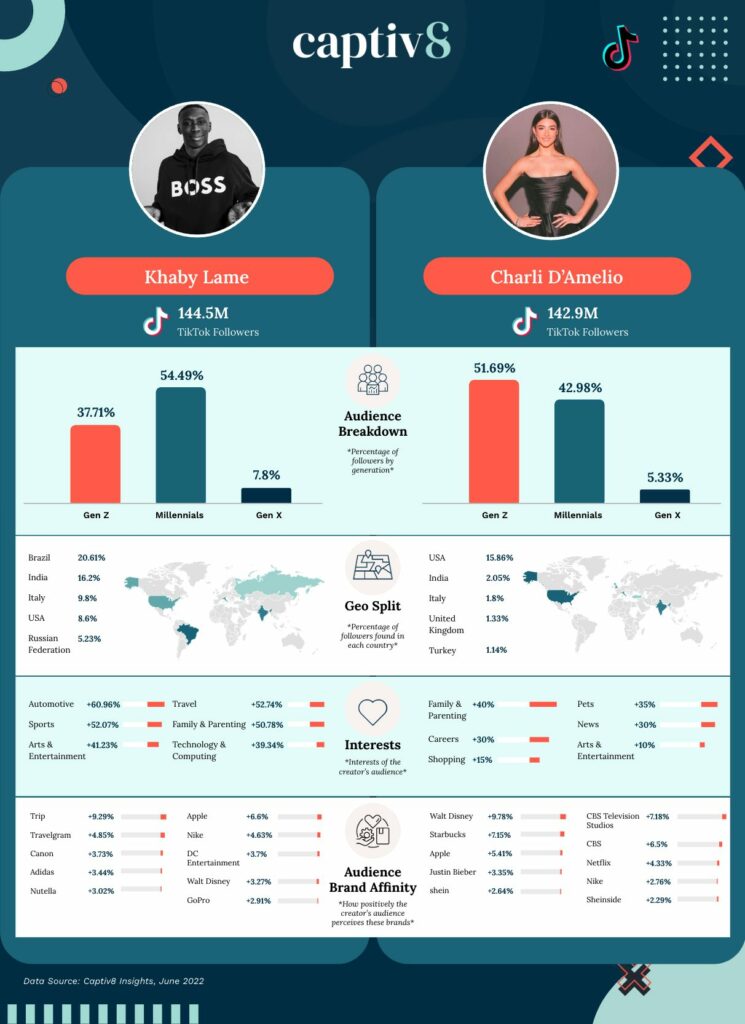 Audience Breakdown & Geo Split
By analyzing the listed ages of a creator's followers on social platforms, we are able to determine generational breakdowns through follower age ranges. In order to determine the follower geo split of a creator's audience, we use a data science model that combines the following sources to arrive at the location of the creator's audience.
Location data from all social platforms.
Location tags from the last 150 posts.
Analyzing the language used in the last 150 post captions.
Scanning the bio for an email address domain, country flag emoji, or location.
We aggregate the data we come across and use a model that uses ensemble learning to weight the data and arrive at an accurate location prediction for the social media user.
Audience Brand Affinity
The Brand Affinity metric measures how positively a creator's audience responds to a brand in a post. We measure Brand Affinity by detecting when a creator mentions a brand in the post. Our machine learning algorithm picks up the brand name and analyzes all of the comments that are associated with that post. For example, if a creator posts about Nike and the audience leaves comments like these:
"I love Nike"
"Nikes are my favorite shoes ever"
"Nike is the BEST"
Our machine learning models analyze the sentiment of these comments and assign it a positivity score.
International Reach
Khaby Lame has managed to cast a wider global net with his content than D'Amelio, helping him become TikTok's most-followed creator. Although a majority of D'Amelio's followers reside in the United States, only 8.6% of Lame's followers can be found in the United States. Furthermore, although Lame resides in Italy, less than 10% of his followers can be found in the country, showing off his incredible global reach. Additionally, Lame has managed to penetrate the South American market with large followings in Brazil, Argentina, Colombia, and Chile. Whereas with D'Amelio, none of those South American countries crack her top 10 most followed nations. Furthermore, Lame has taken the international soccer world by storm with many players featuring in his TikToks and even striking his famous pose as their latest goal-scoring celebrations as seen below!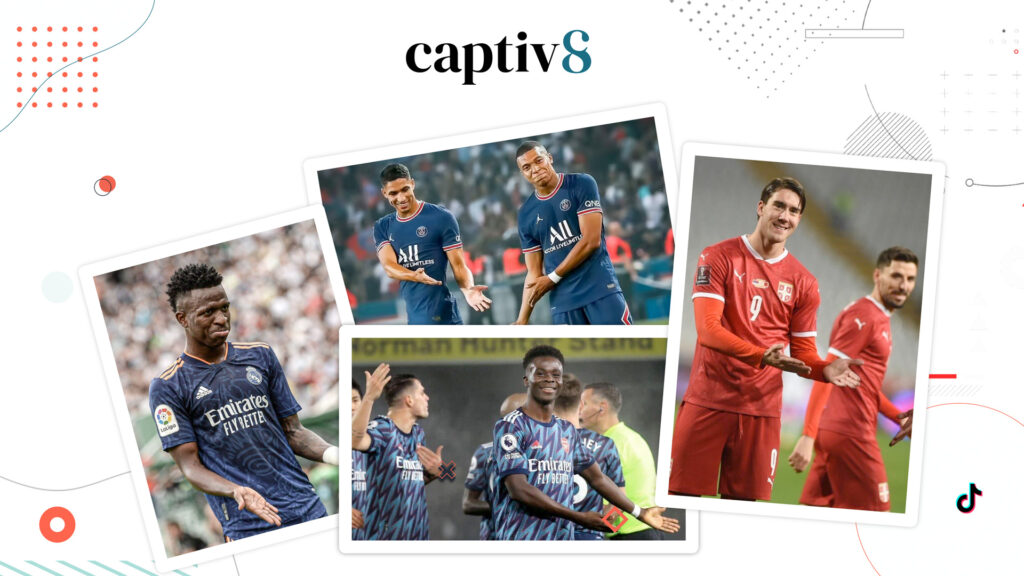 Conclusion
In conclusion, ever wonder who has the most followers on TikTok? On June 23rd, Khaby Lame surpassed Charli D'Amelio as the most followed creator on TikTok. Through his silent comedic reaction videos, Lame has generated an international following. Interested in learning more about Captiv8's Insights capabilities? Reach out to us today!
About Captiv8
Captiv8 is a full-service influencer marketing solution that redefines end-to-end, inspiring you to think bigger, enabling you to plan smarter, and empowering you to execute better. Through our intuitive workflow, brands can uncover actionable insights on trends, discover and vet influencers, seamlessly activate campaigns at scale, amplify branded content across the digital ecosystem, and prove business impact through our measurement dashboard. Our platform gives you the tools you need to build relationships and effective content, while our teams lend experiences and strategic services to steer you clear of common influencer marketing pitfalls.