Measuring the Social Media Impact of Ketanji Brown Jackson's Supreme Court Nominee Hearing
On February 25th, 2022, President Joe Biden announced his decision to nominate Judge Ketanji Brown Jackson to serve as an Associate Justice on the U.S. Supreme Court. Upon her nomination, Judge Jackson became the first Black woman to be nominated to serve on the Supreme Court. And if appointed, Jackson would become the first-ever Black woman to sit on the Supreme Court. Jackson's approval process has been met with lengthy hearings and arguably questionable probing, resulting in support for Ketanji Brown Jackson and discussion across social media.
Ketanji Brown Jackson's Social Media Engagement
As mentioned, Judge Jackson has been trending on social media recently. In fact, through Captiv8's social listening capabilities, we determined that there were 58.6M mentions of #KetanjiBrownJackson on Instagram between the dates of February 25th and 27th, 2022, when President Joe Biden first announced her nomination. However, those numbers were nothing in comparison to what took place on March 22nd. During the second day of confirmation hearings, which stretched on for over 13 hours, #KetanjiBrownJackson generated over 2.78B engagements! Additionally, Jackson received support from many notable influencers on social media as well!
Judge Jackson Support
Tracee Ellis Ross
Golden Globe-winning actress Tracee Ellis Ross was quick to use her platform in support of Judge Jackson. Ross chose to use her Instagram in order to share information amongst her followers regarding Judge Jackson's qualifications and to help further articulate exactly why Jackson is deserving of a supreme court seat.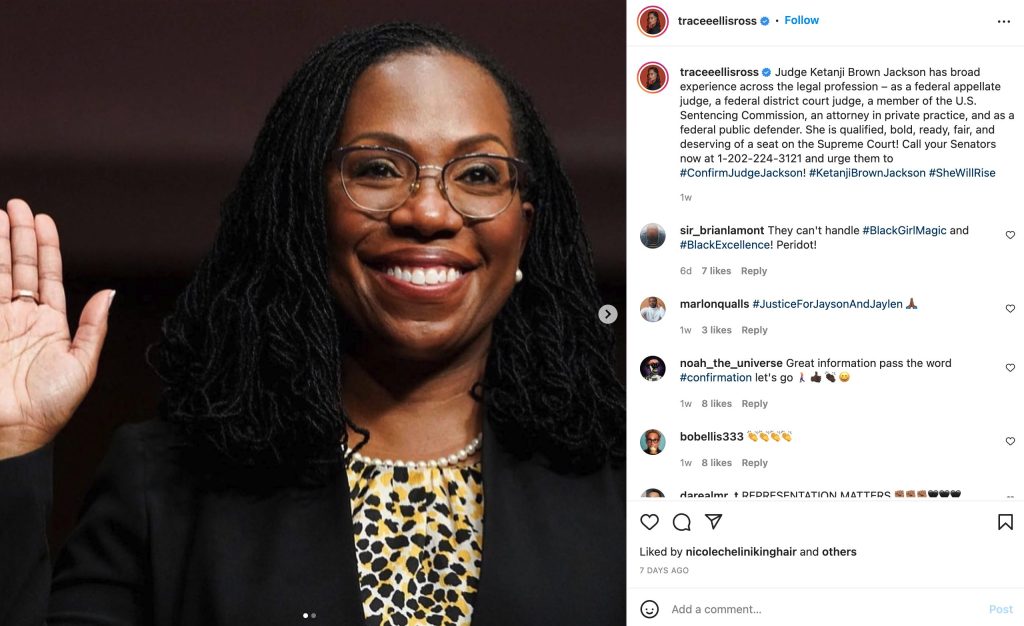 Viola Davis
On day three of the Supreme Court's nominee hearing, Senator Corey Booker of New Jersey moved Jackson to tears. On a day in which Jackson was subjected to grueling questioning, the senator reassured Jackson with his support. Booker closed his statement with the powerful line "You have earned this spot, you are worthy. You are a great American." Emmy award-winning actress Viola Davis, took to social media to repost and share the Senator's uplifting words on a day in which Jackson was subjected to a sea of negativity.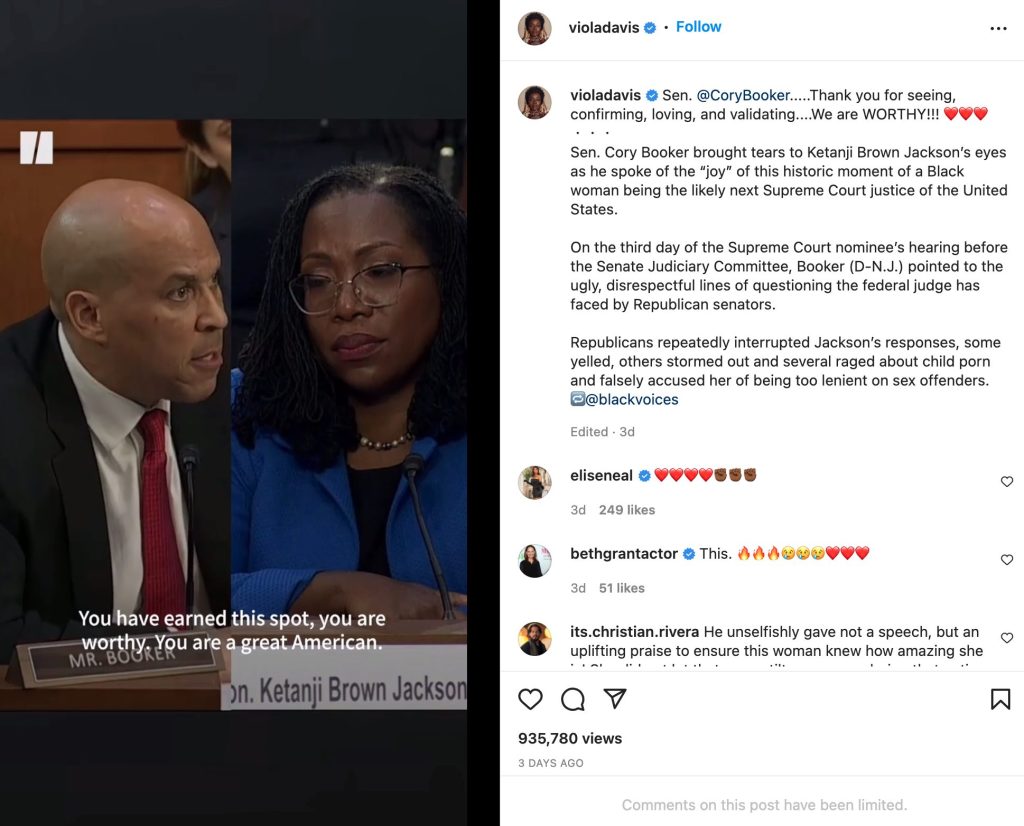 Kerry Washington
Emmy award-winning actress Kerry Washington used humor to drive action and awareness. Washington urged her followers to call their senators in support of Jackson.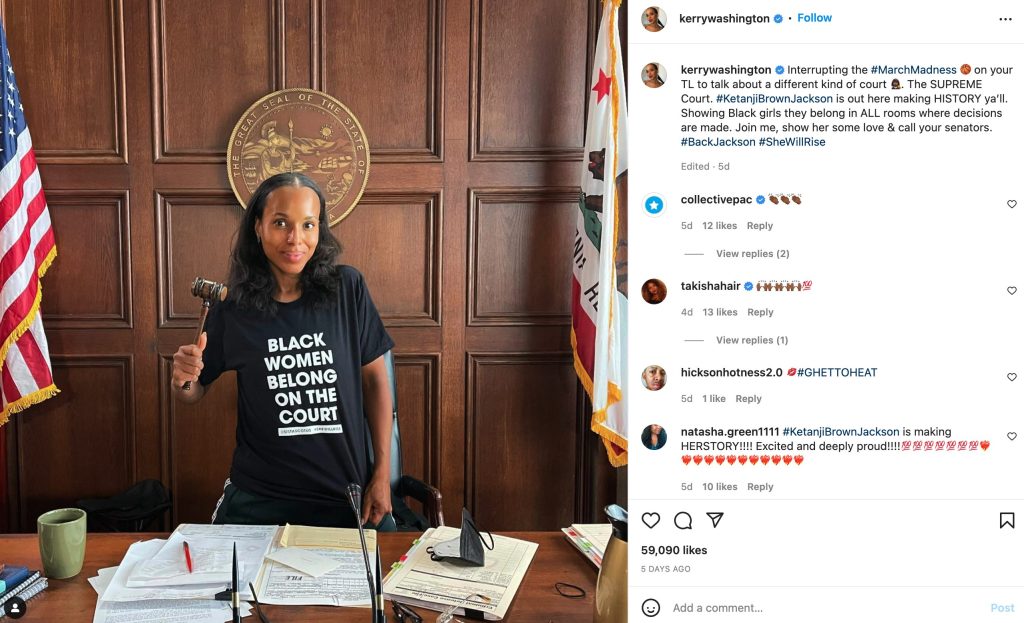 Amanda Seales
Comedian Amanda Seales used her platform to share snippets from Judge Jackson's Senate confirmation hearings. Additionally, Seales shared a visual displaying how Jackson's qualifications compare to that of the other current Supreme Court Justices.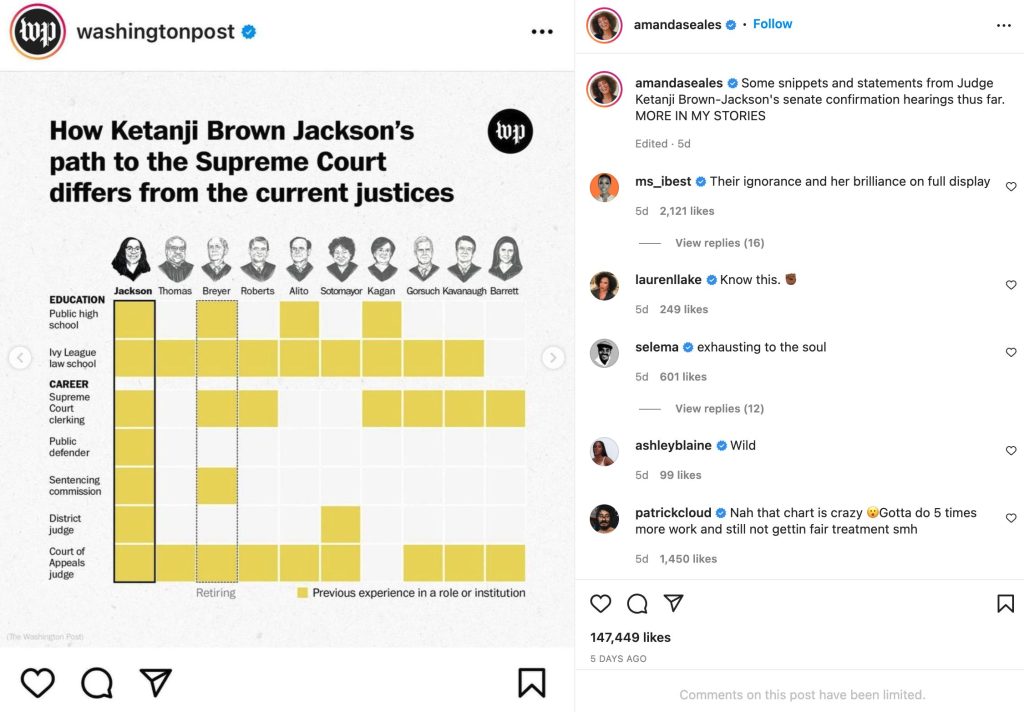 Conclusion
In conclusion, the Senate Judiciary Committee will vote on Monday, April 4th, 2022. If all goes in favor of Kentaji Brown Jackson, she will be appointed the first Black woman to become a Supreme Court Justice. As a result of the magnitude of breaking barriers that her appointment would make, Judge Jackson has been a trending figure on social media in recent weeks. Many popular influencers have taken to social media in order to voice their support for the nominee including the likes of Tracee Ellis Ross, Viola Davis, Kerry Washington, Amanda Seales, and many others! Interested in learning more about Captiv8's social listening capabilities? Reach out to us today!