Captiv8 Expands Shopify Integration to Make Social Commerce More Accessible to Brands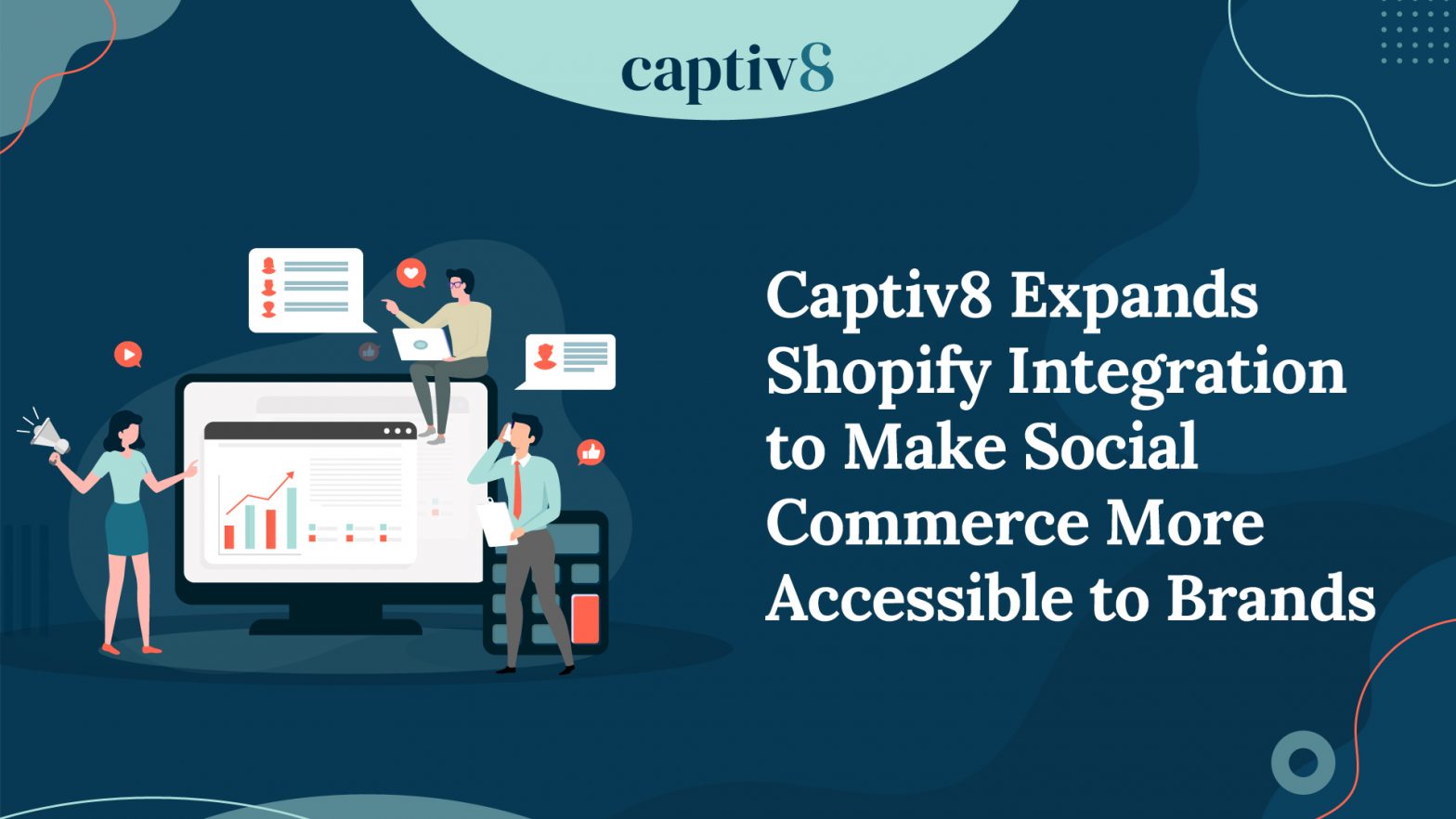 Now brands will be able to fully activate influencer branded shoppable content at scale
SAN FRANCISCO – September 27, 2021 – U.S. social commerce sales are expected to rise by 35.8% to $36.62 billion by the end of this year. With platforms like TikTok and Instagram implementing new shoppable features and initiatives nearly every week, Captiv8 is expanding their partnership with Shopify to ensure customers are able to fully take advantage of the future of social commerce.
Captiv8's latest Shopify Integration will now allow Shopify customers to find, activate, report on, and pay influencers directly from our platform. The integration enables you to perform end-to-end influencer campaigns from one place and ensure data consistency across all of your systems. Here's what's new with this integration:
View Sku-Level Information for Your Entire Catalog: For direct response campaigns, you may wish to sell a specific item from your product catalog, like a color of shoes that you have extra inventory for, a pair of earrings that you wish to get rid of to make room in your warehouse for a new product, or goods that are expiring soon. The SKU-level specifics are super important when running a campaign because you wouldn't want to accidentally promote the right product, but the wrong color or the right design, but the wrong material. Because inventory levels are changing in real time, being able to view your entire product catalog with real-time SKU-level data allows you to ensure you are matching the exact SKU to the influencer you wish to activate. The addition of your product catalog in Captiv8 also lets you easily create Shoppable Content campaigns on both Instagram and TikTok.

Track Influencer Gifts into Overall Inventory Levels: Also known as product seeding, it is common for brands to gift products to influencers in the hopes of getting mentioned in their post or story feed. What makes this process a headache is tracking the gifted products, following up with the influencers, and managing all of this information in different places, whether that be Shopify, email, and other databases you keep updated for team visibility. While Shopify manages your store's inventory levels for every product, Captiv8 takes product seeding a step further and allows you to then communicate directly with the influencer through our offer and content approval workflows. This means you can originate the product seed, continue building your relationship with the influencer(s), and ensure your inventory levels remain accurate on Shopify, all while never having to leave the Captiv8 platform.
Create Custom Affiliate Offers: Our offer workflow is getting a Shopify upgrade with the ability to tailor your affiliate payouts with custom tracking URLs for each influencer you activate. You now have the option to automatically track and payout creators based on:


Percentage of Sales: Convert top performing influencer content into paid ads with precision targeted, sequential messaging, & a/b testing.
Fixed Amount Per Sale: Convert influencer content into shoppable ad formats across Instagram, Facebook, & TikTok; with reliable pixel data.
Pay Per Engagement: Leverage diverse, relatable voices for dynamic creative optimization (DCO) to non-GM targets.
Flat Fee Per Post or Campaign: Edit & repurpose influencer content in programmatic, native, pre-roll & other digital display ad units.
Unify Engagement Metrics and Sales Performance in One Report: If you're testing multiple offer strategies with different influencers, the manual merging of these reports could be time consuming and cumbersome. As you spend more time just aggregating reports between social engagements and your Shopify sales instance, it will slow you down and prevent you from building on your social momentum. This is why we are automatically unifying all of these metrics for you, in one influencer campaign report on Captiv8. You can customize the views to enable the metrics that make the most sense for your business, and track granular performance at the channel, creator, and post type level.
Schedule, Issue, and Track Payments: Say goodbye to offline spreadsheets, delayed influencer payments, and outdated information. Our payments solution is fully connected to Shopify affiliate offers and their sales performance set-up through the Shopify integration. With built-in budget tracking, you can monitor spend in real time, control how and when payments are made, and even customize the currency for each influencer you owe a payout to. Our platform supports all major credit cards and payment options so you are not restricted to changing your existing payment channel.
Pair all of these e-commerce features with our strategic API partnerships with TikTok, Facebook, Twitter, and Youtube, best-in-class AI-powered discovery tools, multi-touch content approval system, and branded content scheduling calendar and you have the ultimate influencer marketing suite for e-commerce brands. To learn more information on how to get started, schedule a meeting with one of our specialists today. Visit Captiv8.io for more info!
# # #
About Captiv8:
Captiv8 is a full service influencer marketing solution that redefines end-to-end, inspiring you to think bigger, enabling you to plan smarter and empowering you to execute better. Through our intuitive workflow, brands can uncover actionable insights on trends, discover and vet influencers, seamlessly activate campaigns at scale, amplify branded content across the digital ecosystem, and prove business impact through our measurement dashboard. Our platform gives you the tools you need to build relationships and effective content, while our teams lend experiences and strategic services to steer you clear of common influencer marketing pitfalls.