Captiv8 Named "Best Influencer Marketing Company" in 2021 MarTech Breakthrough Awards Program, Adding to This Year's Award Wins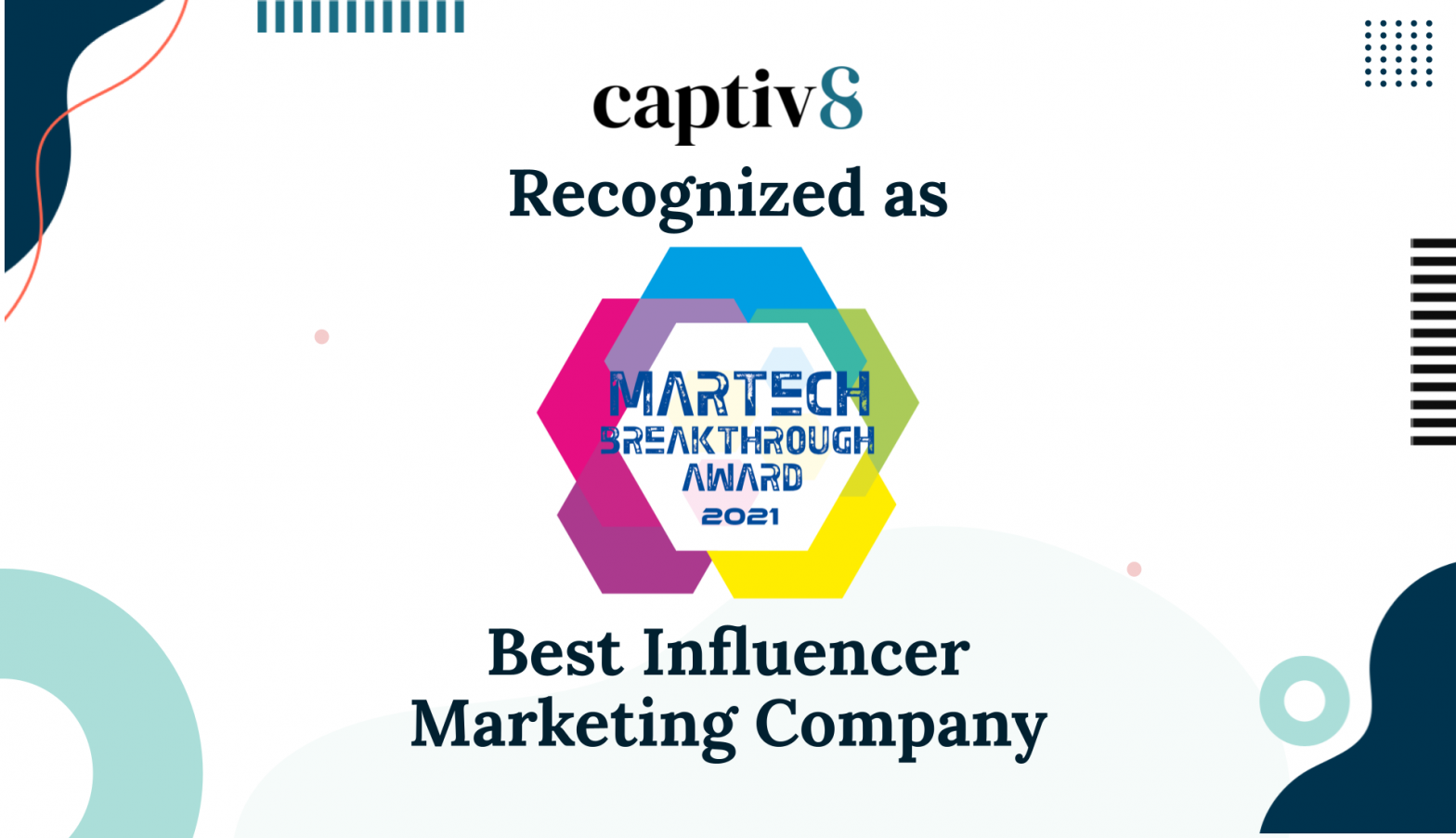 International Annual Awards Program Recognizes Standout Marketing, Advertising and Sales Technology Around the World
Today, we are excited to announce that Captiv8 has been selected as the winner of the "Best Influencer Marketing Company" award in the fourth annual MarTech Breakthrough Awards program conducted by MarTech Breakthrough, a leading market intelligence organization that recognizes the top companies, technologies, and products in the global marketing, sales and advertising technology industry today.
"Influencer marketing is one of the fastest-growing marketing strategies and the industry has become flooded with undifferentiated promises. The unfortunate reality is that marketers have had trouble tracking, measuring, and analyzing social influencer campaigns," said James Johnson, Managing Director at MarTech Breakthrough. "Captiv8's proprietary platform provides a breakthrough solution that was created by their founders' real-world campaign experience and the proof is in the incredible results their customers' experience. Congratulations to the entire Captiv8 team on being our choice for the incredibly competitive 'Best Influencer Marketing Company' award."
The mission of the MarTech Breakthrough Awards is to honor excellence and recognize the innovation, hard work, and success in a range of marketing, sales, and advertising technology-related categories, including marketing automation, market research and customer experience, AdTech, SalesTech, marketing analytics, content and social marketing, mobile marketing and many more. This year's program attracted more than 2,850 nominations from over 17 different countries throughout the world.
Just last month, Captiv8's technology also took home Bronze for Best Influencer Marketing Technology in this year's Influencer Marketing Awards. The Influencer Marketing Awards are a program focused on showcasing the top agencies, platforms, and recognized leaders within the influencer marketing and advertising world. As winners, Captiv8's platform is distinguished as a leading end-to-end influencer marketing solution that helps enhance, strategize, execute, and report effective influencer campaigns.
Interested in taking the next step for your own award-winning influencer work? Reach out to our team at sales@captiv8.io or visit Captiv8.io for more info.