Brands that are Leveraging Instagram Influencer Marketing to Promote their Shopify Stores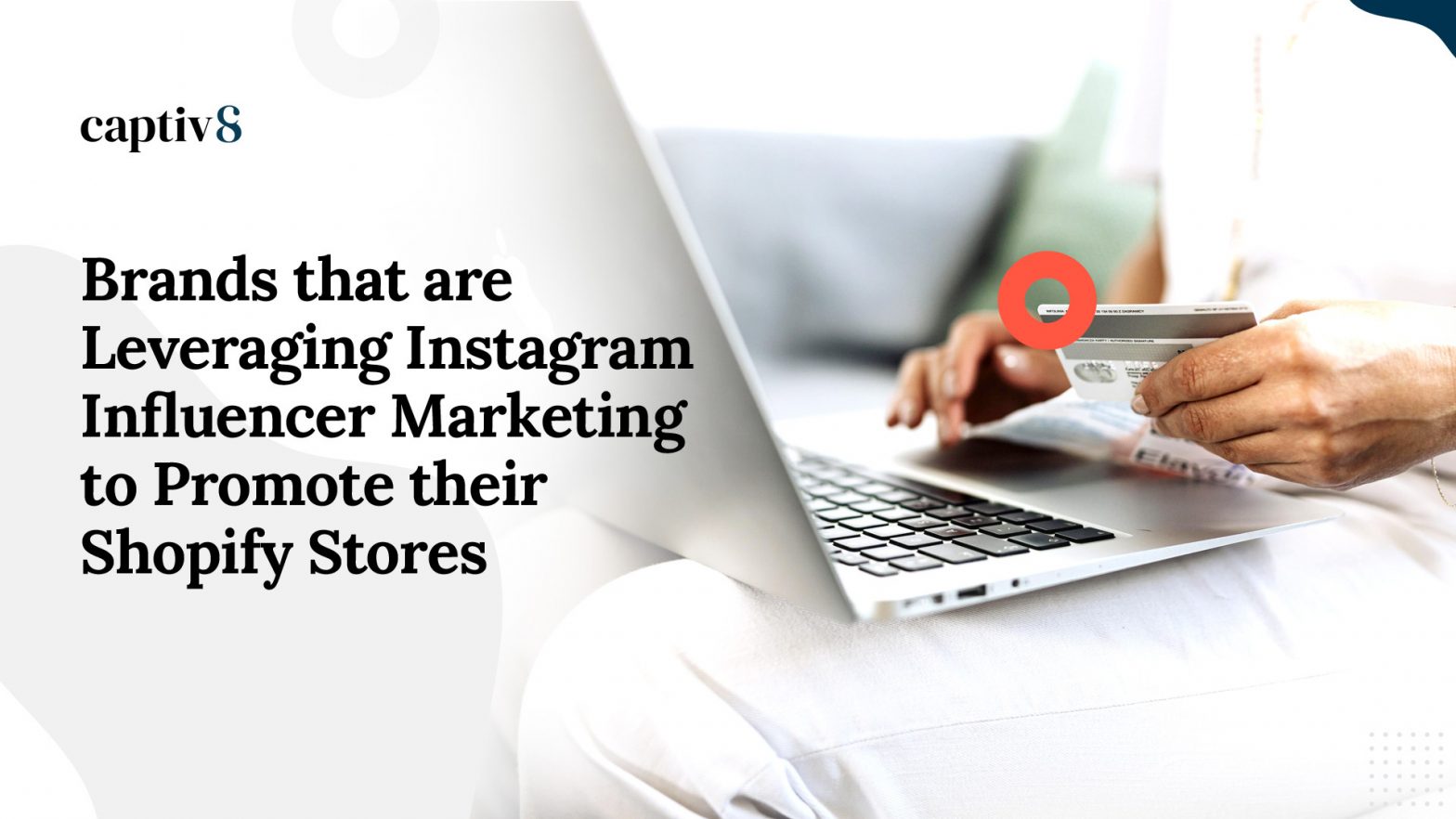 As a whole, the E-commerce industry boomed in 2020 with a substantial amount of success driven by affiliate marketing campaigns. E-commerce sales grew 44% from 2019 to 2020 and accounted for 21.3% of all US retail sales, per Digital Commerce 360. With many brands shifting their emphasis away from traditional in-person shopping experiences out of necessity, social media platforms took notice of this trend as well. Platforms quickly began implementing e-commerce features such as Instagram and Facebook shopping to promote and streamline online transactions. With the introduction of shoppable features, performance-driven influencer marketing campaigns have never been more effective. Here are some brands who have successful Shopify stores and are leveraging influencer marketing:
Fashion Nova
One of the most successful Shopify stores is the global fashion brand, Fashion Nova. The brand has nailed its Instagram influencer marketing strategy and has over 20M followers to show for it. Fashion Nova's success can largely be attributed to the social media presence of their A-list ambassadors. The brand boasts an all-star cast of brand advocates that include; Kylie Jenner, Khloe Kardashian, Blac Chyna, Cardi B, Megan Thee Stallion, Amber Rose, Christina Milian, La La Anthony, Daisy Keech, and many additional mega-influencers. Although the brand has a superstar lineup of brand ambassadors, they tend to leverage nano and micro-influencers on their own Instagram feed. The Fashion Nova feed is largely full of UGC from customers wearing the brand's clothing. In addition to the awareness generated by their mega-influencers, Fashion Nova builds trust and brand identity from satisfied everyday customers.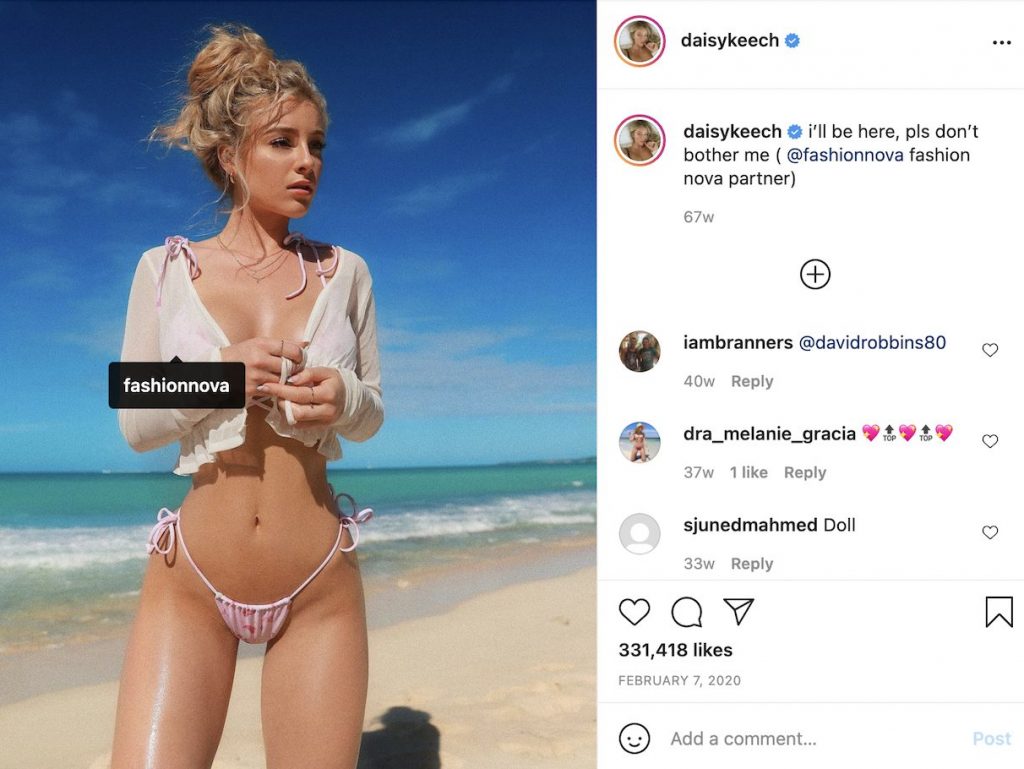 Gymshark
Another one of the most successful Shopify stores is the gym wear clothing brand, Gymshark. The brand has earned 5.3M Instagram followers by directing its influencer marketing strategy towards the fitness target market. The brand almost exclusively partners with athletes who are a natural fit that focuses on fitness content. Gymshark has partnered with superstar fitness influencers; Steve Cook, Nikki Blackletter, Demi Bagby, Devon Lévesque, David Laid, and Karina Elle among many others.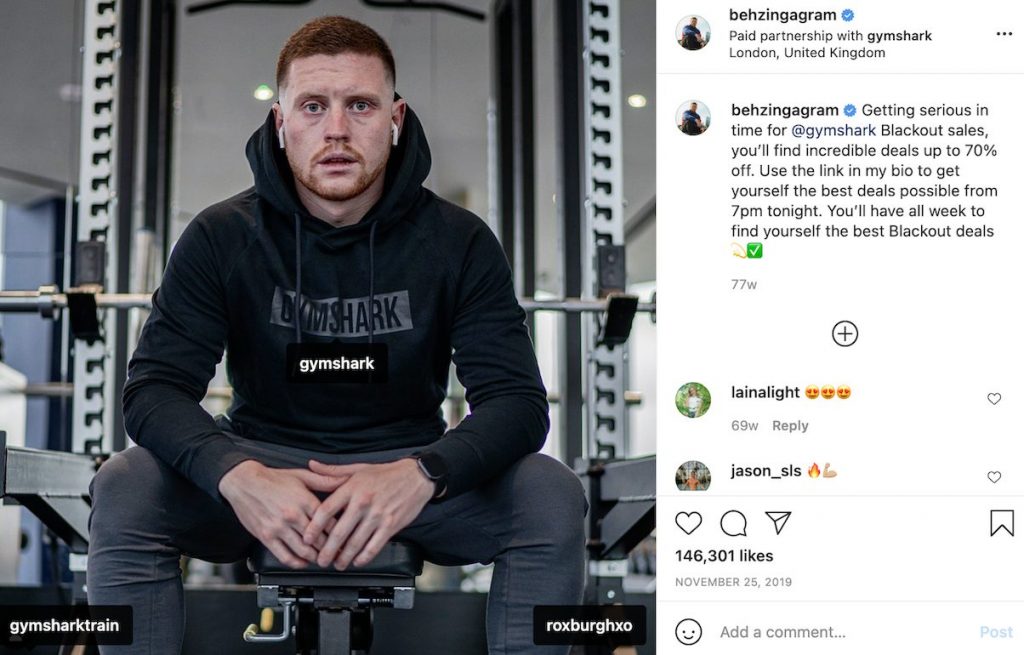 Allbirds
Similar to the strategy of Fashion Nova, the Allbirds Instagram feed largely utilizes nano and micro-influencers. Through its content marketing and influencer marketing efforts, the brand has built a social-proof reputation for creating high-quality, comfortable, and sustainable shoes. Allbirds is a prime example of how social media can boost e-commerce sales. The brand has grown from launching on Kickstarter to now partnering with Adidas to launch a new line of footwear. Allbirds has quickly become one of Shopify's most successful stories.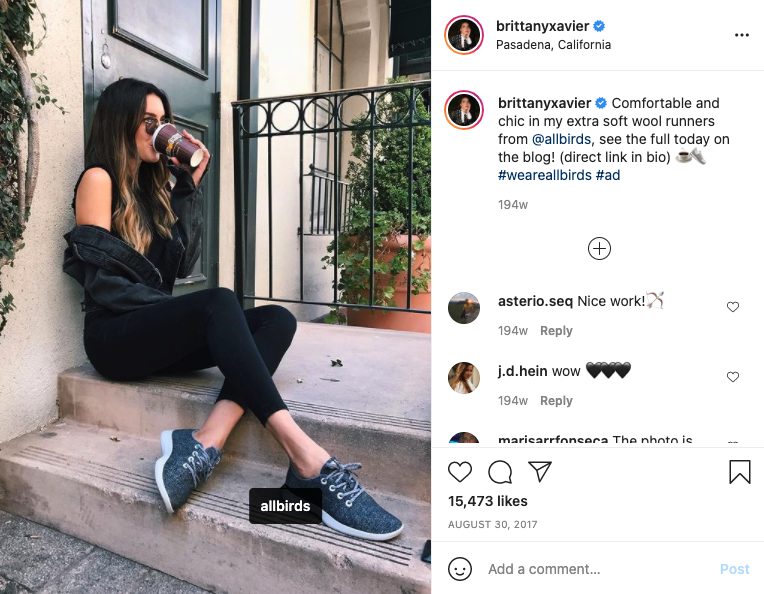 Shopify Brands Making a Social Impact
Suta
The saree fashion brand Suta is a prime example of a brand that is committed to making a social impact accompanied by sustainable success. Suta was co-founded by two sisters; Sujata Biswas, and Taniya Biswas, without a background in fashion or e-commerce. Sujata and Taniya were inspired by the materials and artistry found in their Grandmother's sarees. While on vacation to their hometown of Calcutta in West Bengal, the sisters were introduced to weavers nearly five hours away from their hometown. After seeing the incredible work, Sujata and Taniya came to an agreement with a family of two weavers to purchase anything they made. Fast forward five years, Sujata and Taniya now employ nearly 14,000 artisan weavers across India. The occupation of weaving had become a dying art as the artisans were taking jobs as drivers due to the disproportionate wages. To learn more about Sujata Biswas, Taniya Biswas, and the story of Suta, tune in to Shopify's podcast to listen to the full episode.
Live Tinted
Another brand built on Shopify that is driving social impact is Live Tinted. Founder and CEO, Deepica Mutyala went viral in 2015 for creating a YouTube vlog of a makeup hack to hide dark under-eye circles. Her video, which has now earned over 10M views to date, ignited her career in beauty. Three years later, the brand launched in 2018 with a commitment to inclusive and diverse beauty as they represent "every shade in between". Growing up in Texas and being of South Indian descent, Deepica never saw others like her represented in media and aspires to become the role model that she never had. Live Tinted is built on the intrinsic values of culture, inclusivity, kindness, and thoughtfulness. By featuring beauty standards that are underrepresented in traditional media, the brand is able to empower a community to feel confident in their individuality. Since her viral video six years ago, Deepica Mutyala has now grown her personal social reach to 657K total followers and has worked on sponsored campaigns for HBO and even partnered with Beauty Blenders.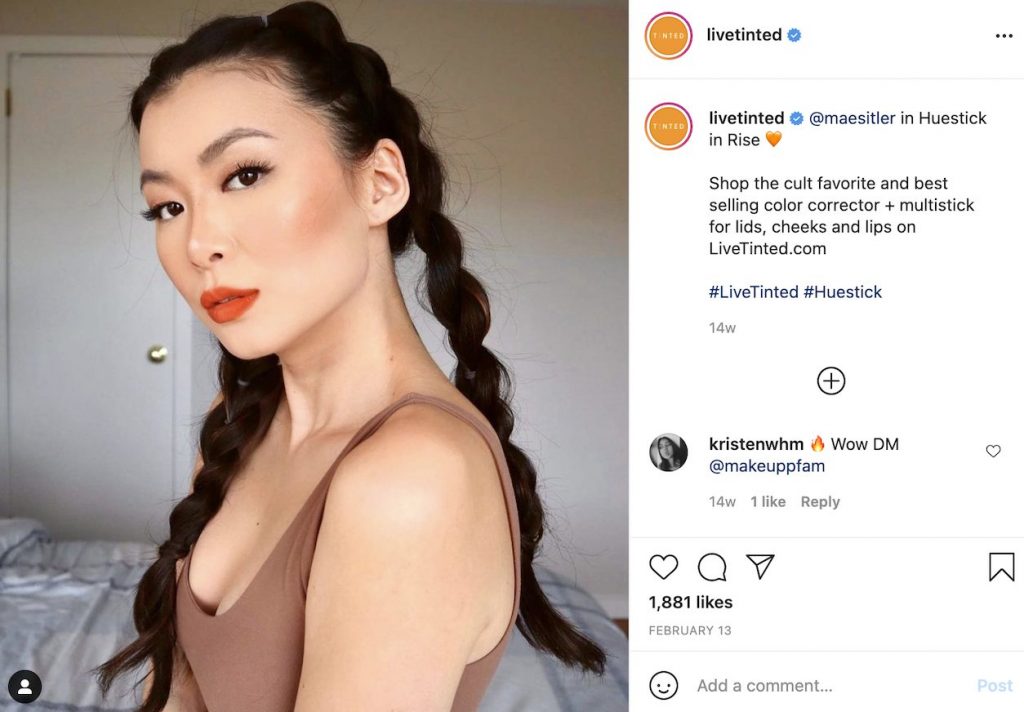 Shoppable Social
Although not all platforms have created built-in shopping features as comprehensive as Instagram, there are workarounds. Brands interested in launching performance-driven influencer marketing campaigns across multiple channels can include swipe-ups, links in bio for purchase, and coupon codes to directly connect influencer ads to sales.
Conclusion
In conclusion, the most successful Shopify stores are leveraging Instagram influencer marketing to promote sales and lead social impact. With the inclusion of comprehensive shoppable features, performance-driven influencer marketing campaigns have never been as effective. Largely due to the streamlined process for consumers to make purchases at the moment of discovery. Interested in learning more about e-commerce, influencer marketing strategy, and more from industry experts? Reach out to us today!