Everything You Want to Know About Clubhouse [On-Demand Webinar Recording]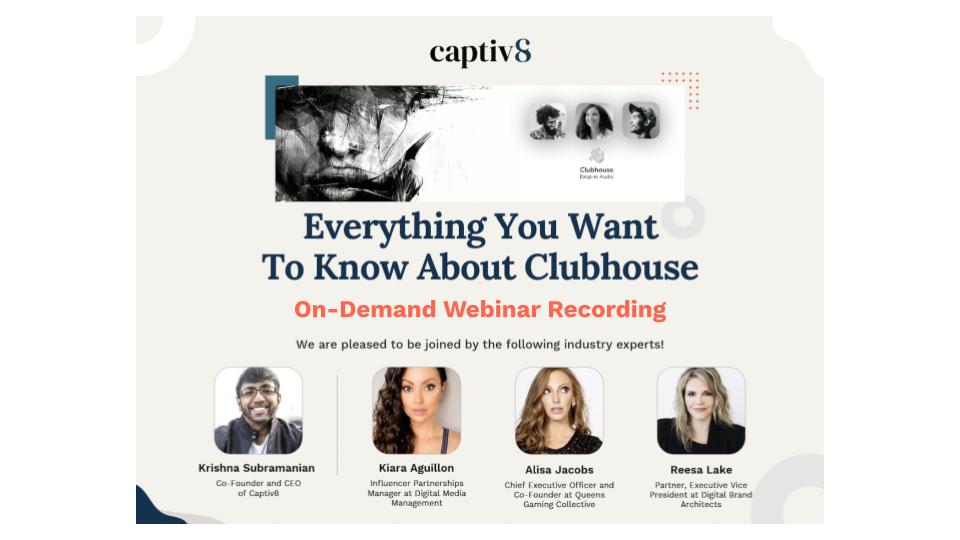 Missed our webinar covering Everything You Want to Know About Clubhouse? No Problem, you can watch the recording on-demand here!
Meet the Panel
To discuss the hype surrounding Clubhouse, we invited Clubhouse experts to discuss how brands can effectively leverage the app. Our panel of experts included: Kiara Aguillon, Influencer Partnerships Manager at Digital Media Management, Alisa Jacobs, Chief Executive Officer and Co-founder at Queens Gaming Collective, and Reesa Lake, Executive Vice President at Digital Brand Architects.
While Watching the Webinar, You'll Learn:
– What is Clubhouse and what people are talking about (Quick overview for those who are fresh to the app)
– How creators are tapping into the platform
– What brands are doing on Clubhouse from a marketing perspective
– The main differences between Clubhouse and the other top social platforms
– Starting a chat room, how to be successful, and how to measure success
Click to watch the recording on-demand here. Want to build an influencer marketing program for Clubhouse? Reach out to Lenny Shteynberg or Mike Logan. As always, if you're interested in learning about influencer marketing services, strategy, and more from industry experts, reach out to us!