National Poetry Month Creator Spotlight: Amanda Gorman
In honor of National Poetry Month 2021, we believed it was only fitting to highlight Amanda Gorman. While still attending Harvard University in 2017, Gorman became the inaugural National Youth Poet Laureate of the United States of America. Following her reading at the inauguration of Joe Biden, Gorman became the youngest poet to read at a presidential inauguration. Well known for her way with the spoken word, she also uses her platform as an avid social activist.
Audience Breakdown
Boasting 5.35M total followers across all social platforms, Amanda Gorman carries vast influence. Additionally, through the use of Captiv8's comprehensive insights, we determined that she resonates strongly among more mature audiences. Notably, 81.02% of her followers are above the age of 25, and 40.77% of her total audience is between the ages of 35-44. Gorman also receives high levels of cross-cultural engagement. The demographic breakdown of her audience is 39.52% White, 28.01% Asian, 18.47% African American, and 14% Hispanic.
Sponsored Content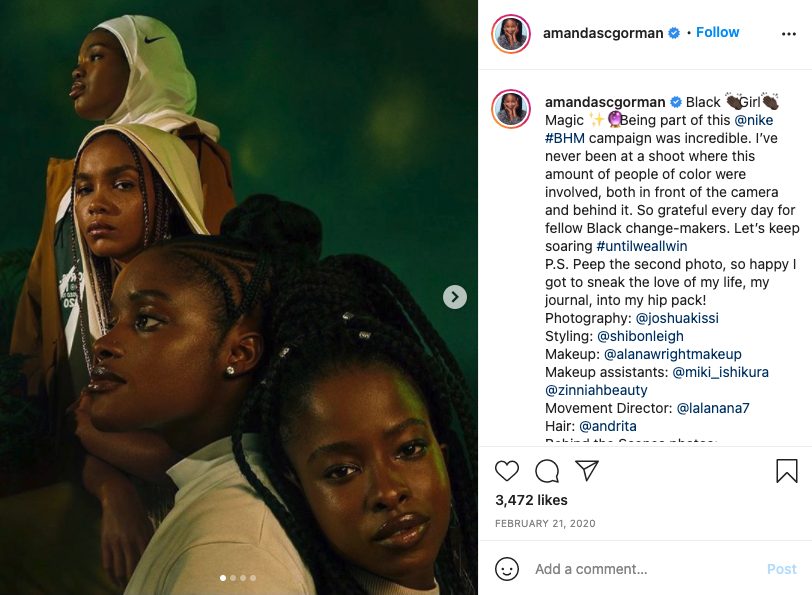 Also known for her work as an activist, Amanda Gorman was the perfect creator for Nike to partner with for their Black History Month campaign. Her large social following and values as an activist helped her to earn sponsored deals with Nike, Prada, and many more brands. The groundbreaking writer recently added another accolade to her ever-growing collection as she became the first poet ever to feature on the cover of Vogue.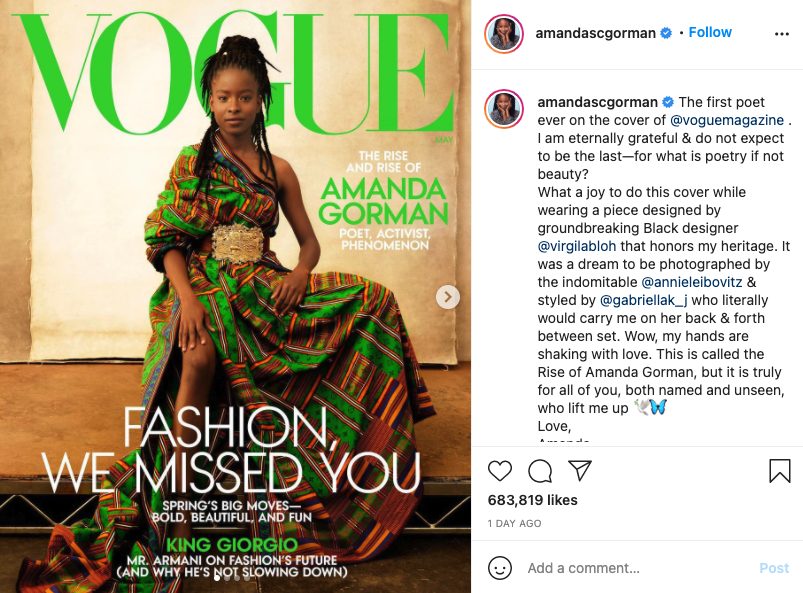 The Hill We Climb Booklet
Those who were blown away by Amanda Gorman's inaugural poem "The Hill We Climb" can now own the special edition poem booklet. Also included within the booklet is a foreword from Oprah Winfrey!
Conclusion
In conclusion, Amanda Gorman is the owner of an outstanding list of accolades. As an author, poet, and activist, Gorman has earned numerous brand deals thanks to her likeness. Interested in learning more about National Poetry Month, influencer marketing strategy, and more from industry experts? Reach out to us today!