New Instagram Update: Instagram Live Rooms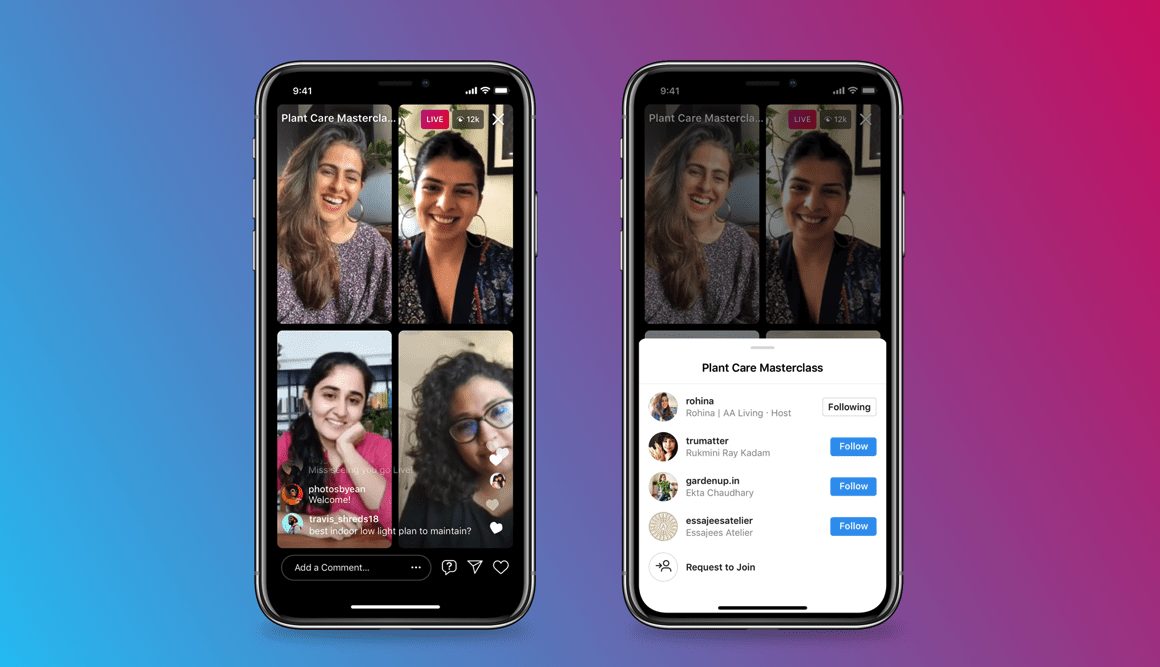 On March 1st, 2021, "Live Rooms" was launched as part of the new Instagram update. In the past, Instagram users were able to go live with up to one other user. However, with the addition of Live Rooms, there can now be a total of four hosts on a live stream.
Instagram's official blog stated their hope that "doubling up on Live will open up more creative opportunities — start a talk show, host a jam session or co-create with other artists, host more engaging Q&As or tutorials with your following, or just hang out with more of your friends." Creators have utilized Instagram Live in countless ways over the past year. This includes informational interviews on COVID-19 guidelines, fitness classes, live concerts as seen below, and many more uses.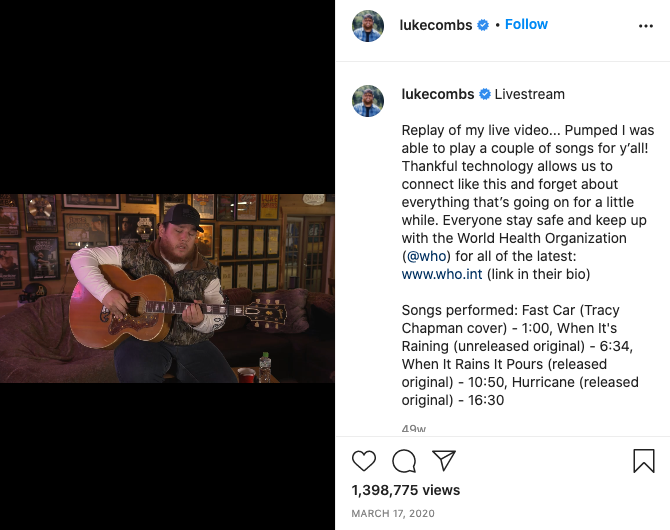 Competitors
Instagram Live Rooms can be similarly compared to the social audio app, Clubhouse. Although Clubhouse has attracted recent attention, Live Rooms may become an alternative for those without access to the app. Clubhouse has generated excitement among new users in part due to its exclusivity. The app requires an invite to sign up and is currently iOS exclusive. However, prospective users who haven't gained accessibility could turn to Instagram Live Rooms. Reportedly, Facebook and Twitter are also building features to compete with Clubhouse's success.
Revenue Opportunities
Instagram also went on to highlight that "Live Rooms also gives creators even more ways to build a business and earn money. With Live Rooms, viewers can buy badges for the hosts and use other interactive features like Shopping and Live Fundraisers." Additionally, the platform has also hinted at potential additions in the near future such as moderator and audio features.
Influencer Marketing Opportunities
Instagram Live Rooms will open the door for a mutually beneficial new avenue of influencer marketing. Brands will be able to tap into multiple influencers and have them go live together. As we previously mentioned in 2021 Influencer Marketing Trends, authenticity matters when running a campaign. As a result, brands will be able to enlist multiple creators who share the same values and beliefs into a single live stream. Viewers will see multiple credible influencers advocating a single brand, this will do wonders for increasing brand authenticity and awareness. Additionally, creators going live together will help increase visibility among each other's followers.
Conclusion
In conclusion, Instagram launched Live Rooms. The feature allows a live stream of up to four people. Based on recent success, Live Rooms was created to compete with Clubhouse. Interested in learning more about the new Instagram update, influencer marketing strategy, and more from industry experts? Visit Captiv8.io for more info!