Influencer Marketing News: Captiv8 Data Helps Forbes Announce Highest-Paid YouTube Stars of 2020

On December 18th, Forbes released their annual list of The Highest-Paid Youtube Stars of 2020. The list features big names such as MrBeast, Ryan Kaji, and Dude Perfect. This year's list also features three newcomers; David Dobrik, Jeffree Star, and Blippi. Using data provided by Captiv8, Forbes was able to compile this estimated list regarding influencer marketing news from June 2019 to June 2020.
Business Insider would also go on to cover the news of Forbes' latest release. It has long been known that YouTube can be a major revenue stream for creators through the use of paid advertisements. However, the amount that these creators earn through YouTube is often more difficult to discover. This makes the release of Forbes Highest Paid YouTube stars such an anticipated reveal.
Forbes Highest Paid YouTube Stars of 2020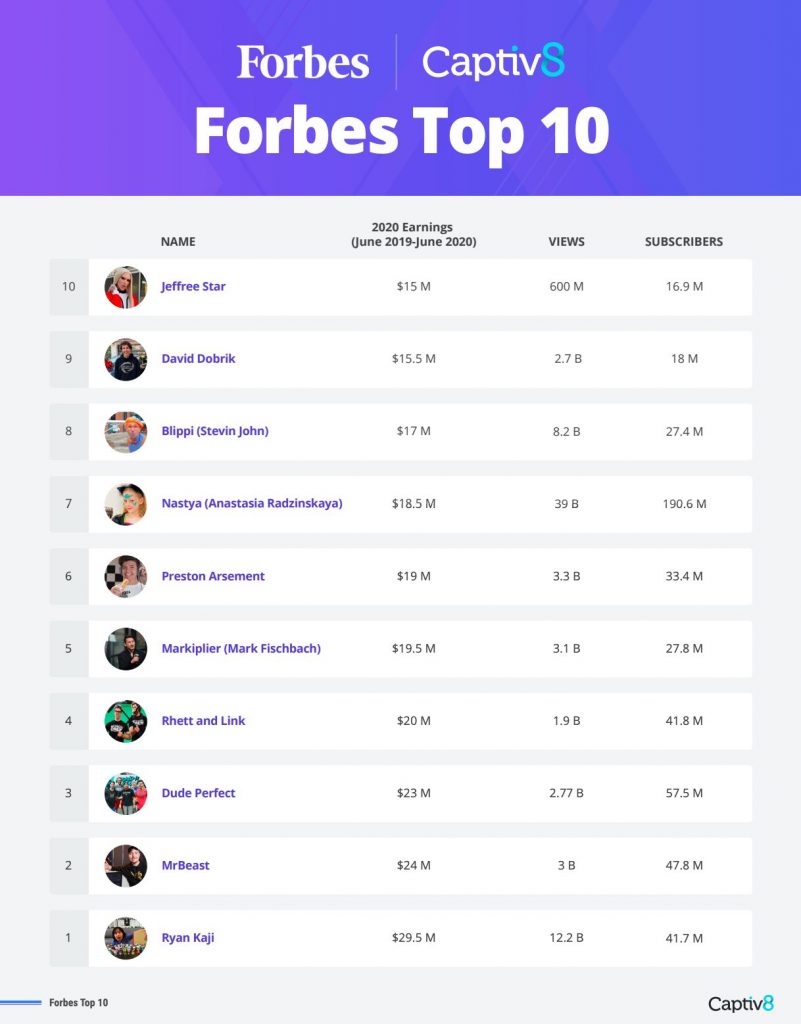 In addition to paid advertisements, creators generate revenue through additional channels such as apparel and merchandise. "All of these 21st century celebrities have branched out into the lucrative world of branded merchandise, too. Top creators like Dobrik, Donaldson and Markiplier (No. 5) can easily do $500,000 or more in monthly sales of tee-shirts, sweats and beanies—all perfect work-from-home wear" per Forbes.
Conclusion
Forbes announced their annual list of the Highest Paid YouTube Stars of 2020 using data provided by Captiv8. The release was also covered by Business Insider. YouTube stars are able to generate revenue through multiple channels such as ad revenue and merchandise sales. If you're interested in learning more about influencer marketing news, strategy, and more from industry experts, visit Captiv8.io for more info!