How to Flawlessly Schedule Influencer Marketing Content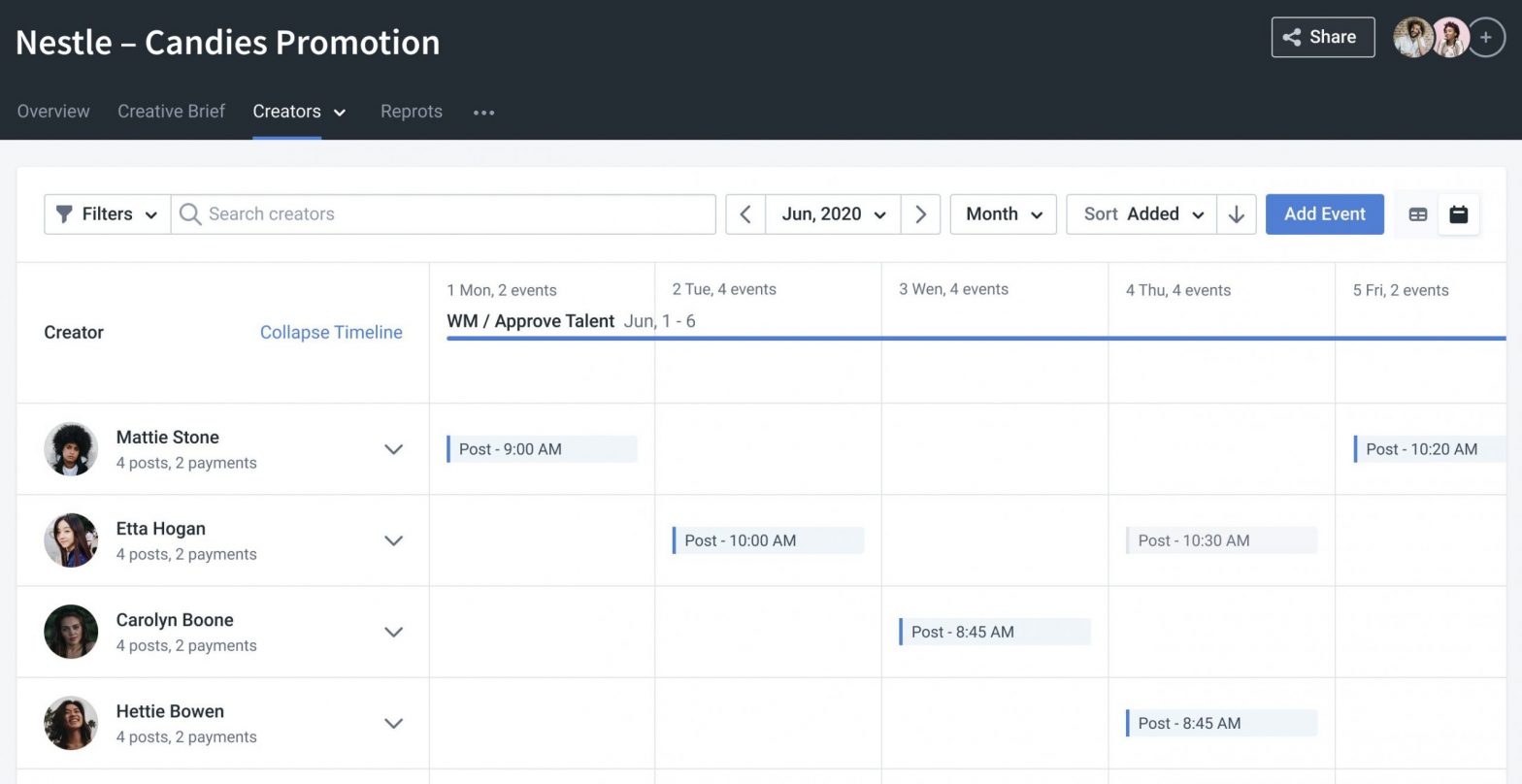 When planning for influencer campaigns, marketers and agencies have had to juggle between multiple spreadsheets, contract documents, and email threads to execute and activate an influencer. There has not historically been an easy way to marry all of these pieces of data into a single workflow, until now. The latest release supports flawless scheduling for end-to-end influencer marketing content and campaign management.
We are excited to announce that our recent update to Captiv8's influencer marketing management platform now includes a campaign Content Calendar for all of your creators' scheduled content. The feature is now available in your Campaign Creators tab and can be shared both internally and externally for the necessary team members to view.
An improved workflow with everything in one place
The Content Calendar allows you to easily schedule, view, and plan all of the scheduled content for any given campaign, all without ever having to leave the platform. The matrix layout that lists out for both your creators and the campaign timelines make it easier to verify that branded content is going out at your desired intervals of time to maximize engagement and reach throughout the life of a campaign. Influencer marketing program management is now easier with everything in one location.
Faster and more simplified than group calendars
Because the recent enhancement features a calendar that acts similar to a group Google or Outlook Calendar, the user interface is recognizable to most, and easy to adopt. In addition, access to the calendar and schedule isn't limited to just those in your organization. This means that brands and agencies can work together on campaigns without needing to invite outside users to access their company's group calendars for this level of data.
Clear visibility into the timing of each creator post
By leveraging the Captiv8 Content Calendar, simply schedule a creator to post at a specific time. Everyone who has access to the campaign can see when you scheduled the post. They no longer have to read every single message between you and the creator to find out the schedule; nor do you need to update this in an offline spreadsheet or calendar.
Pro-Tip: For a branded content takeover
With the Content Calendar, you can see each creator's posting times in one view, you may wish to double down on that time slot with more creator posts, or spread out the branded content so there are no other conflicting posts released at the same time. However, we recommend checking the creator's profile page to see what times of the day their audience is most engaged with their content for optimal scheduling, engagements, and reach.
Try it Now
Captiv8's Content Calendar is now available for all Professional Plans and higher. To receive a free trial for a test run or learn more about how Captiv8 can help you execute and schedule influencer marketing campaigns, schedule a time to chat through your campaign objectives today.