Once upon a time, you could open Instagram and find a chronological timeline of content. During this not too distant past, one could open Instagram during brunch and see photos of fluffy pancakes or pain au chocolat. Cut to present day, the Instagram algorithm has changed to provide users content based on their interaction and engagements, in efforts to provide a more curated feed. Chronological order, be gone.
Enter the recently popular Vero, a social networking app launched in 2015 by Ayman Hariri, the billionaire son of Lebanese prime minister Rafic Hariri. Vero is being marketed as an authentic social network as compared to other networks that have "reduced everyone to a friend or follower" (a description on their website which is intended to be a jab towards leading platforms like Instagram and Facebook). The app hit #1 in the app store and has had over 3 million downloads which makes us curious as to what the hype could be about. 
What makes Vero special?
For starters, Hariri promises not to sell or share user data with advertisers and the platform requests minimal sign-up information (telephone number, email address, first and last name). Vero is similar to competitor Instagram, in that it is a photo/video sharing platform in nature and allows in-app messaging with friends, however with Vero one can share links, music, movie/tv picks, book or place recommendations. On Vero, you can also choose who to share your content with by grouping connections based on their relationship to you: friends, family, acquaintances, followers, etc. Currently, the app is subscription based with the promise of a "free for life" model for their first 1 million users 
So how did the app manage to garner so many recent downloads? Two reasons stand out: First content will be in chronological order, and second Vero will not be allowing advertisers on it's platform.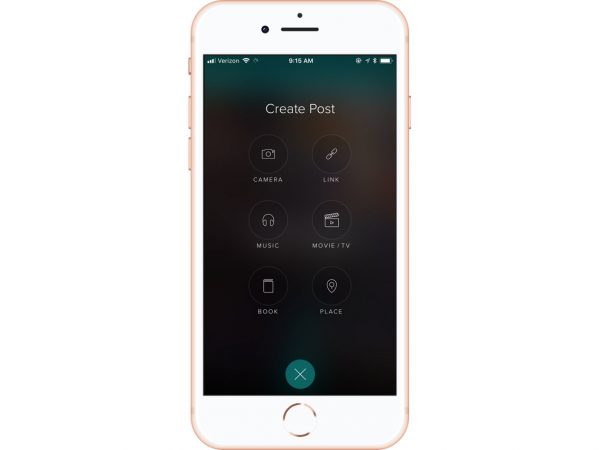 Why Does It Matter to Influencers?
The Instagram algorithm has made things frustrating for content creators, by discontinuing chronological content sharing and creating an algorithm that shares content based on social engagement and/or advertising boosts. Vero understands this and per their website, their philosophy on content is 'We don't curate it, manipulate it, insert advertising in it, or hold back posts. You see what has been shared with you, when it's been shared with you. You won't have to pay to "boost your post", or "reach your audience."'. 
This is attractive enough for Influencers to at least download the app and give it a test drive, in hopes for fair chronological content visibility. Although it's too early to tell whether Influencers will jump ship, the platforms promise to bring fairness and authenticity around content exposure has become a highly attractive option for creators. Vero is also attracting Influencers to join by handing them control over the content they share. By guaranteeing no advertisers on the platform, Vero believes that Influencers will feel empowered to behave more naturally creating even more authentic content (which is key for Influencer marketing).
Using Captiv8 Insights, we quickly found a few top creator posts discussing #Vero:
Why It Matters To Marketers?
If this is the next social media phenomenon, then it's important to understand how Vero intends to differentiate itself from current social platforms and why Influencers may be interested in joining. Vero aims to create an enriching social experience by being the smarter platform with smarter engagement. 
By not limiting their content to image or video only, Vero wants to be the leader in smarter sharing with the ability to share anything from music to books to personal recommendations on where people should go to eat. Vero's goal is to be the peoples platform and will be subscription-based for users ensuring users are customers as opposed to advertisers. Marketers need to be ahead of the craze and understand the reasons for why a newbie platform could entice popular users from larger platforms. 
Before Vero can be touted as a fad or the next social media craze, the creators will have to tackle many bugs and UI issues to improve user experience. In the meantime, download the app and decide how you like Vero for yourself!